Network:

Cinemax

Series Premiere Date:

Aug 8, 2014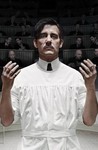 Starring:

Michael Angarano

,

Grainger Hines

,

Eric Johnson

Summary:

Directed by Steven Soderbergh, the drama set in 1900 in New York City follows the lives and works of the staff of Knickerbocker Hospital including new lead surgeon, Dr. John Thackery (Clive Owen); Dr. Everett Gallinger (Eric Johnson); Dr. Bertie Chickering Jr. (Michael Angarano); Dr.

Directed by Steven Soderbergh, the drama set in 1900 in New York City follows the lives and works of the staff of Knickerbocker Hospital including new lead surgeon, Dr. John Thackery (Clive Owen); Dr. Everett Gallinger (Eric Johnson); Dr. Bertie Chickering Jr. (Michael Angarano); Dr. Algernon Edwards (Andre Holland); and Cornelia Robertson (Juliet Rylance), the daughter of hospital benefactor, Captain August Robertson.

…

Expand

Genre(s):

Drama
Soderbergh has created a vibrant, dark and above all alluring Gotham. Owen's Thackery is its bracing human counterpart.

The show was created by Jack Amiel and Michael Begler, but it's Soderbergh's vision, from the brilliant but unusual score (minimalist electronic music) to the wry camera angles (the series opens on Owen's shoes as he lounges in a brothel). For a period piece, it's strikingly contemporary--and quite gory, although the surgery scenes never feel gratuitous.

For fans of quality TV, The Knick will evoke memories of the South Boston-set "St. Elsewhere." That show needed more than a season to work out its kinks. The Knick is already off to a robust start.

Under Soderbergh's direction, The Knick is a dark and gritty saga that captures a time of major changes--not only on the medical front, but in industrialization and race relations.

A period piece with serious punch, The Knick isn't for the faint of heart.

The series is at its most convincing, and most beautiful, at its most static. When the show bursts into action, or insists upon making its characters intense and extraordinary--some of them fictionally take credit for real-world medical advances and inventions--it grows, paradoxically, proportionally less interesting.

It's as if someone looked up instructions for making a period cable TV drama and followed them to the letter--and wound up with something like a "Boardwalk Empire"-style story arc set in an old-timey "E.R.," only with a much weaker pulse.
There isn't one weak actor in the Knick, Every character, likeable or no, is played to a T. The futuristic sound track is beautiful and put me

There isn't one weak actor in the Knick, Every character, likeable or no, is played to a T. The futuristic sound track is beautiful and put me in a different space and perception when I watched this series. The un sung heroes of set and costume design are perfect, and there is some beautiful outstanding cinematography. Its a serious even sad series but don't let it dissuade you from watching. The issues raised are well addressed and have a strong contemporary ring to them. Political opinions are not shoved down your throat. The brilliance of flawed humanity is portrayed perfectly. The fragility of life in 1900 and how lucky we are to be alive today stuck me constantly. A masterpiece, Art.

…

Expand

Like the drug it is centered around, this show is truly addicting. The Knick is a gritty series based in the early 20th century world of

Like the drug it is centered around, this show is truly addicting. The Knick is a gritty series based in the early 20th century world of medicine. Just about every aspect of the show - character development, writing, directing, score- is executed very well. This is a series that isn't afraid to get its hands dirty, focusing on numerous controversial topics including drug addiction, racism, abortion, prostitution, and mental illness. The best part is it covers all these subjects in an intriguing and realistic manner. Owen's performances should be enough to keep you hooked, but really he is helped tremendously by the performances around him. The Knick horrifies you from the start, beats you up along the way, and leaves you completely drained yet longing for more at the finale. In the end, you're left with the haunting realization that everyone, no matter their status, is a patient at the Knick.
I'm very pleased with the first season of this series and I will be waiting eagerly for the 2nd season to arrive.

…

Expand

"The Knick" is not only great drama with superb acting, writing and directing, but there is a gritty, realistic edge to it that as an OR

"The Knick" is not only great drama with superb acting, writing and directing, but there is a gritty, realistic edge to it that as an OR nurse, it takes me back into the history of surgery and medicine -spot on! I look forward to the show unfolding its many layers, showing the reality of how medicine and surgery, specifically, have developed into the disciplines of today. There were few guides, little proven science and each step was taken with unsure feet not knowing where it would lead. Excellent- we can't wait for the next show!

…

Expand

The Knick is America's Downton Abbey, but better.

Strong characters meet strong actors with a fascinating time in history and little FCCThe Knick is America's Downton Abbey, but better.

Strong characters meet strong actors with a fascinating time in history and little FCC restrictions equal one of the best shows on television and a must-see.

…

Expand

This review contains spoilers, click expand to view. Just seen episode 1 . Well all I can say I am glad i didn't live then. Very gritty 1900 New York hospital drama. Great acting. Sort of predictable genius but flawed main lead doctor running out of veins for his cough.. little habit. Ouch is all I can say... when you watch you will know what i mean lol. Operation scenes are good and look authentic.
Might be a nice little summer gem this one. Hope it continues in this vein. Looking forward to the next episode.

…

Expand

The television industry is really obsessed with this general timeframe isn't it? I like the lead character quite a bit though I hope he learns

The television industry is really obsessed with this general timeframe isn't it? I like the lead character quite a bit though I hope he learns to lighten up over the course of the season. Good for Cinemax and bringing some more viewers to their original programming. I'm a huge fan of straight back banshee and hunted wish unfortunately I think was canceled.

…

Expand

The racism and mysogyny in this series are useless. The dialogues are very soapy. No likeable characters. Too much blue philtering

The racism and mysogyny in this series are useless. The dialogues are very soapy. No likeable characters. Too much blue philtering photography and awful handycam shaky images.

…

Expand