Network:

NBC

Series Premiere Date:

May 19, 2014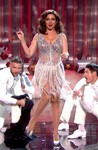 Starring:

Maya Rudolph

,

Raphael Saadiq

Summary:

Maya Rudolph hosts a variety show with guest appearances from Fred Armisen, Kristen Bell, Sean Hayes, Janelle Monáe, and Andy Samberg.

Genre(s):

Comedy

,

Variety Shows

,

Events & Specials
Season 1 premiere date:

May 19, 2014
The hour moved swiftly and had its share of belly laughs. At its core, The Maya Rudolph Show played like an extended SNL episode (with appropriately saccharine Muppet Show undertones) that did its best to highlight Rudolph's range.

The result was a TV special that felt every bit as dated, but also every bit as joyous, as those variety series, when the likes of Dinah Shore and Julie Andrews and Judy Garland and the Jacksons would serve up entertainment comfort food in the '60s and '70s. Rudolph, though, peppers the format with the necessary spice and quirky flavoring that, throwback as it is, keeps that comfort food from feeling stale.

The show was pleasant without being particularly funny or memorable, odd without being urgent or edgy, scattershot without taking any big swings.

The Maya Rudolph Show has all the makings of a perfectly cromulent variety series, but it's not fully hatched yet, nor is it clear that variety is a format that makes sense on American TV in 2014.

There was one funny sketch and it killed: Rudolph and the inevitable Fred Armisen play parents of Kristen Bell who is coming home to to announce her engagement to her boyfriend, Andy Samberg. Mom and dad make a their living recording their voices to GPS systems and speak like 21st century Coneheads. It killed, but the rest of the show was, if not dead on arrival, kinda painful.
Overall, a promising start. For any parent who's children are obsessed with Frozen, the musical number with Kristen Bell was LOL funny. The

Overall, a promising start. For any parent who's children are obsessed with Frozen, the musical number with Kristen Bell was LOL funny. The GPS parent skit was also very good. The opening number went on a little too long, but hopefully this was just for the first episode. She's no Carol Burnett, but Maya Rudolph has promise.

…

Expand

" The Maya Rudolph Show is hilarious and gives great entertainment and even better then elllen's show

" The Maya Rudolph Show is hilarious and gives great entertainment and even better then elllen's show "........................................................................

…

Expand

I wanted to like this show, I really did. I adore Maya Rudolph, and the idea of reviving the variety show seemed brilliant. But the

I wanted to like this show, I really did. I adore Maya Rudolph, and the idea of reviving the variety show seemed brilliant. But the premiere show probably could have been.... funnier. Cold open with Blake Shelton... cute but not truly funny. The long opening number was cleverly written, but required so much work from the viewer to dissect all the lyrics... sung fast and sometimes hard to understand. By Frozen bit... also dependent on complex lyrics... we are deep into the show and sinking fast. GPS family started to revive things... but not in time to keep my eyelids from drooping. Suggestion... move sketches up... song and dance stuff deeper into the show. Keep segments short. Reveal guest stars one at a time... and in a bigger way. Do something surprising each week. Watch The Carol Burnet Show.

…

Expand

Boring, highschoolish, not funny, very little talent, Hayes too silly, Maya chunky, little talent, not funny.
I had high expectations, andBoring, highschoolish, not funny, very little talent, Hayes too silly, Maya chunky, little talent, not funny.
I had high expectations, and gave it a good chance, but I was ready to delete it half way through.

…

Collapse