Network:

NBC

Series Premiere Date:

Sep 26, 2013

Season #:

1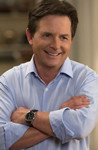 Summary:

In his first regular sitcom role since Spin City, Michael J. Fox plays a TV news anchor who returns to work after a five-year retirement following a Parkinson's diagnosis. Betsy Brandt (Breaking Bad), Wendell Pierce (The Wire), and Katie Finneran (Wonderfalls) also star.

Genre(s):

Comedy
Show Type:

In Season

Season 1 premiere date:

Sep 26, 2013

Episode Length:

30

Air Time:

09:30 PM
[The Crazy Ones and The Michael J. Fox Show] have great, always likable stars heading up solid ensemble casts in well-written and mostly plausible shows. Who could ask for anything more?

The Michael J. Fox Show tries really hard to be as warm as a cup of cocoa yet hilariously irreverent. Maybe too hard.... On the plus side, Fox still oozes self-deprecating charm, and I love the sweet and playful chemistry he has with Brandt. Also, Pierce is a hoot as the smooth con man of a boss. More of that, please.

The ingredients are there; they just need more seasoning.

The Michael J. Fox Show shows signs of deteriorating into a too sitcom-y enterprise with occasional flashes of smart writing and situations.

The pilot is clever in a number of places and the banter is quick.... Like Modern Family, which it seems to be aping, The Michael J. Fox show is big on hugs and syrup in the end notes, but that can be overlooked if what precedes it has enough right angles. Unfortunately, the second episode--which airs directly after the pilot tonight--is a complete and utter mess.

For a fleeting moment, the show hints it might venture into some saucy territory. Then it gets all "Family Ties" saccharine and goes in for the squishy hug.

It wants to be funny, it wants to be urbane, it wants to be human and it wants to nail every line. Where it fails miserably is in premise and character.
It's watchable only because of Michael J. Fox. He's great and has enough charm to make the show cute-ish, but the rest of the cast is seriousl

y lacking. They give far too much air time to the rest of the family, especially the kids, and they simply aren't funny. The writing isn't great, either. I'm going to give it a few more episodes and hope that it finds its footing, but I don't have high hopes. They need to put more emphasis on showcasing the show's namesake.

…

Expand

I am a big fan of Michael J. Fox and have enjoyed watching him since his days of Family Ties right up to his appearances on the Good Wife. I w

as really hoping that his new show would be a good one. I was sadly disappointed. I watched two episode. The first one was dreadful, but I thought I'd give the second episode a chance. No good. The writing and the casting is deplorable. It is beyond amateurish. I don't even see any glimmers of hope unless they fire the majority of the writers and cast. Too bad.

…

Expand

Sorry Mr. Fox. Your show's comedy is forced and when you get to the funny, it's not.
Sorry Mr. Fox. Your show's comedy is forced and when you get to the funny, it's not.
Sorry Mr. Fox. Your show's comedy is forced and when you get to the funny, it's not.
Sorry Mr. Fox. Your show's comedy is forced and when you get to the funny, it's not.
Sorry Mr. Fox. Your show's comedy is forced and when you get to the funny, it's not.

…

Expand