Network:

NBC

Series Premiere Date:

Sep 26, 2013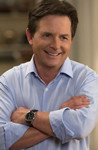 Starring:

Wendell Pierce

,

Michael J. Fox

,

Juliette Goglia

Summary:

In his first regular sitcom role since Spin City, Michael J. Fox plays a TV news anchor who returns to work after a five-year retirement following a Parkinson's diagnosis. Betsy Brandt (Breaking Bad), Wendell Pierce (The Wire), and Katie Finneran (Wonderfalls) also star.

Genre(s):

Comedy
[The Crazy Ones and The Michael J. Fox Show] have great, always likable stars heading up solid ensemble casts in well-written and mostly plausible shows. Who could ask for anything more?

Mike Henry is as funny, emotionally open and inspiring as his alter ego.... The pilot feels more like a promise of intention than proof of concept. [20/27 Sep 2013, p.144]

The ingredients are there; they just need more seasoning.

The Michael J. Fox Show shows signs of deteriorating into a too sitcom-y enterprise with occasional flashes of smart writing and situations.

The Michael J. Fox Show, which marks his welcome return to a regular network series, isn't an instant classic. But it does a lot of things right.

The three episodes NBC screened, especially the two past the pilot, aren't bad, really; they're studiously un-bad to the point of blandness. The supporting characters are thin types.

It wants to be funny, it wants to be urbane, it wants to be human and it wants to nail every line. Where it fails miserably is in premise and character.
I absolutely love MJF, but I am iffy about this show. It still manages to deliver a chuckle from me, though.

I am hopeful this show will beI absolutely love MJF, but I am iffy about this show. It still manages to deliver a chuckle from me, though.

I am hopeful this show will be renewed and continue to flesh out some characters they have developed.

…

Expand

Micheal J fox's show and watching his episodes everyday . his ( fake) family is amazing. and the reason why i watch this show is Micheal J Fox

Micheal J fox's show and watching his episodes everyday . his ( fake) family is amazing. and the reason why i watch this show is Micheal J Fox is a amazing guy .
Grade A+

…

Expand

My wife and I loved this show! There were many "laugh out loud" moments, and it was great to see Michael J. Fox back on television and doing

My wife and I loved this show! There were many "laugh out loud" moments, and it was great to see Michael J. Fox back on television and doing something with his life! I hope this show goes on for a long time. Well done Michael!

…

Expand

I appreciate the fact that Michael J. Fox is returning to television, but the show seems to only focus on the kids and not on Michael himself.

I appreciate the fact that Michael J. Fox is returning to television, but the show seems to only focus on the kids and not on Michael himself. I just don't care for the kids that much. I want to see more Michael in the future.

…

Expand

This is one of those projects that should have never made it past early development stages. Its just plain awful. The odd setups to make him

This is one of those projects that should have never made it past early development stages. Its just plain awful. The odd setups to make him seem that he is actively doing things to lessen the tremors is kind of distracting. The obligatory mentions of Parkinsons on intervals is needless. The "kids" are actors in their 30's. Casting alone destroys any chance this might have. Weak one liners, family members that don't feel like a family. Poor writing. Painful to watch outdoor one camera scenes. This show is awkward, forced, and unfunny. Its almost like a Saturday Night Live commercial.

…

Expand

I am a big fan of Michael J. Fox and have enjoyed watching him since his days of Family Ties right up to his appearances on the Good Wife. I

I am a big fan of Michael J. Fox and have enjoyed watching him since his days of Family Ties right up to his appearances on the Good Wife. I was really hoping that his new show would be a good one. I was sadly disappointed. I watched two episode. The first one was dreadful, but I thought I'd give the second episode a chance. No good. The writing and the casting is deplorable. It is beyond amateurish. I don't even see any glimmers of hope unless they fire the majority of the writers and cast. Too bad.

…

Expand

don't like the liberal message they are trying to get across will not watch show i like Michael j fox i don't like the message that they

don't like the liberal message they are trying to get across will not watch show i like Michael j fox i don't like the message that they throw in the show.

…

Expand