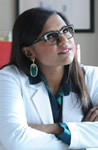 Summary:

Mindy continues her search for Mr. Right in the second season of the Mindy Kaling comedy.

Genre(s):

Comedy
Show Type:

Between Seasons

Season 2 premiere date:

Sep 17, 2013

Episode Length:

30

Air Time:

09:30 PM
These couple of episodes give hope that Kaling the writer means to continue to skewer her character's fantasies with the same combination of intelligence and acid wit as before.

If Kaling focused more on playing her characters off each other and less on her heroine's mishaps, The Mindy Project would make for a smoother, more consistently engaging series.

It's possible that The Mindy Project will settle down a bit once it's done reversing the course of season one's cliffhanger, but the flaws of the first two episodes are so similar to those of season one that it's hard to imagine some sort of remarkable turnaround.

There's precious little in the two-part premiere to suggest much room for growth, creatively or ratings-wise, in season two.
I have watched every episode from the beginning; this is a very smart, cute and funny show. If you like the Bridget Jones' type of story, you

will love this show. All the characters mesh so well; better than in How I Met Your Mother and The Big Bang Theory. Every woman can relate to Mindy and that's what makes this show so good! I can't wait for more seasons.

…

Collapse

I have watch the show from the beginning, It is smart and funny and shines a light of a different type of heroine. She is not the typical girl

that w see and it is refreshing. It so nice to see successful woman of color and woman not of the typical size and she is also funny. I love this show for all it does and I laugh from start to finish. I can watch the episodes over and over and still laugh. I am looking forward to seeing what is next. Also when is Jeremy loosing that weight...

…

Expand

Mindy and Danny seems forced this season. They have good chemistry, but the sudden-ness of it seems more like a ploy for ratings than anything

else. It's looking like a New Girl style season 3 in which all the episodes involved Mindy and Danny and their new couple-ness. Mindy will still get by on laughs and good supporting characters (much like Girl) but may start to feel rehashed.

What helped the show stand out in the first place was the tackling of longer term relationships, the multi episode arcs of "dates". Anders Holm's sudden career change at the beginning of the season (to effectively "reboot" the show) was poorly handled, after a great and surprising finale last year. And Charlie at the end of the season was fantastic in his few episodes, it's too bad we won't see more of him. No passing judgement until it happens however, here's hoping the show retains its quirk and humor.

…

Expand

I loved this show from the first episode I watched, and I recommenced it to many of my friends but not everyone liked it, some of them said

it's a poor imitation of New Girl but I strongly disagree. I think The Mindy Project is very original, every character is funny in its own way and combined they make a really great ensemble.
Though I'm clearly a big fan of the show I found the first 2 episodes of season 2 very weak, not exactly what I was expecting.
In spite of the low rating of the first 2 episodes, casting James Franco was a smart move form the producers.

…

Expand

Season 1 showed potential, but season 2 failed to deliver on it and took many steps backward. Adding uninteresting characters instead of

fleshing out the existing one was a poor decision, so was trying to dumb the show down which not only made it utterly mediocre but also failed to expand its audience.

…

Expand
Published:

February 14, 2013

Which current TV shows have the best odds of returning, and which are likely to be canceled? We survey a group of industry experts to predict the fates of Community, Happy Endings, Vegas, Go On, The Following, Nashville, Beauty & The Beast, and more bubble shows.