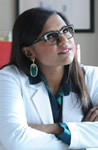 Starring:

Amanda Setton, Beth Grant, Ike Barinholtz

Summary:

After a series of humiliating events, Dr. Mindy Lahini (Mindy Kaling) is determined to make changes in her professional and romantic life to achieve her dreams.

Genre(s):

Comedy

Creator:

Mindy Kaling

Show Type:

Between Seasons

Season 1 premiere date:

Sep 25, 2012

Episode Length:

30

Air Time:

09:30 PM
Everything about The Mindy Project is so very Kaling and happily spot-on, starting with the strength of the jokes and dialogue.

Overall, The Mindy Project is a comedy that arrives knowing what it wants to be and what kinds of stories and jokes it wants to tell.

Tuesday's pilot is not as consistently funny as one might hope and Mindy's flightiness could turn off some viewers, but she and the show are amusing enough to warrant watching.

The show's antic energy and aggressively kooky heroine may not hit everyone's sweet spot, but the pilot is a brisk, confident piece of work, made by people with a clear vision.

Even by the notoriously uneven standards of sitcoms, The Mindy Project takes precipitous swings from fresh and clever insights to the most predictable "Oh, girl, don't go there" setups.

Think Gray's Anatomy with unpretty people; then think of something else to watch.
The Mindy Project is just so fresh, witty, and hilarious that you just couldn't stop watching the show over and over again. Idk why some

people don't like it--maybe they just have no taste for comedy series or that they have all got slapped on the face by the bittersweet social reality that the show depicts (and they are active participants in the bitter side of this reality). In addition, I don't give a damn if the show is all about Mindy (just so you know, the show's entitled "The Mindy Project" so of course it would be most probably all about Mindy); I mean, the show is still far more hilarious than a lot of other cliched comedy series that try too hard to make an adequate story line that revolves on a lot of characters. The show's definitely one of the best comedy series of the generation, and I swear, it deserves a lot more attention than many other trashy mainstream series that people seem to dumbly adore.

BTW at the first one or two episodes, you might probably get quite bored with the show, but please just stick with it even just for at least five episodes and you'd surely want to watch the entire series then!

…

Collapse

Another show I avoided and I binged watched it yesterday Its witty and funny, really nice show The show is feels fresh and Mindy has grown on me

The whole idea of this show seems like a better premise for a movie, than a show. Most of the show was trying too hard to be funny with

"ridiculous" situations that would never happen. The upside is that they don't try and bombard you with lazy humor like Two Broke Girls where they constantly say vagina or something or other. Time will tell.

…

Expand

This show is not for me. The comedy is terrible and relies on easy laughs. But maybe it'll be like NEW GIRL and elevate to awesome-status in

their second season that is if Mindy can get over herself. Take a clue from New Girl, make Mindy less involved with the show, it'll do wonders for your ratings.

…

Expand
Published:

February 14, 2013

Which current TV shows have the best odds of returning, and which are likely to be canceled? We survey a group of industry experts to predict the fates of Community, Happy Endings, Vegas, Go On, The Following, Nashville, Beauty & The Beast, and more bubble shows.