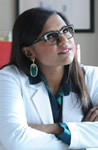 Starring:

Amanda Setton, Beth Grant, Ike Barinholtz

Summary:

After a series of humiliating events, Dr. Mindy Lahini (Mindy Kaling) is determined to make changes in her professional and romantic life to achieve her dreams.

Genre(s):

Comedy
Creator:

Mindy Kaling

Show Type:

In Season

Season 1 premiere date:

Sep 25, 2012

Episode Length:

30

Air Time:

09:30 PM
Everything about The Mindy Project is so very Kaling and happily spot-on, starting with the strength of the jokes and dialogue.

Overall, The Mindy Project is a comedy that arrives knowing what it wants to be and what kinds of stories and jokes it wants to tell.

Tuesday's pilot is not as consistently funny as one might hope and Mindy's flightiness could turn off some viewers, but she and the show are amusing enough to warrant watching.

The show's antic energy and aggressively kooky heroine may not hit everyone's sweet spot, but the pilot is a brisk, confident piece of work, made by people with a clear vision.

Even by the notoriously uneven standards of sitcoms, The Mindy Project takes precipitous swings from fresh and clever insights to the most predictable "Oh, girl, don't go there" setups.

Think Gray's Anatomy with unpretty people; then think of something else to watch.
I love this show. I'm a huge office fan so I loved Mindy on that of course, however seeing the previews I thought this show was going to be

lame and not very funny. I thought it would be a stretch to have Kelly Kapoor have a whole show around her. So I didn't watch it at all until about two weeks ago when I was procrastinating my studying for finals. Starting watching it, and I couldn't stop. Hilarious humor, clever wit, and great writing of course. I'm not a television expert so I don't know how to critic how well characters have been developed, but everyone has a plausible story line and with this show's humor that's enough for me. I was drawn in by the first episode but I know some of my friends, it took them a little while. My recommendation: watch it, stick with it, enjoy. It's funny, end of story.

…

Expand

I'm surprised at the lackluster user reviews! I was really entertained by this show - the dialogue was fast and clever, the characters were

complex, and the plot was believable. I really enjoyed all the honest, embarrassing moments. Plus, the show was able to keep an upbeat tone regardless of the funny but unfortunate events. Can't ask for more from a comedy. I'll keep watching.

…

Expand

This review contains spoilers, click expand to view.

Originally, The Mindy Project was about a woman obsessed with finding love because of all the romantic movies she watches. Now, Mindy is high-maintenance and difficult. This "new" Mindy is getting old. The current season has me wondering "where is this show going?"

…

Expand

I'm torn about 'The Mindy Project.' It has its moments. It can be fun, it can be witty. On the other hand, it's cliched and unrealistic with

an unsympathetic lead. Kaling's character, 'Mindy Lahiri' is a 31 year old practising gynaecologist who talks like a 16 year old valley girl. While her teenage neighbour reads Jonathan Franzen, Mindy reads a novelization of the film Iron Man. Like most thirty-something women on TV, she's obsessed with finding Mr Right, and yet she's inexplicably nasty to all the guys she meets, including those she works with. At work, she and her two fellow doctors, both male, talk mostly about sex and Mindy's messed-up personal life. She takes time off work for "best friend's day" (lunch and shopping) and has no hesitation in hastily rearranging her schedule to visit her teenage friend at her high school to grill the girl's boyfriend about their sex life. She seems to spend the better part of an afternoon at work choosing a Halloween costume. It bothers me that Mindy is so shallow, that she talks in a high-pitched, dumbed-down baby-girl voice, that she's astonishingly self-absorbed and at times cruel. She says things to Dr Danny Castellano, her divorced co-worker and obvious potential love interest, like "no wonder your wife left you," comments that are followed by dead silence in which I'm waiting for him to break down in tears. When handing out condoms at the high school she gives one to everyone, two to an especially pretty girl and none at all to a plain girl with braces, saying "you I'm not worried about." It was a shocking moment, and unnecessarily unpleasant, especially as Mindy Lahiri was supposedly plain and single until her early twenties. There are numerous dissonant moments like these in the show that make me dislike Mindy Lahiri. She is carrying on a casual sexual relationship with her other coworker, Dr Jeremy Reed, and while the fact is accepted, it's rarely actually addressed. It's not clear why Reed, supposedly a ladies man, would need to carry on this relationship with Mindy, or why she thinks it's okay to casually sleep with someone she works with. In fact, it's not clear why anyone of the men she dates are drawn to Mindy. When Dr Castellano gives her a gynaecological check-up at work, the scene is alternately funny, cringeworthy and appalling. She teases him endlessly throughout and moans sensually when he tries to give her a breast exam. Frankly, it's offensive. She clearly doesn't take her work seriously. No decent gynaecologist would think of an exam as a sexual thing, and the way she talks incessantly about sex and her love life at work invites the kind of banter that would qualify as sexual harassment in most workplaces. I

…

Expand

This show is not for me. The comedy is terrible and relies on easy laughs. But maybe it'll be like NEW GIRL and elevate to awesome-status in

their second season that is if Mindy can get over herself. Take a clue from New Girl, make Mindy less involved with the show, it'll do wonders for your ratings.

…

Collapse
Published:

February 14, 2013

Which current TV shows have the best odds of returning, and which are likely to be canceled? We survey a group of industry experts to predict the fates of Community, Happy Endings, Vegas, Go On, The Following, Nashville, Beauty & The Beast, and more bubble shows.