Network:

NBC

Series Premiere Date:

Jan 8, 2004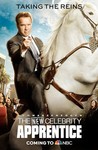 Starring:

Donald Trump

Summary:

Donald Trump's competitive reality show returns with 16 non-celebrity contestants who have been affected by the economy.

Genre(s):

Reality

,

Game Show
Creator:

Mark Burnett

Season 10 premiere date:

Sep 16, 2010

Episode Length:

120
Please enter your birth date to watch this video:
You are not allowed to view this material at this time.
Almost public TV-like by current reality-show standards, this new edition is actually a lot like the original, absent the Velveeta. True-blue fans will rediscover its pleasures.

So they mirror the plight of way too many Americans today, and while that isn't good news for the unemployed, it does give this Apprentice a bit more edge.

Now that that ship has left the dock, they're back with a tremendously interesting new concept. This time it's The Apprentice for a bad economy.

You've seen this game before, but not played with this level of desperation. There are moments when the boardroom feeding frenzies might cause you to step away from the table. There's something to be said for escapist TV after all.

With a focus on success at all costs, The Apprentice is not exactly feel-good viewing, but it's always compelling. And the heightened intensity this season's contenders bring to the game may leave viewers feeling like it's both fascinating and troubling to watch people on television scramble in the name of money.
I think this is where Obama job numbers go up but down after Trump fires new hirees...Trump fires more people faster than men have sex. If you

I think this is where Obama job numbers go up but down after Trump fires new hirees...Trump fires more people faster than men have sex. If you could bet on every player canned you'd be rich as the Don. MONEY!!!

…

Expand

More of the same: the hilarious Mr. Trump (with fanfares and His Amazing Golden Apartment), his relatively normal children, the non-celebrity,

More of the same: the hilarious Mr. Trump (with fanfares and His Amazing Golden Apartment), his relatively normal children, the non-celebrity, incompetent, semi-demented type A A-holes you love to hate clawing at each other with envy and greed and presenting it as ambition and drive, the pointless and repetitive tasks (selling ice-cream, grooming dogs, designing office spaces...), the boardroom ribbing and poo-fights (this time - before the actual results so both sides have the chance for backstabbing and under-the-bus throwing). If you have liked it before, you'll like it again. If not...you're fired!

…

Expand