Network:

NBC

Series Premiere Date:

Jan 8, 2004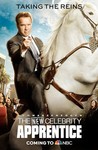 Starring:

Lisa Rinna

,

Marlee Matlin

,

David Cassidy

Summary:

The fourth round of the Celebrity edition of The Apprentice features Gary Busey, Jose Canseco, David Cassidy, Hope Dworaczyk, Richard Hatch, La Toya Jackson, Star Jones, Lil Jon, NeNe Leakes, Marlee Matlin, Mark McGrath, Meat Loaf, John Rich, Lisa Rinna, Niki Taylor, and Dionne Warwick.

Genre(s):

Reality

,

Game Show
Creator:

Mark Burnett

Season 11 premiere date:

Mar 6, 2011

Episode Length:

120
Please enter your birth date to watch this video:
You are not allowed to view this material at this time.
You can always count on Gary Busey to bring the crazy, whether he's playing himself on "Entourage" or stumbling through "Celebrity Rehab With Dr. Drew." The man is a treasure. Casting Busey is so easy it's practically cheating.

What really matters on Apprentice, though, are the celebs: This season's B- and (let's face it) C-listers are a good, volatile mix. [14 Mar 2011, p.42]

Celebrity Apprentice is pretty much in its typical form, which is to say, craziness involving mostly D-list celebrities, including NeNe Leakes, Star Jones, Lisa Rinna, Gary Busey, Mark McGrath and "Survivor" winner Richard Hatch.

As entertaining as the crazy can be, there's an undercurrent of pathos in Celebrity Apprentice, hidden in the way these people bow to "Mr. Trump" and submit to the contrived challenges as if they're in rehab cleaning toilets.
THE FREAKS COME OUT! This season should have been called NeNe's Celebrity Freaks or Celeb Rehab! These failed celebs may came out of

THE FREAKS COME OUT! This season should have been called NeNe's Celebrity Freaks or Celeb Rehab! These failed celebs may came out of rehab...Catfights & brawls. DING-DING! Season 11 up. Round 12 next

…

Expand

This season should be called Celebrity Apprentice: Plastic-Surgery Edition. So many of them look like haunted marionettes.

I have never beenThis season should be called Celebrity Apprentice: Plastic-Surgery Edition. So many of them look like haunted marionettes.


I have never been a huge fan of this show but I admit I caught the first episode and I may just be hooked. There are so many characters in this season but more ego and of course Gary Busey. Right there he is the one reason to watch for sure as everything that comes out of his mouth just makes no sense. You have to watch just to see how funny and insane he truly is and you will be hooked for sure.

…

Expand

This season of The Apprentice is more of the same. Silliness, celebrity egos, bickering and firing. If you like it, you will love this season.

This season of The Apprentice is more of the same. Silliness, celebrity egos, bickering and firing. If you like it, you will love this season. If you hate it, this won't change your mind.

…

Expand