Network:

NBC

Series Premiere Date:

Jan 8, 2004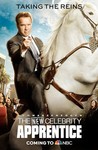 Starring:

Lou Ferrigno

,

Tia Carrere

,

Tia Carrere

Summary:

Clay Aiken, Michael Andretti, Adam Corolla, Tia Carrere, Lou Ferrigno, singer Debbie Gibson, Real Housewife of New Jersey Teresa Giudice, Victoria Gotti, Arsenio Hall, Penn Jillette of Penn & Teller, comedienne Lisa Lampanelli, Miss Universe 2008 Dayana Mendoza, ex-Danity Kane member Aubrey

Clay Aiken, Michael Andretti, Adam Corolla, Tia Carrere, Lou Ferrigno, singer Debbie Gibson, Real Housewife of New Jersey Teresa Giudice, Victoria Gotti, Arsenio Hall, Penn Jillette of Penn & Teller, comedienne Lisa Lampanelli, Miss Universe 2008 Dayana Mendoza, ex-Danity Kane member Aubrey O'Day, Twisted Sister's Dee Snider, George Takei, American Chopper's Paul Teutul Sr., model Cheryl Tiegs, and Venezuelan model Patricia Valasquez compete in the latest Celebrity edition of Donald Trump's The Apprentice, with the $250,000 prize going to the charity of the winner.

…

Expand

Genre(s):

Reality

,

Game Show
Season 12 premiere date:

Feb 19, 2012

Episode Length:

120
Please enter your birth date to watch this video:
You are not allowed to view this material at this time.
Celebrity Apprentice has 18 new celebs this year, including several who will make you roll your eyes. Then in the end, the show once again somehow ends up being good clean fun.

[A] confoundedly tedious bric-a-brac of a reality show, now entering its 12th overall season.

It's also clear that, with the show now starting its fifth season, the contestants have actually bothered to watch previous installments and have strategized. It may keep them in the game longer, but it makes for more predictable TV.
This new Celebrity Apprentice is so far drama packed and looks to be one of the best series going. The stars probably arent as well known but

This new Celebrity Apprentice is so far drama packed and looks to be one of the best series going. The stars probably arent as well known but that doesnt matter because the Egos and intelligence is flying fast.

…

Expand

I would not normally critique a show like this, but feel compelled to do so just to state what despicable and nasty people Lisa Campinelli and

I would not normally critique a show like this, but feel compelled to do so just to state what despicable and nasty people Lisa Campinelli and Aubrey O'Day are. There is certainly much tension to be had from the boardroom sequences courtesy of them, but their tactics and arrogance put them beyond the pale. I am amazed they do anything for charity. They are certainly not charitable to their fellow celebrities (and I use the term loosely) who have had to endure their appallingly rude and obnoxious behaviour for many weeks.
Shame on you both!

…

Expand