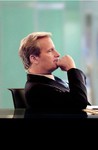 Starring:

Sam Waterston, Alison Pill, Olivia Munn

Summary:

Aaron Sorkin's latest drama is set at a fictional cable news channel where anchor Will McAvoy (Jeff Daniels) leads a group of reporters and staff striving to make a hard-hitting news program.

Genre(s):

Drama
Creator:

Aaron Sorkin

Show Type:

Ended

Season 1 premiere date:

Jun 24, 2012

Episode Length:

60

Air Time:

09:00 PM
I'd rather spend time with an edgy show that aims high and sometimes falls short, than one that doesn't.... Welcome back, Mr. Sorkin. It's a pleasure to have you.

There's no question The Newsroom is eye-rollingly full of itself. But it's also recklessly full of wit, passion, anger and humor--and timely purpose.

What works about the show outweighs what doesn't, but others will read the results differently.

The Newsroom essentially presents viewers with two options: Lament how the series doesn't match the lofty crests of Sorkin's finest work, or admire the show's ambitions and embrace of serious ideas, and grudgingly roll with its uneven tides.

The series is kind of a mess, but one you can't really look away from.

The Newsroom is convincing as a faux newscast. It's less convincing as good television.

Monstrously misconceived and incompetently executed, powered by a high-octane blend of arrogance and contempt, The Newsroom is an epochal failure, a program destined for television's all-time What Were They Thinking? list. Not since NASA's first Vanguard rocket blew up on its launch pad in 1957 will Americans have seen anything crash and burn on television with such hellish spectacularity.
This could be the best show I have seen in a long long time. A lot of the critics reviews make me angry, they have to remember that it's a

This could be the best show I have seen in a long long time. A lot of the critics reviews make me angry, they have to remember that it's a television show and to stop taking it so personally. I applaud HBO for sticking with Aaron Sorkin to make this happen. Television is supposed to be entertaining, if it was supposed to be real, we'd just be watching CNBC or CNN. Be sure to watch and judge this amazing show on your own, not from the eyes of a journalist that is comparing it to their own life and work. I can't wait for this season to unfold!

…

Collapse

It is sad that people watch one or two episodes and think they can understand the true dynamic of a show. Newsroom is an ever-changing,

It is sad that people watch one or two episodes and think they can understand the true dynamic of a show. Newsroom is an ever-changing, intelligent show about events that have been important to America in the past few years. As a show the acting, directing, and camera work is incredible. The characters are all so relate able and interesting. It's a must see and you have to give it more than just two episodes. One of the best shows on TV right now!

…

Expand

Aaron Sorkin proved once more that he can create great TV shows like hardly anyone else. I loved Sports Night and West Wing from the first

Aaron Sorkin proved once more that he can create great TV shows like hardly anyone else. I loved Sports Night and West Wing from the first episode I've seen and The Newsroom is no way different. With so many crap shows around it's great to see Mr. Sorkins work back on screen. Similar to West Wing not everyone may like the (political) opinions of the characters, but it's a TV show and as such it has everything a great show needs. A great concept, wonderful scripts and amazing actors. When an episode ends I already start to wait for the next one. It never stops being fun to watch. Thanks to Aaron Sorkin and anyone else involved with providing this show.

…

Expand

F**k the critics.. Aaron Sorkin is a dramatical genius and this show is well acted & directed. Add it to great shows as West Wing. Truly a

F**k the critics.. Aaron Sorkin is a dramatical genius and this show is well acted & directed. Add it to great shows as West Wing. Truly a masterpiece//

…

Expand

Once again, Sorkin proves smarter than his critics.
Fortunately HBO lets him play to a smarter audience.
Unlike Studio 60, The Newsroom'sOnce again, Sorkin proves smarter than his critics.
Fortunately HBO lets him play to a smarter audience.
Unlike Studio 60, The Newsroom's setting allows plenty of twists and turns to justify his frenetic pace.
I look forward to many enjoyable, taughtly written episodes!

…

Expand

This show is and entertaining hour. However, it is a bit unbelievable as Jeff Daniel's character plays a Republican that doesn't seem to

This show is and entertaining hour. However, it is a bit unbelievable as Jeff Daniel's character plays a Republican that doesn't seem to embrace any Republican ideals. It's not my favorite Aaron Sorkin show, but I hope it holds up over time. The female characters feel more ridiculous (not in good way) than usual and, in general, are not particularly appealing or approachable. They are more like silly caricatures with few (if any) redeeming properties.

…

Expand

I could only take one and a half episodes. The snappy dialogue from the team and the pure arrogance of the main character were appalling. The

I could only take one and a half episodes. The snappy dialogue from the team and the pure arrogance of the main character were appalling. The issues are a little dated and should be more current. Who cares what happened a year ago? I will not watch another episode.

…

Expand