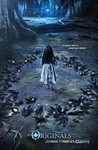 Starring:

Joseph Morgan

,

Daniel Gillies

,

Claire Holt

Summary:

A spin-off from The CW's hit series The Vampire Diaries, this New Orleans-set supernatural drama will focus on the vampire siblings of Klaus (Joseph Morgan), Elijah (Daniel Gillies), and Rebekah (Claire Holt).

Genre(s):

Drama

,

Fantasy

,

Horror

,

Science Fiction
Creator:

Julie Plec

Season 1 premiere date:

Oct 3, 2013

Episode Length:

60
Please enter your birth date to watch this video:
You are not allowed to view this material at this time.
This series is about the bonds of family and heated power struggles--with a big dose of vampiric hedonism mixed in. Sounds like the makings of something pretty fang-tastic.

There are a lot of moving parts and agendas here, but The Originals does a pretty good job of stitching them all together by the end of its first hour.

If you're into The Vampire Diaries (I'm not), you'll get sucked into this sleek spinoff.

The Originals deserves credit for a mostly clear set-up for newcomers.

The originals strikes me as what "Dallas" might have been if J.R. and Bobby had been immortals. And living, of course, in the Big Easy.

The heavy-handed dialogue, courtesy of series creator Julie Plec and Michael Narducci, doesn't deliver much bite.

The Originals should give us some idea of just how deep the current teenage affection for vampire stories goes. If it can support a show this ludicrously written and terribly cast, it's deeper than most adults can fathom.
This review contains spoilers, click expand to view.

In my opinion this is much better than VD, I love their over all story line, their past the presentation of it the acting, overall everything. What I love about this is it's about loyalty and family bonds that even though they seem unfixable, cannot be even broken. Instead of some vampire love triangle. I will admit vampire diaries is more developed but I just like this series better. And how these characters relate to you, how much you care about them and how much you bond with them makes a huge different in the show.*Spoiler* How, Niklaus gave his child the wooden night he gave Rebekah seriously made me sob in my living room, he kept it all those years.

…

Expand

Having been a Vampire Diaries fan and just a fan of supernatural series shows, this is a brilliantly made show. It really sets itself apart

Having been a Vampire Diaries fan and just a fan of supernatural series shows, this is a brilliantly made show. It really sets itself apart from the Vampire Diaries because it's not really focused on love but rather family, loyalty, and power. These characters know who they are; they're not really as conflicted as the characters in VD but rather are struggling with past demons. This show is just enchanting, captivating, edgy, and it has its rather intense moments. The Originals is a show that shouldn't be underestimated because it has a lot of surprises and it makes you connect to the characters on a personal level. Not to mention all of the awesome actors who are not only just incredibly good looking but extremely talented. Give this show a shot.

…

Expand

This is one of 2013's best series. Although it is a spin off from Vampire diaries, it has gone above and beyond what is expected of a

This is one of 2013's best series. Although it is a spin off from Vampire diaries, it has gone above and beyond what is expected of a supernatural series. This show not only features some good acting, but there is also some real charisma amongst the actors. Additionally, it take suspense to a new level.

…

Expand

I don't understand the reviews for this show, it just proves that critics are usually the worst reviewers available. First they consider their

I don't understand the reviews for this show, it just proves that critics are usually the worst reviewers available. First they consider their opinions to be the only ones that matter so they give creative material absolutely NO wiggle room for interpretation.

This show is NOT vampire diaries. It's a little older, more mature, and a bit edgier. While VD is about an awful main actress and her unbelievably complicated *or some say stupid* romantic life, this is about family. Not family in the disney sense, but in the medieval "My brother is really my worst enemy, at least until we come up against someone even more vile".

This sets a story with believable motives (if you can believe in witches, vampires, etc, or give the writers the benefit of the doubt that within this universe they exist) and interesting characters. I love me some grey (rather than black/white) antagonists. I love the motives for moving to/staying in New Orleans. Klaus is a fantastic actor. Elijah is.... kind of a god. Rebecca is obviously the weak link in the Originals, and seems to now have moved off of VD, which is both good and bad. I hated her in VD, but her presence in the Originals has me apprehensive. Yet, even here the character's motives and dialogue are improved over the dialogue (in the same week) the character has on VD.

Let's see where this goes, though I am a bit anxious that the Originals (and by extension VD) keep finding more and more powerful baddies, at least in the Originals the motives behind Marcelle and his Devina are clouded.

…

Expand

I have faith that this will end up being way more exciting than The Vampire Diaries so long as it can get it's footing with a second and third

I have faith that this will end up being way more exciting than The Vampire Diaries so long as it can get it's footing with a second and third season, the last few episodes have exploded as I knew they would. I understand the gripes about this cast being able to support their own show but as I see it these are older and more refined actors than those on TVD all they need is a good fresh start which they have nailed. expect my score to rise through this season.

…

Expand

If anyone wants to watch this show, then do so for Klaus, and Klaus only. The rest are unimportant, but it's almost delicious to watch his

If anyone wants to watch this show, then do so for Klaus, and Klaus only. The rest are unimportant, but it's almost delicious to watch his whims and scheming unfold in a perfectly unpredictable manner. The man reflects a Man's dark side so perfectly that it makes for an unapologetic and guilty viewing.

But before I come to that, I gotta say, I find the whole moral judgments from posters on Klaus' character so funny and immature and lacking in narrative understanding. It's as if the nicer and one-dimensional a character is, the faultless it is, the better it is. This notion is very nauseating, by the way. When the exact opposite is true; the more faults a character has, the more dynamics it has to play with. People should endeavour hard to remember that.

Coming to the review, I cannot stress enough how badly written almost all of the characters are, save for Klaus. The good thing about him is the fact that he already has such dynamic and fluctuating elements to his characterization that implicitly support the narrative, keep it interesting - as long as he's in the frames, of course - and he's an excellent plot catalyst. He's excellent and phenomenal in every aspect. This paper-thin plot would have sunk a long time ago had it not been for his tightly constructed character that skillfully and flawlessly takes on several personas in every episode. It's mind-blowing how a writer (or writers) can craft such a brilliant character and be equally and conversely bad and drab on the other end. The rest of the characters are petty as hell.

The rest of them need constant props to even make a dent in the narrative. I really suggest the writers to up their game, otherwise the whole thing will become fragmented fairly quickly. Over all, this is Klaus' show through and through, and here is to a rather wishful hope that it remains so.

…

Expand

Sadly, like many of today's TV shows, this show is full of subtle political agendas. National Geographic stated that the next race up for

Sadly, like many of today's TV shows, this show is full of subtle political agendas. National Geographic stated that the next race up for extinction are the white-Europeans due to dangerously low birthrates globally. Inter-racial couples make up 13% of America, and even less globally. So now those of us that are smart and caring are starting to ask why is it then necessary to constantly push this agenda in American TV shows? We don't have constant TV shows about Native Americans in interracial relationships. Probably because we know that would be cruel and insensitive. When a birthrate among any racial group is dying out, time to not be cruel and insensitive. We all come from ancient tribes, and we are all beautiful. Maybe 100 years from now, this kind of message won't matter if white-European birthrates start going up, but until then it's hateful and irresponsible media messages. I stop watching any show now when I see this message being pushed. Wake up world, not matter what race you are. Panda bears are worth saving, and any race can become the Panda bear.

…

Expand