Network:

truTV

Series Premiere Date:

Nov 19, 2017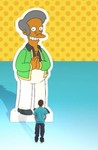 Summary:

The documentary from Hari Kondabolu features interviews Utkarsh Ambudkar, Aziz Ansari, W. Kamau Bell, Whoopi Goldberg, Dana Gould, Sakina Jaffrey, Aasif Mandvi, Hasan Minhaj, Aparna Nancherla, Kal Penn, Russell Peters, and Mike Reiss about The Simpsons' character Apu Nahasapeemapetilon.

Genre(s):

Movie/Mini-Series

,

Documentary
Show Type:

TV Movie

Season 1 premiere date:

Nov 19, 2017

Episode Length:

49
Though the ending isn't tidy, the film still offers a lot of insight from Kondabolu's contemporaries like Aziz Ansari, Aparna Nancherla, Kal Penn, Utkarsh Ambudkar, Russell Peters, and several more.

[Hari Kondabolu has] taken the issue in hand skillfully here, regardless of whether his message changes how the audience, and Azaria, view Apu from now on.

Not all documentaries need to "show both sides," but it becomes disingenuous when Kondabolu declares, "I realize some of you think I'm some annoying PC social-justice warrior" and then calculatedly skips those voices, and disappointing when Kondabolu and friends wonder what can be done about Apu now and there's nobody around to make it into a real conversation. Still, there's great virtue in getting that conversation started and, in under an hour, The Problem With Apu does that well.
The problem with Kondabolu is his strong emotional hate for Apu and what that character (i.e. the people imitating the character) has done to

The problem with Kondabolu is his strong emotional hate for Apu and what that character (i.e. the people imitating the character) has done to him, which is sad of course. The people imitating Apu to his face are a-holes. But even tho he's pretty levelheaded; if you really hate something, the reasoning becomes strongly subjective and by that, the way you narrate the documentary becomes subjective and pretty flat. The hate against Azaria felt a bit over the top. He probably have his fair reasoning for not doing the documentary, so it doesn't feel fair to judge him that hard. And Azaria is not the entire Simpsons. He probably had to consider that.
So what's the problem with Apu? The Simpson became a hugely popular long running show. Apu became popular and beloved, hence a recurring character. With that said: Apus funny line "Thank you come again" and repetition is the problem with Apu. Yes, The Simpsons are poking fun at many stereotypes, just as many other shows and movies do, but there has probably never been a show with a character as loved, popular and recurring with a funny phrase as Apu. That makes the thing stick. If the stereotypical Italian chef was the popular character, he would be "the problem." Is this reversible now? Will things change if they kill him? The show is out there now - 29 seasons. It won't disappear. Or is it damage done, lesson learned, let's not repeat this.

…

Expand

More nonsense and hypervigilance from the shame culture which pretends to bring critical awareness to non-issues. Actual racism is intolerable

More nonsense and hypervigilance from the shame culture which pretends to bring critical awareness to non-issues. Actual racism is intolerable and should be pulled into the light and erased, but it takes a special mix of self-loathing and stupidity to become so incensed at cartoonish satire that you spend the time and money to make a documentary about what we already know; Apu is an unrealistic caricature of real people. So is Luigi the pizza guy. So is Willie the groundskeeper. So is Flanders. Pick and choose your intended offended, hypocrites, the rest of us will be laughing without a shred of passive hatred or indirect racism in our hearts. The world knows what Apu is and isn't concerned -- ironic that those who regard themselves as the most "woke" of us are the ones asleep to anything other than scoring imaginary social points with their mock outrage. Apu forever. Thank you, come again!

…

Expand

This is a story about people with no sense of humour getting offended at people that do. It is a story about people who have so little

This is a story about people with no sense of humour getting offended at people that do. It is a story about people who have so little problems in their lives that they have to go looking for them.

…

Expand