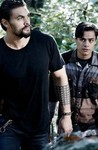 Starring:

Jason Momoa

,

Tamara Tunie

,

Julianne Nicholson

Summary:

An uneasy alliance is formed after a situation in the Ramapo Mountain area brings together sheriff Harold Jensen (Martin Henderson) and Phillip Kopus (Jason Momoa), an ex-con and a member of the Lenape Tribe.

Genre(s):

Drama
Please enter your birth date to watch this video:
You are not allowed to view this material at this time.
It's the kind of show that sits with you long after it's over.

The Red Road demands patience, but from what I've seen, it strongly suggests that will be rewarded.

It feels productively mysterious. The show tells you covertly a lot about the characters, building them up through bits of behavior and stray remarks that can seem contradictory at first but do start to cohere into something more complex.

The Red Road may not be SundanceTV's strongest drama, but it has a hypnotic power, a strange rhythm of dread that makes it far more interesting than most network dramas.

You don't have to have lived through Watergate to know that it's the cover-up that gets you, but there's much more happening in The Red Road, maybe too much to be contained in a six-hour first season, and some of it more interesting than what's going on between these two men.

The first three episodes are all hints and shadows and squandered time, while the show's most intriguing context and premise--life in a forgotten and neglected tribe--gets lost in all the meandering.

A lugubrious six-episode drama that's as overwrought as it is underwhelming.
This is a great show, it gets more exciting with each episode, cant wait for season 3, just wish it wasnt on Sundance but one of the national

This is a great show, it gets more exciting with each episode, cant wait for season 3, just wish it wasnt on Sundance but one of the national channels. Hope they dont kill of Marie, she is great, if so I may have to quit watching. It is a FANTASTIC show and hope more people gets to see it.

…

Expand

It's truly a world within a world of utter emotion ... Really grabs you, pulls at the inner workings, dynamics of the soul & the world in

It's truly a world within a world of utter emotion ... Really grabs you, pulls at the inner workings, dynamics of the soul & the world in which we live. Complex relationships (enlightening & provoking)Superb Cast,Great Chemistry between Characters. The Red Road is nothing but straight... It's filled with plot twist & turns...Hills & Valley's & occasionally arrives at the crossroads... That place deep within us that we all question at some point along our journey... "Which way is the way Home??" The path to a better me? A happier place? Follow The Red Road... It's surely to make a difference!

…

Expand

Certain characters are extremely annoying at times (not hard to figure which I'm speaking of).. but it has an interesting plot with some

Certain characters are extremely annoying at times (not hard to figure which I'm speaking of).. but it has an interesting plot with some stellar acting as well.. will continue watching to see how it develops.

…

Expand

After one episode, it's clear that things are off to a good start, though the pattern has been firmly established these days with Top of the

After one episode, it's clear that things are off to a good start, though the pattern has been firmly established these days with Top of the Lake and Rectify. Dead body, local population upset, protagonist struggling with a troubled loved one. In this case, Jason Momoa seems like an exceptionally well-cast lead. I'm a little concerned that the cop-lead isn't going to be able to hold his own from a dramatic acting level. We'll see!

…

Expand

It's been a pretty solid show so far. Well acted with the cast lead by Jason Momoa, easily the star of the show, and Martin Henderson, Both

It's been a pretty solid show so far. Well acted with the cast lead by Jason Momoa, easily the star of the show, and Martin Henderson, Both leads hold their weight and definitely help carry the show and make it worth checking out. The plot is ok but the sub-plots seem a bit under developed and often disappear through the short, 6 episode season.

As a whole, The Red Road is pretty solid and it's definitely worth checking out, Especially because it's only 6 episodes in the first season. Can't wait to see season 2.

…

Expand

Good acting but the story just isn't believable. I really wanted to like this show but I keep shaking my head saying, "There's no way I/they

Good acting but the story just isn't believable. I really wanted to like this show but I keep shaking my head saying, "There's no way I/they would do that."

…

Expand