Network:

FOX

Series Premiere Date:

Jan 21, 2018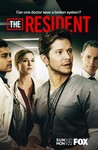 Starring:

Matt Czuchry

,

Bruce Greenwood

,

Melina Kanakaredes

Summary:

Senior resident Dr. Conrad Hawkins (Matt Czuchry) mentors first year resident Dr. Devon Pravesh (Manish Dayal) while juggling his on-and-off-again relationship with nurse Nicolette Nevin (Emily VanCamp) and dealing with the Chief of Surgery Dr. Randolph Bell (Bruce Greenwood) in this medical

Senior resident Dr. Conrad Hawkins (Matt Czuchry) mentors first year resident Dr. Devon Pravesh (Manish Dayal) while juggling his on-and-off-again relationship with nurse Nicolette Nevin (Emily VanCamp) and dealing with the Chief of Surgery Dr. Randolph Bell (Bruce Greenwood) in this medical drama from Amy Holden Jones, Hayley Schore and Roshan Sethi.

…

Expand

Genre(s):

Drama
Season 1 premiere date:

Jan 21, 2018

Episode Length:

45
Episode 2 brings a mass infusion of new characters, including an oncologist played by Providence vet Melina Kanakaredes, that leaves the cast feeling overcrowded. But two episodes in, The Resident still shows plenty of storytelling potential, with real tension and intriguing character dynamics to dive into. It doesn't flinch at showing how our health-care system is run like a for-profit business.

Medical procedurals are typically too color-by-numbers for my taste, but that's not the case here. With well-placed touches of humor, interesting storylines and a special cast, "The Resident" is a prescription you should have filled.

If it doesn't break any new ground in the genre, it efficiently delivers a familiar mix of ethical conundrums and colorful characters, with just enough blood and sex to seem "real" in TV terms.

Although the series milks melodrama at every opportunity, it explores interesting ethical issues arising from its fundamental premise that a medical institution's concern for the bottom line sometimes takes priority over saving lives.

It's a drama. ... The Resident turns out to be hilarious in so many ways, but first you must get through the horror.

[The Resident] is an exercise in frustration. Self-important, predictable and inconsistent, the series delivers bland stories about terrible people playing God, just because they can.
The show offers a really good balance of sincere concern for the patients, and frustration with the administration and hospital politics

The show offers a really good balance of sincere concern for the patients, and frustration with the administration and hospital politics limiting the choices the doctors have to effectively treat their assigned patients. The characters feel real and you can definitely admire the character of the young residents.

…

Expand

I admit I am a bit tired of medical dramas but I was very curious over The Resident since it was boasting covering topics you don't normally

I admit I am a bit tired of medical dramas but I was very curious over The Resident since it was boasting covering topics you don't normally see, such as the politics in a hospital along with insurance things. As someone that has had to deal with hospitals and health care a lot (especially recently) I was excited to see this. Like most medical shows, it definitely has it's issues with medical accuracy at times. There isn't a medical show on the planet that hasn't shown something inaccurate at some point though. But it also has some really great details for other things, especially small things, which some doctors have expressed as impressive. The first few episodes are over the top at times but I think this is mostly because it is a TV show and they need to keep it interesting. Watching a bunch of people standing around entering charts on computers or doing all the lab work/waiting for labs would not really be much of a show. So I feel they can be forgiven for that. The storyline with Nic the nurse as a whistle blower is fantastic and I can not wait to see how this turns out. Fingers crossed for a season 2. And a longer season at that.

…

Expand

I loved this show. Of course medical professionals will be unhappy with some of the over-the-top escapades. To me the realism is shown in the

I loved this show. Of course medical professionals will be unhappy with some of the over-the-top escapades. To me the realism is shown in the over size egos and the no-win dilemmas that caregivers face every day. There were dishonest actions which were compassionate, and perfectly legal actions which were despicable. The acting is first rate, the actors are attractive, their roles seem well-rounded. I say give it time. If you didn't like it, go back to watching The Bachelor, and give this show time to get even better. The network needs to give the show plenty of promotion and let the writers learn to use their scalpels with care.

…

Expand

A bit quirky and irreverent, but suffers because of the predictable plots. I have been able to accurately summarize the plots after less than

A bit quirky and irreverent, but suffers because of the predictable plots. I have been able to accurately summarize the plots after less than ten minutes into each episode. The writers need to fix this problem if this show is to survive. Also, if this show is about sticking it to the evil medical bureaucracy over and over, this show will get stale pretty quickly.

The three main characters are enjoyable for the most part, but the minor characters, including the chief surgeon, are not. The writers and the director(s) need to work on this as well.

As least the first four episodes did not bore me - which most of the soapy medical dramas do anymore. I like plots that are mainly focused on the medicine and not typical soapy relationships.

Since this is fiction I'll not repeat the complaints authored by the medical professionals here. It's fiction and not a real medical facility - we get it!

Anyway, this show has some potential if it gets better writing and we don't have to wait long for the evil characters to get their just desserts. Change it up and keep it about good medicine and there might be a future for this show.

…

Expand

Virtuous young doctors battle corrupt old doctors for the soul of a hospital--when they're not angsting around in plots familiar from a

Virtuous young doctors battle corrupt old doctors for the soul of a hospital--when they're not angsting around in plots familiar from a hundred other medical soaps. That's it, really. A bland show gets a bland review.

…

Expand

Just watched the 1st episode. This was perhaps the worst medical show I've seen ever. It is definitely the worst show I've seen so far in

Just watched the 1st episode. This was perhaps the worst medical show I've seen ever. It is definitely the worst show I've seen so far in 2018. This was a failure. There's enough corrupt, jerks in the world without trying to celebrate them in a TV show about doctors.

…

Expand

I have been a nurse for over 40 years and found this show disgusting. It reeks of white privilege and is a discredit to the medical

I have been a nurse for over 40 years and found this show disgusting. It reeks of white privilege and is a discredit to the medical profession. Yes, there are incompetent people in the profession, but they are not allowed to function at the expense of their patients. I expect TV shows about medicine to show empathy, and ethics, and to educate as we all must take a more active role in our health care.

…

Expand