Network:

FOX

Series Premiere Date:

Dec 17, 1989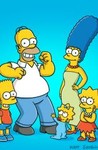 Starring:

Hank Azaria

,

Harry Shearer

,

Nancy Cartwright

Summary:

Originally created by cartoonist Matt Groening, "Our Favorite Family," has graced the small screen in one form or another for over 20 years. The Simpson family first appeared on television as the subjects of interstitial "shorts" on The Tracey Ullman Show in April of 1987. The Simpsons

Originally created by cartoonist Matt Groening, "Our Favorite Family," has graced the small screen in one form or another for over 20 years. The Simpson family first appeared on television as the subjects of interstitial "shorts" on The Tracey Ullman Show in April of 1987. The Simpsons remained a staple on The Tracey Ullman Show for three seasons until they premiered in their own half-hour series, on December 17, 1989. With the help of Jim Brooks and Sam Simon, Matt Groening's cartoon family turned into an instant success.

Set in Springfield, the average American town, the show focuses on the antics and everyday adventures of the Simpson family; Homer, Marge, Bart, Lisa and Maggie, as well as a virtual cast of thousands. Since the beginning, the series has been a pop culture icon, attracting hundreds of celebrities to guest star. The show has also made name for itself in its fearless satirical take on politics, media and American life in general.

Currently in its 21st season, The Simpsons has piled up over 440 episodes, over 20 Emmy Awards, a handful of music albums, countless endorsements and merchandise, and even made the jump to the silver screen in the summer of 2007 with The Simpsons Movie. And according to Matt Groening, "There is no end in sight."

…

Expand

Genre(s):

Comedy

,

Animation
Season 4 premiere date:

Sep 24, 1992

Episode Length:

30
Please enter your birth date to watch this video:
You are not allowed to view this material at this time.
The Simpsons has never been better. At a time when half-hour TV comedy is reaching a new level of self-referential daring — you can't fully appreciate the intricate, in-joke pleasures of great shows like NBC's Seinfeld and HBO's The Larry Sanders Show unless you've also watched a lot of really bad TV — The Simpsons continues to emphasize that there's a big world out there that television barely touches upon.
Ahora sí, a partir de esta temporada (hasta la 13-14) todas merecen un 10. La cuarta ya es mítica y las que la preceden iban cada vez a mejor.

Ahora sí, a partir de esta temporada (hasta la 13-14) todas merecen un 10. La cuarta ya es mítica y las que la preceden iban cada vez a mejor. Brillantes personajes y las situaciones cada vez son mas divertidas.

…

Expand

Featuring the wickedly dark "Kamp Krusty", the joyfully giddy "Marge vs. the Monorail" and the satirical "Last Exit to Springfield", Season 4

Featuring the wickedly dark "Kamp Krusty", the joyfully giddy "Marge vs. the Monorail" and the satirical "Last Exit to Springfield", Season 4 is the best SImpsons season hands down.

…

Expand

Season 4 is where it confirmed itself as the best tv show ever. Incredible writing, each a episode classic, it still holds up to this day,

Season 4 is where it confirmed itself as the best tv show ever. Incredible writing, each a episode classic, it still holds up to this day, you dont even notice the characters dont have mobiles and internets etc. best ever ever.

…

Expand

This could be the single best season of any comedy T.V. show in history. Absolutely brilliant from premiere to finale.

The best Simpsons season by far, in my opinion. Almost all of the episodes are brilliant, funny and well-written. Season four contains some of

The best Simpsons season by far, in my opinion. Almost all of the episodes are brilliant, funny and well-written. Season four contains some of the most clssic simpsons episodes like Mr Plow, Marge vs the Monorail, Lisa's First Word, Kamp Krusty and others. The Last Exit to Springfield is considered by many as the best episode of the series. Homer's Triple Bypass is perhaps my personal all time favourite episode. If you haven't yet watched the early Simpsons seasons start with this one and you'll be hooked. More recent seasons are crap compared to this one. This is old school Simpsons. 10/10

…

Expand

The Simpsons Season Four Revew
Kamp Krusty 10/10 A Perfect Season Premire, Should Be In The Top 50 Best Simpons Eps. A Streetcar Nammed MargeThe Simpsons Season Four Revew
Kamp Krusty 10/10 A Perfect Season Premire, Should Be In The Top 50 Best Simpons Eps. A Streetcar Nammed Marge 10/10 A Great One, The Only Thing I Didn't Lke If The Slamming Of New Orlens. I Think They Could Of Came Up With Betrer Word Choice... Other Than That It's A Gold Ep.!
Homer the Heretic 8/10
Lisa the Beauty Queen 10/10 A Amazing Well Writed Ep., Should Be In The Top 50 Best Simpsons Eps.
Treehouse of Horror III 9/10 A Very Well Writen Ep.
Itchy & Scratchy: The Movie 10/10 A Very Clever Plot
Marge Gets a Job 10/10 Tom Jones Guest Stars, I Laughed The Whole Way Though, Should Be In The Top 50 Best Simpsons Ep's.
New Kid on the Block 9/10 Very Could, Honestly Some Scenes Could Have Been Better
Mr. Plow 10/10 One Of The Best Simpsons Ep's Of All Time! Call Mr. Plow! Lisa's 1st Word 10/10 Homer's Triple Bypass 10/10 So So So Funny! Marge vs. the Monorail 10/10 Should Be In The Top 50 Best Simpsons Ep's.
Selma's Choice 10/10 One Of The Best Simpsons Ep's Of All Time!
Brother from the Same Planet 6/10 The Worst And Weakest Ep. Of Seasn 4. I Wouldnt Mind Never Seing It Again. I Love Lisa 10/10 Should Be In The Top 50 Simpsons Ep's Of All Time!
Dufless 10/10 Great!
Last Exit to Springfield 10/10
So It's Come to This: A Simpsons Clip Show 9/10 Honestly For A Clip Show It's Pretty Funny!
The Front 10/10 Perfect!
.Whacking Day 10/10 Marge In Chains 9/10 Almost Perfect!
Overall In Simpsons History Of 23 Years On T.V. Season 4 Is MY Favorite. My Favorite Ep's Are Kamp Krusty, A Streetcar Nammed Marge, Lisa The Beauty Queen, Marge Get's A Job, Mr Plow, Marge VS The Monaral, Selmas Choice, And Wacking Day.

…

Expand

The Simpsons has now been on the air for over twenty years and while it may have been in steady decline for a while now the earlier seasons

The Simpsons has now been on the air for over twenty years and while it may have been in steady decline for a while now the earlier seasons remain amongst the funniest, most intelligent comedy ever seen on TV.

By the time the show reached this fourth season (way back in 1992 would you believe!) the writers, animators and voice actors had really hit full stride. Episodes like Mr Plow, Lisa's First Word and Marge Vs the Monorail are not only amongst the best episodes ever produced by The Simpsons but amongst the best episodes of any comedy show ever made. The mere fact that most people can still recite lines from their favourite episodes is true testament its enduring quality.

…

Expand