Network:

FOX

Series Premiere Date:

Dec 17, 1989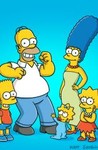 Starring:

Hank Azaria

,

Harry Shearer

,

Nancy Cartwright

Summary:

Originally created by cartoonist Matt Groening, "Our Favorite Family," has graced the small screen in one form or another for over 20 years. The Simpson family first appeared on television as the subjects of interstitial "shorts" on The Tracey Ullman Show in April of 1987. The Simpsons

Originally created by cartoonist Matt Groening, "Our Favorite Family," has graced the small screen in one form or another for over 20 years. The Simpson family first appeared on television as the subjects of interstitial "shorts" on The Tracey Ullman Show in April of 1987. The Simpsons remained a staple on The Tracey Ullman Show for three seasons until they premiered in their own half-hour series, on December 17, 1989. With the help of Jim Brooks and Sam Simon, Matt Groening's cartoon family turned into an instant success.

Set in Springfield, the average American town, the show focuses on the antics and everyday adventures of the Simpson family; Homer, Marge, Bart, Lisa and Maggie, as well as a virtual cast of thousands. Since the beginning, the series has been a pop culture icon, attracting hundreds of celebrities to guest star. The show has also made name for itself in its fearless satirical take on politics, media and American life in general.

Currently in its 21st season, The Simpsons has piled up over 440 episodes, over 20 Emmy Awards, a handful of music albums, countless endorsements and merchandise, and even made the jump to the silver screen in the summer of 2007 with The Simpsons Movie. And according to Matt Groening, "There is no end in sight."

…

Expand

Genre(s):

Comedy

,

Animation
Season 8 premiere date:

Oct 27, 1996

Episode Length:

30
Please enter your birth date to watch this video:
You are not allowed to view this material at this time.
This is one of the sharpest, most purely pleasurable television series ever. ... What began in 1987 (as animated filler between sketches on The Tracey Ullman Show) has become one of the medium's most dependable entertainments, a cartoon that transcended cartoonishness a long time ago.
Season 8 just continues the legacy of best tv show ever, in every genre. Incredible writing, each a episode classic, it still holds up to

Season 8 just continues the legacy of best tv show ever, in every genre. Incredible writing, each a episode classic, it still holds up to this day, timeless stories and humor and sentiment without grossness. best ever ever. enjoy it while it lasts past me, not long left...

…

Expand

There are very few shows in the history of television that can match The Simpsons in terms of maintaining its high standards for such a long

There are very few shows in the history of television that can match The Simpsons in terms of maintaining its high standards for such a long time. Eight years in and it was still producing classic episode after classic episode. My personal favourites include You Only Move Twice, The Twisted World of Marge Simpson and Homer's Phobia but yet again there is not a weak episode in the entire season.

…

Expand

In this season is introduced Lindsey Naegle, my favourite character ever. Frank Grimes is a funny villain and there is also a crossover

In this season is introduced Lindsey Naegle, my favourite character ever. Frank Grimes is a funny villain and there is also a crossover between The Simpsons and The X-Files.

…

Expand

The second best season after the fourth one with some of the funniest episodes of the series like Homer's Phobia , The Springfield Files,

The second best season after the fourth one with some of the funniest episodes of the series like Homer's Phobia , The Springfield Files, Homer vs the 18th Amendment and others. El Viaje Mysterioso du Nuesrto Homer is an excellent episode with brilliant surreal animation. Season 8 also features very interesting guest stars like Rodney Dangerfield,John Waters,Johny Cash Willem Dafoe and David Hyde Pierce playing Cecil, Sideshow Bob's(Voiced by Klesey Grammer) brother. Pierce and Grammer were the Crane brothers in Frasier. The only flaw of this season is the 24th episode The SImpsons Spin Off Showcase, a bad written episode with 3 unfunny segments. 9/10

…

Expand

not my favorite season still better then season 1 but not as good as the other ones. there were good episodes and there where mostly ok

not my favorite season still better then season 1 but not as good as the other ones. there were good episodes and there where mostly ok descent episodes,

…

Expand