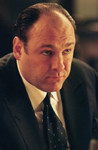 Starring:

Edie Falco

,

Michael Imperioli

,

Steve Schirripa

Summary:

Meet Tony Soprano: your average, middle-aged businessman. Tony's got a dutiful wife. A not-so-dutiful son. A daughter named Meadow. An uncle who's losing his marbles. A hot-headed nephew. A not-too-secret mistress. And a shrink to tell all his secrets, except the one she already knows:

Meet Tony Soprano: your average, middle-aged businessman. Tony's got a dutiful wife. A not-so-dutiful son. A daughter named Meadow. An uncle who's losing his marbles. A hot-headed nephew. A not-too-secret mistress. And a shrink to tell all his secrets, except the one she already knows:
Tony's a mob boss whose troubles are wrapped up in his two families. These days, it's getting tougher and tougher to make a killing in the killing business. Just because you're 'made' doesn't mean you've got it made.

…

Collapse

Genre(s):

Drama

,

Suspense
Season 4 premiere date:

Sep 15, 2002

Episode Length:

60
Please enter your birth date to watch this video:
You are not allowed to view this material at this time.
The Sopranos remains a unique combination of brains, wit and raw power.

There's a sense in which the lag in time between the third and fourth seasons has resulted in scripts that have been too carefully crafted; the ironies and parallelisms are sometimes overworked, excessively neat. ... Still, 'The Sopranos' -- bursting with livid energy and daringly rotten at its core -- is full of scenes that'll leave you breathless in their audacity, goofball non sequiturs, and profound cynicism.
Every season of the sopranos is getting a 10 from me, along with the wire?

you ask me why? because i dont have an 11 button. along withEvery season of the sopranos is getting a 10 from me, along with the wire?

you ask me why? because i dont have an 11 button.

along with the wire, one of the shows that completely revolutionised television. there are others that can be compared, even favourably, and there are forerunners and worthy successors, but these two shows pretty much dropped the bomb on tv.

the sopranos is better than the wire for me, but its an apples and oranges thing. this show is endlessly fascinating, incredibly rich, and effortlessly reflective of america itself. the wire further deconstructed the episodic shackles of television, and the idiot drive to pacify an audience, but the sopranos owned the narrative perspective, and the cynical portrait of the larger world it is set in. we got to know the city of omars baltimore real well from watching the wire. but tonys america is the world we are living in.

…

Expand

Mucho había leido de que esta cuarta temporada era la más "floja" de Los Soprano. He de decir, que lo desmiento ROTUNDAMENTE, si que es verdad

Mucho había leido de que esta cuarta temporada era la más "floja" de Los Soprano. He de decir, que lo desmiento ROTUNDAMENTE, si que es verdad que bajo mi punto de vista, la trama de Carmela ocupa demasiado "espacio" en la trama principal y que quizá llegue a cansar un poco, pero... ¿qué sería entonces de ese increíble final de temporada?

Para mi opinión personal, esta cuarta mantiene el nivel de la tercera y tiene alguno de los mejores capítulos, como el momento Ralph Cifaretto... Buenísima esta temporada.

…

Expand

Es la temporada mas floja de The Sopranos pero aun asi mantiene el nivel que sus predecesoras y el ultimo capitulo es de lejos uno de los

Es la temporada mas floja de The Sopranos pero aun asi mantiene el nivel que sus predecesoras y el ultimo capitulo es de lejos uno de los mejores episodios en mi opinion.

…

Expand

This serie is pointless. There is probably a place for it buried in the Indian ocean with you know who. To avoid pollution: a sceptic tank

This serie is pointless. There is probably a place for it buried in the Indian ocean with you know who. To avoid pollution: a sceptic tank would do. Those soprano should try to get a normal like everyone else. Otherwise, get lost.

…

Expand