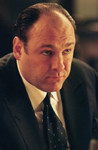 Starring:

Steve Buscemi

,

Edie Falco

,

Michael Imperioli

Summary:

Meet Tony Soprano: your average, middle-aged businessman. Tony's got a dutiful wife. A not-so-dutiful son. A daughter named Meadow. An uncle who's losing his marbles. A hot-headed nephew. A not-too-secret mistress. And a shrink to tell all his secrets, except the one she already knows:

Meet Tony Soprano: your average, middle-aged businessman. Tony's got a dutiful wife. A not-so-dutiful son. A daughter named Meadow. An uncle who's losing his marbles. A hot-headed nephew. A not-too-secret mistress. And a shrink to tell all his secrets, except the one she already knows:
Tony's a mob boss whose troubles are wrapped up in his two families. These days, it's getting tougher and tougher to make a killing in the killing business. Just because you're 'made' doesn't mean you've got it made.

…

Expand

Genre(s):

Drama

,

Suspense
Season 5 premiere date:

Mar 7, 2004

Episode Length:

60
Please enter your birth date to watch this video:
You are not allowed to view this material at this time.
No, 'The Sopranos' isn't the constant shock-of-the-new it once was; even its moments of abrupt, crazy violence are easily spotted. But there are still many scenes that are touching and devastatingly sincere.

[Steve Buscemi's] appearance is the occasion for exposition that's not as smooth as we'd expect from this extraordinary series. Yet the season premiere has moments so compelling that you'll be irresistibly drawn back into the family business.
Every season of the sopranos is getting a 10 from me, along with the wire?

you ask me why? because i dont have an 11 button. along withEvery season of the sopranos is getting a 10 from me, along with the wire?

you ask me why? because i dont have an 11 button.

along with the wire, one of the shows that completely revolutionised television. there are others that can be compared, even favourably, and there are forerunners and worthy successors, but these two shows pretty much dropped the bomb on tv.

the sopranos is better than the wire for me, but its an apples and oranges thing. this show is endlessly fascinating, incredibly rich, and effortlessly reflective of america itself. the wire further deconstructed the episodic shackles of television, and the idiot drive to pacify an audience, but the sopranos owned the narrative perspective, and the cynical portrait of the larger world it is set in. we got to know the city of omars baltimore real well from watching the wire. but tonys america is the world we are living in.

…

Expand

Lo sabía, sabía al inicio de esta temporada que se uniria a la fiesta el que faltaba, el personaje de Steve Buscemi, que interpreta al primo

Lo sabía, sabía al inicio de esta temporada que se uniria a la fiesta el que faltaba, el personaje de Steve Buscemi, que interpreta al primo recién salido de prisión de Tony Soprano, un personaje interesantísimo, que unido a ciertos momentos como el capitulo de Adriana o como el final de temporada hacen de esta temporada a falta de ver la sexta, mi favorita hasta el momento.

Es sobresaliente el todo actuaciones, diálogos, guión (alucinantes giros finales), madurez de relato...etc. Una obra maestra esta temporada con la que solo puedo decir algo: ¡Larga vida a Los Soprano!

…

Expand

Tony regresa pero esta vez acompañado de su primo Tony Blundetto, es de lejos la temporada mas cruda de toda la serie y de lejos una de las

Tony regresa pero esta vez acompañado de su primo Tony Blundetto, es de lejos la temporada mas cruda de toda la serie y de lejos una de las mejores. El capitulo 12 y 13 son los mejores de toda la 5 temporada.

…

Expand