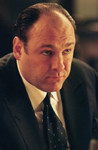 Starring:

Sharon Angela

,

Edie Falco

,

Ray Abruzzo

Summary:

The extended sixth and final season of the hugely popular HBO series will air in two parts: 12 episodes beginning in March 2006, and eight more starting in January 2007.

Genre(s):

Drama

,

Suspense
Season 6 premiere date:

Mar 12, 2006

Episode Length:

60
Please enter your birth date to watch this video:
You are not allowed to view this material at this time.
Mozart wrote finales for his operas by focusing on a theme sounded in the opening notes, then expanding and building upon it through repetition and the amplification of other voices for a glorious ending. So is David Chase, creator and executive producer of The Sopranos, writing the finale for this landmark TV series - and if this isn't art, then neither is Mozart.

The Sopranos unfolds at a more absorbing and imaginative level than TV's strongest series, from ABC's Lost and Grey's Anatomy to Fox's 24 and House.

This season's "Sopranos" is quite simply dazzling in its inventiveness, its reach, and one other aspect -- its capacity to pound audiences emotionally as the series has never before done.

The show is back in magnificent form, with all its humor, psychological thorniness, and bleak tragedy intact. It remains the highest peak of series TV.

Was it worth the wait? Was it ever!

Not all "The Sopranos'" flights of fancy pan out... but it never fails to fascinate, creating a completely organic world in which it's easy to forget the art and artifice that go into realizing Chase's vision.
There are TV dramas. And then there's The Sopranos.

next to Dexter, and 6 Feet under ... Sopranos is the best ... I'm so sad it's almost over ...

hilariously under rated for taking the piss out of its audience with gay cowboys and a hilariously poetic ending.

Every season of thehilariously under rated for taking the piss out of its audience with gay cowboys and a hilariously poetic ending.

Every season of the sopranos is getting a 10 from me, along with the wire?

you ask me why? because i dont have an 11 button.

along with the wire, one of the shows that completely revolutionised television. there are others that can be compared, even favourably, and there are forerunners and worthy successors, but these two shows pretty much dropped the bomb on tv.

the sopranos is better than the wire for me, but its an apples and oranges thing. this show is endlessly fascinating, incredibly rich, and effortlessly reflective of america itself. the wire further deconstructed the episodic shackles of television, and the idiot drive to pacify an audience, but the sopranos owned the narrative perspective, and the cynical portrait of the larger world it is set in. we got to know the city of omars baltimore real well from watching the wire. but tonys america is the world we are living in.

…

Expand

I'm starting to wonder if the real life mafia is taking its cues from the TV series.

People want catharsis, conclusions, and closure. Life isn't like that. Whether you believe Tony got whacked or that life went on for the

People want catharsis, conclusions, and closure. Life isn't like that. Whether you believe Tony got whacked or that life went on for the Sopranos, it does not matter. To leave the decision up to us, the viewers, was a bold and interesting way to end a brilliant series. Would any other ending have generated so much passionate debate? I don't think so.

…

Expand

Let me just say this before you read: I've seen only seasons 1 and 6 of the Sopranos, currently watching season 2. The first 4 episodes

Let me just say this before you read: I've seen only seasons 1 and 6 of the Sopranos, currently watching season 2. The first 4 episodes of season 6 were good with tony in the hospital being shot by his uncle junior, and his coma dreams were metaphorical (just the way I like them), but the rest of the episodes, and I mean all of them, were unlike the absolutely fantastic episodes of season one. they barely advanced throught the lives of the characters, putting in boring sub-stories that seemed random and unnecessary. The ending of season 6 was a bit of a dissappointment, too. I was expecting something ultra-dramatic to end it off. Season 6 started off pretty well, but all in all, was the worst of them all. I'm still going to watch tne final 8 episodes in January (i must see how it ends) so hopefully the writers will realize their mistake and make Season 7, which is the last season, much better.

…

Expand

Poor show. What a waste of time. Certainly one thing is true. Tony is on life support and the show is right there with him. No Tony...No

Poor show. What a waste of time. Certainly one thing is true. Tony is on life support and the show is right there with him. No Tony...No SHow. The rest of the crew can;t pull his weight.

…

Collapse