Network:

The CW

Series Premiere Date:

Oct 9, 2013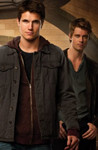 Starring:

Peyton List

,

Peyton List

,

Luke Mitchell

Summary:

A remake of the 1970s British sci-fi series (which was previously remade in the 1990s), The Tomorrow People centers on a group of young adults who represent the next stage in human evolution; each one possesses special powers, such as teleportation and telepathy, and they are caught in a

A remake of the 1970s British sci-fi series (which was previously remade in the 1990s), The Tomorrow People centers on a group of young adults who represent the next stage in human evolution; each one possesses special powers, such as teleportation and telepathy, and they are caught in a battle between good and evil forces. Robbie Amell, Peyton List, and Mark Pellegrino are among the stars, while Greg Berlanti (Arrow) and Phil Klemmer (Chuck) produce.

…

Expand

Genre(s):

Drama

,

Science Fiction
Season 1 premiere date:

Oct 9, 2013

Episode Length:

60
Silly as the set-up may seem, it works because of competent writing and convincing performances.

It's an episode of television that exists at the intersection of Marvel's superpowers-as-puberty metaphors and the half-baked cultural upheaval of True Blood—with a Whedon-esque anti-authoritarian streak thrown in for good measure. The show could devolve into a grab bag of familiar themes and tropes down the line, but its pilot does a remarkable job of synthesizing a cohesive introduction out of those disparate parts.

Although predictable in predictable ways, there are enough twists and turns and, relatively speaking, complexities of character to keep things interesting, and a pivot at the end that I did not see coming. Which bodes well.

Derivative of sci-fi and superhuman dramas we've seen plenty of times before, up to and including the slo-mo 'Matrix' bullets flying out of a gun.

They're remaking The Tomorrow People and the results are just kind of "meh."

There's nothing in the pilot that feels particularly like today, much less like tomorrow.

It has a stupid title and a stupid premise and, among its many transgressions against watchable entertainment, it really doesn't make much sense (you know, on top of the acting and the writing and whatnot).
As a child, I watched the original show and loved it. I know now that it was campy, but the ideas and the characters always stuck with me.

As a child, I watched the original show and loved it. I know now that it was campy, but the ideas and the characters always stuck with me. This evolution of the Tomorrow People has kept the best of the original British series and brought it into the 21st century.

I'm excited to see how this Jedikiah story is resolved. Will he be the ongoing villain or will he be resolved in 8 episodes like the original alien Jedikiah? I like the idea of a 'double agent' for the good guys, and the suggestion that Stephen may not have chosen his side just yet is intriguing. I hope his dad's not dead, but I doubt we'll see him any time this season, since that would change the dynamic of the group.

…

Expand

This show is great i cant wait to get home and watch it each and every Wednesday. This is one of my families favorite shows. The charters in

This show is great i cant wait to get home and watch it each and every Wednesday. This is one of my families favorite shows. The charters in the Tomorrow people are all excellent actors.

…

Expand

I am a person who generally doesn't like a TV series, but The Tomorrow People is simply an amazing series. I really enjoy each episode that is

I am a person who generally doesn't like a TV series, but The Tomorrow People is simply an amazing series. I really enjoy each episode that is aired, and i always look forward to the next week, just to watch the next episode. This series is by far the best series i have come across, as it has drama and sci-fi, consisting of twists and turns. The story as well the characters is amazing, and the actors who play the roles are great at acting their part. I hope that the series is continued with the same characters. I Love This Show and Look forward for it to be continued!

…

Expand

We actually think we know what will happen to the show. We think we know who will do things. But as a The CW series, I believe that The

We actually think we know what will happen to the show. We think we know who will do things. But as a The CW series, I believe that The Tomorrow People, though I agree that the title is absurd, is a series to watch out for. I am convinced after the pilot episode that I should keep an eye to it for next episodes. One word: BELIEVABLE.

…

Expand

One moral of deciding to remake a television series is undeniably: Never....ever...insult the intelligences of your audience. If there is one

One moral of deciding to remake a television series is undeniably: Never....ever...insult the intelligences of your audience. If there is one theme that can be extracted from The Tomorrow People (version 2.0), it is the incessant need for the scriptwriters to assume you have been licking lead toys for no less than a decade.

The overall plot of the season 1 story has its appeal. And it has a generally good cast to execute each role. Still, the script itself - not too mention the far too obvious advertising shots for Microsoft - beats the viewer down with repetitive yet watery jargon that unendingly differentiates the magically gifted Homo superior (The Tomorrow People) from Homo sapiens (wherever you might live). And this language is overly abundant in every single episode.

The over and inconsistent use of "our species", "paranormal", and even the series' namesake "The Tomorrow People" in the script might lead one to believe that the writers truly don't believe the viewer can understand that these gifted young acolytes of the Nintendo are somehow different from their non-gifted counterparts.

Add to this any number of scenes in which actors are glued to the exact same computer screen with the non-informative whirling DNA model, whether they are in the subway laboratory or in the Ultra stronghold and you get the feeling that the characters are merely play acting.

There are points in the season where the show displays its strengths in developing the characters constitutionally, emotionally, and hey - they even develop some cool superman punches. Moreover, a couple of the characters show solid traits of ambiguity, of their own ambivalence to their goals and means to achieve them. Mark Pellegrino is the perfect example of a character convincing enough to be believable and connect-worthy by the viewer. Of all of the cast, his execution is the most complex. And perhaps Aaron Yoo's portrayal of Russell may be viewed as the most human.

Other times the characters lose credibility due to the writers' need to have a main character shirtless - alot - even at awkward points (i.e. Boy fights to reach mysterious death machine. Boy gets in mysterious death machine to save world. Oh wait, for the machine to work the boy has to - yep you guessed it - take his shirt off. We aren't quite sure how important this is for the machine to work, or the plot for that matter. But the flesh score quota has at least been met for the episode. )

Convincing an audience that the characters are real and the plot and setting are legitimate, however fantastic, is no easy feat. But treating the audience like sex-appeal crazed Neanderthals (whatever that means) who are assumed to have no way of understanding a concept unless you wield a bludgeon and spell it out, is a good recipe for an unsustainable series.

This series had promise and was a good idea, but its execution became completely lost in the hype of pop-culture and commercial sponsorship. Perhaps a South Park parody on the series (and of the CW 'esque spin on storylines) might find better success.

…

Expand

Concept of series is good. Special effects done really well. Acting is good for the young stars. The plot and believable nature of the

Concept of series is good. Special effects done really well. Acting is good for the young stars. The plot and believable nature of the actors is NOT good, however. A teen with powers is NOT going to hang around his barely functional family and try to hold school, job, life issues with stability. The antagonist uncle would not just keep his nephew around as a double agent. The tomorrow people would NOT allow themselves to be used by these people.

Just a terrible job of writing. Those that say this is a good series are being influenced by other equally bad shows. Twilight Zone episodes are more believable than this series.

…

Expand

I am a big sci-fi fan and i love anything remotely related to super powers, but even i cannot stand this horribly written show whose aim seems

I am a big sci-fi fan and i love anything remotely related to super powers, but even i cannot stand this horribly written show whose aim seems to be only to hire super models and show off their flesh! What would you do if you had the power to teleport anywhere, move anything with your mind, telepathy and the power to stop time? - The answer is to fight with your fists!!! As weird as it may seem, that is the logic the writers use in this very badly written show! Even in many situations were they can use their powers, they are stupid enough to not to use them. Even if they do, they use it in the most unimaginative way possible to teleport sideways and use their fists again! If their aim is to just run for their lives, wouldn't it be a better option to just teleport far off from where the fight is going on? That is something for think about when you watch this most illogically written show for dumb people. I feel bad for wasting hours watching this show, it is no wonder they cancelled it!

…

Expand