Network:

NBC

Series Premiere Date:

Feb 17, 2014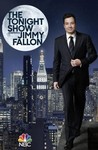 Starring:

Jimmy Fallon

,

Steve Higgins

,

The Roots

Summary:

Jimmy Fallon takes over hosting duties from Jay Leno as the legendary nightly talk show moves to New York City.

Genre(s):

Comedy

,

Talk & Interview
Season 1 premiere date:

Feb 17, 2014

Episode Length:

60
Even though Fallon is a big fan of The Tonight Show, you get the pleasant vibe that he is unencumbered by any extraneous anxiety of influence.

While [Will] Smith is an easy interview because of his star wattage and engaging personality, the conversation between the two men was just that. A conversation. The kind of conversational interview Johnny Carson used to do, where the host in genuinely interested in listening to his guest as well as being funny.

A lot worked from this first show. The set looks great, and legendary house band the Roots were, as usual, flawless. When U2 asked them, impromptu, to join in their acoustic jam from the couch, they didn't miss a beat, and the up-tempo atmosphere told the audience one clear thing: Hey, this is fun. You might want to come back and check it out again.

Even with its first-night caution issues, his inaugural Tonight Show makes me think that Fallon is the perfect choice to take over a TV institution, giving it both tender loving care and a much-needed shake-up.

A very far cry from O'Brien's lanky swagger or Leno's self-confident poise and, to be frank, the whole "who, me? host 'The Tonight Show?'" seemed laid on a bit thick in parts.... Once Fallon moved behind the desk, and in front of a truly fabulous wooden miniature of New York, he seemed more comfortable.... After presenting Fallon with his own (red) guitar, [U2] sang an acoustic version of their Oscar-nominated "Ordinary Love," which sounded, as so few late-night performances do, just fabulous. And that is where Fallon will make his mark on the show.

For all his skills as a performer, though, Fallon is still a question mark in terms of his ability to make magic out of nothing at the desk, the place where Johnny Carson and David Letterman thrived--and endured. And frankly, his "Aw shucks, I'm just so happy to be here" posture in Monday's maiden interviews with Smith and U2 got a little tedious even before the night was over.

Fallon fits into that dichotomy as a sort of older brother who'd really like to get everybody together just this once, because it would make mom and dad happy. There's a way to make that work within the more stringent requirements of The Tonight Show, but Fallon hasn't found it just yet.
Seen every episode of the Tonight Show so I am qualified to give my rating.

I am reading some of the comments...wow. This guy exhibits topSeen every episode of the Tonight Show so I am qualified to give my rating.

I am reading some of the comments...wow. This guy exhibits top quality everything guys. I just seen him throw down with Russel Crowe with a harmonica. I didn't even know he played!? On top of that the guy does his own skits which are funny as hell AND sings AND does perfect impressions of nearly anyone!

...and you rate him a zero?? You're not reviewers AnnaP, lopezdanm, or Gurolge ... you're just random viewers (and Trolls), and not even qualified to review someone. For instance when you say he has no talent that is just ignorant..and to give him a zero is just as ignorant.

As for quality of show, I give it a 10. It's a heck of a lot better than Conan, Leno, or Letterman...and if you want to compare the 4 of them, I can tell you this, the only one that 'danced' was Conan at the beginning of his show to his own theme song...and that's just one comparison.

@Jimmy:

-The whole set-up is great.
-You actually interact with the audience throughout the show AND even shake their hands at the end
-The mini-skits in the show with the band are great...even during the monolog.
-The games are hilarious.
-The sit-ins with the band members have got stand-out talent.
-The inside jokes you throw back and forth with the band are too funny
-Never seen a dull bit yet
-Never seen a boring conversation yet
-Everyone genuinely acts like they want to be there which tells me I am not wasting my time watching
-Band never misses a beat even when they participate in games and skits
-The fact that I know I can have the kids watch until midnight before anything bad is said or done is priceless by the way...which if you ever watched the Tonight Show you'd know it's following the same format just like Carson.

It's a great show and Jimmy Fallon is doing a perfect job hosting it so much so that he is like a natural modern mix of all the hosts.

As for everyone else in the nightly shows...well...as of right now...Jimmy Fallon has them beat.

…

Expand

" Fallon is THE MAN

" Fallon is THE MAN "............................................................................................................................................................................................

…

Expand

Jimmy Fallon's show is hilarious. When Jimmy Fallon laughs, you laugh. The Hashtags and Thank you Notes series with the emotional piano music

Jimmy Fallon's show is hilarious. When Jimmy Fallon laughs, you laugh. The Hashtags and Thank you Notes series with the emotional piano music in the background are funny, sooooo funny. It can't be denied his musical numbers are impressive for a non-musician.

…

Expand

Fallon is neither terrible or excellent. There are better hosts that could fill this spot in the absence of Leno, Conan would have been an

Fallon is neither terrible or excellent. There are better hosts that could fill this spot in the absence of Leno, Conan would have been an easy choice as would Kimmel. Still, Fallon could come out on top if he hones his presence and the show embraces the newer side of comedy found on late night cable talk shows. I personally don't see this working out in the long run but I'm hoping to have my mind changed with time. Until then, I'll literally stick to YouTube to view select content from the show instead of investing a full hour regularly.

…

Expand

Fallon can be funny, sometimes. Those rare moments are outweighed by silly unfunny "games" with guests, cringe worthy and not funny little

Fallon can be funny, sometimes. Those rare moments are outweighed by silly unfunny "games" with guests, cringe worthy and not funny little numbers (dad dance and the like), his terrible, just terrible "Ew!" character. He is always buttoned up and kinda stiff, even after many shows, and the worst part is how terrible an interviewer he is. Sometimes he just repeats what the guest just said, other times he talks more than the guest! Other guys do not have to do any stupid games and other antics to fill up their time slot.
Another annoying thing - everybody is "just the coolest", "the best in the whole wide world", he is a "huge fan" of everybody...
The feller has some talents, can sing, can play instruments, can dance, but those are not as important as being a good interviewer, who is naturally funny as a talk show host, not some kind of a circus act.

…

Expand

The best part about Jimmy Fallon's Tonight Show is the Roots. End of story. Fallon, himself, is tiresome. Never seeming to be prepared, he

The best part about Jimmy Fallon's Tonight Show is the Roots. End of story. Fallon, himself, is tiresome. Never seeming to be prepared, he lumbers through the monologue with a thud every night. He also gets completely lost interviewing when. Really, he's just lazy. Everything and everyone is "Amazing" and/or "Great". It's like watching someone who won a contest host a TV show. Also reminds me of that old SNL sketch called The Chris Farley show. Where Chris Farley would get completely flummoxed and not know what to say or how to host a show or handle a guest. Fallon is very much that way to a lesser degree.

The show has led the way in the new trend of playing juvenile games as a lame click garnering youtube stunt. Beer Pong, lip syncing, etc. It's all very lazy. The intellectual bar on the Tonight show was never very high but now it's even lower. That coupled with the humor being lowered as well makes Jimmy Fallon's Tonight Show terrible. He's likable and the ladies certainly coo over him in the audience. That's Fallon's appeal. Ladies love'em and guys see through his BS and are not entertained.

…

Expand

I am not his hater, he actually seems like a nice and neutral guy and the positive reviews I have read about him so far focus on this fact but

I am not his hater, he actually seems like a nice and neutral guy and the positive reviews I have read about him so far focus on this fact but I do not see anything positive about Jimmy's hosting skills. His sketches are not funny, even if some of them start off in an entertaining manner Jimmy makes sure that he ruins it by staring directly at the camera and/or laughing while nobody else is doing. He is lost during his interviews and lacks the charisma to keep the interest of the audience. I get that he is not being a jerk to achieve humor like most of the other hosts and making people laugh is not the ultimate purpose of the show - but he laughs at himself more than his audience while he is trying to be funny - it is just sad.

…

Expand