Network:

The CW

Series Premiere Date:

Sep 10, 2009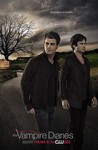 Starring:

Zach Roerig

,

Kevin Williamson

,

Paul Wesley

Summary:

In this adaptation of the L.J. Smith book series, vampire brothers battle for the heart of a mortal teenaged girl named Elena Gilbert.

Genre(s):

Drama

,

Fantasy
Please enter your birth date to watch this video:
You are not allowed to view this material at this time.
These killers are more fun than a cemetery full of psycho zombie killers on Halloween.

There's an engrossing moodiness to Mr. Williamson's latest venture, but one he conveys without annulling the pact he long ago made with himself never to let his cheekiness go undetected.

Williamson and Julie Plec--working from L.J. Smith's books, which actually preceded "Twilight"--mix these familiar elements into a crimson cocktail that even gets reasonable mileage out of its cliches, which ought to give this early riser a chance to establish some fan loyalty before the other networks launch their Thursday lineups.

No, it's not Twilight--but it's not bad, either. The Vampire Diaries, The CW's new fang-gang drama, successfully hitches the sanguinary sexuality of the vampire ethos to the in-group/out-group dynamic of the teen soap.

Damon ("Lost's" Ian Somerhalder) complains. "Remember, Stefan--it's important to stay away from fads." If only the CW would listen.

You will want all the extras who played vamps on "Buffy the Vampire Slayer" (which was great, by the way, and not to be blamed for this lackluster cousin) to return en masse to eat the cast of "Vampire Diaries," plus any remaining scripts.
La meilleure série sur les vampires =) ! Et je préfère la version originale que française.

La meilleure série sur les vampires =) ! Et je préfère la version originale que française. Les voix françaises ne vont pas sur les acteurs, ça les rend gamins alors qu'ils ne le sont pas. Mais c'est une série magnifique dont je ne peux plus me passer.

…

Expand

Great show. Way better than expected. Very deep script. Nothing immature or cheezy about this one.

THIS IS DEFINITELY MY FAVORITE SHOW. (can you tell by my display name? ;) much better than twilight. Damon is my favorite character. If you

THIS IS DEFINITELY MY FAVORITE SHOW. (can you tell by my display name? ;) much better than twilight. Damon is my favorite character. If you have any taste in shows AT ALL, you will like the vampire diaries. (: Alot of action, drama, and good story line. If you havent seen it before, go check it out! I promise you, you will like it. I CAN NOT WAIT FOR THE SECOND SEASON AND FOR ______ TO COME ON THE SHOW. (you know who i mean :)

…

Expand

Definitely got better as each episode came and went. The best thing about this show is that every episode is gripping and left open with a

Definitely got better as each episode came and went. The best thing about this show is that every episode is gripping and left open with a cliffhanger, and the fact that if you miss an episode, you are totally out of sync. I also like the differences the vampires hold in this show. Great start.

…

Expand

had i based my review solely on the characters then it would have been a 10/10,because ian somerhalder (daemon) was stunning and beautiful to

had i based my review solely on the characters then it would have been a 10/10,because ian somerhalder (daemon) was stunning and beautiful to watch. Paul wesley (stefan) was an eye candy and perfect. Nina dobrev (elena) was sublime and joy to watch,with strong backup from bonnie,alaric and other guest stars.but the plot just couldn't keep up with the sublime acting displayed by most of the characters.not saying the story was bad but it could have been better.i definitely enjoyed this show and well worth my time.without any doubt i know this show we get much better and can't wait to see the second season.once again great casting and great acting

…

Expand

The actress makes me sick, she is the most important and the most fake, in my opinion gets boring becouse of her, the other girls are nice but

The actress makes me sick, she is the most important and the most fake, in my opinion gets boring becouse of her, the other girls are nice but she.. ohhh gooosh, kill me pleeeease

…

Expand

A hint: if you want a good vampire show, watch True Blood. If you want a BRILLIANT vampire show, watch "Buffy the Vampire Slayer" or "Angel."

A hint: if you want a good vampire show, watch True Blood. If you want a BRILLIANT vampire show, watch "Buffy the Vampire Slayer" or "Angel." It's crap like The Vampire Diaries that give supernatural shows a bad name. CW, you are a worthless station.

…

Expand