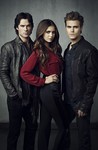 Starring:

Zach Roerig, Paul Wesley, Kayla Ewell

Summary:

In this adaptation of the L.J. Smith book series, vampire brothers battle for the heart of a mortal teenaged girl named Elena Gilbert.

Genre(s):

Drama

,

Fantasy
Creator:

Kevin Williamson, Julie Plec, L.J. Smith

Show Type:

In Season

Season 1 premiere date:

Sep 10, 2009

Episode Length:

60

Air Time:

08:00 PM
These killers are more fun than a cemetery full of psycho zombie killers on Halloween.

There's an engrossing moodiness to Mr. Williamson's latest venture, but one he conveys without annulling the pact he long ago made with himself never to let his cheekiness go undetected.

In between bouts of underage drinking, texting, girl-bonding, and the inevitable minor-key whine of a soundtrack, that is. "True Blood Lite" or "Transylvania 90210." And you know what? It is. Almost exactly. But this is not a bad thing, not a bad thing at all. Because Vampire Diaries knows precisely what it is--a Gothic romance--and doesn't try to be anything else.

No, it's not Twilight--but it's not bad, either. The Vampire Diaries, The CW's new fang-gang drama, successfully hitches the sanguinary sexuality of the vampire ethos to the in-group/out-group dynamic of the teen soap.

I've got nothing against Vampire Diaries. Since it lacks broad appeal and hasn't a clever bone in its body, it will probably be a hit, unlike CW shows I've stuck up for (like "Reaper" and "Aliens in America").

Williamson also wrote the "Scream" trilogy, but there's neither humor nor horror here, unless you count some of the acting and casting.

You will want all the extras who played vamps on "Buffy the Vampire Slayer" (which was great, by the way, and not to be blamed for this lackluster cousin) to return en masse to eat the cast of "Vampire Diaries," plus any remaining scripts.
My favorite show on TV, and I'm not a tweenager. Good looking guys, great cast, well-written - I can't wait to see the next episode. I own

My favorite show on TV, and I'm not a tweenager. Good looking guys, great cast, well-written - I can't wait to see the next episode. I own DVDs of season 1 and 2 and watch them between episodes. Keep up the good work! And by the way, I like the good Stephan and the bad Damon...

…

Expand

The perfect vampire tv show! I got so tired of those mindless kill kill kill vampires. TVD is a real vampire tv show which has a solid

The perfect vampire tv show! I got so tired of those mindless kill kill kill vampires. TVD is a real vampire tv show which has a solid storyline and epic twists in the plot. This show without doubt gets a solid 10 in my rating.

…

Expand

THIS IS DEFINITELY MY FAVORITE SHOW. (can you tell by my display name? ;) much better than twilight. Damon is my favorite character. If you

THIS IS DEFINITELY MY FAVORITE SHOW. (can you tell by my display name? ;) much better than twilight. Damon is my favorite character. If you have any taste in shows AT ALL, you will like the vampire diaries. (: Alot of action, drama, and good story line. If you havent seen it before, go check it out! I promise you, you will like it. I CAN NOT WAIT FOR THE SECOND SEASON AND FOR ______ TO COME ON THE SHOW. (you know who i mean :)

…

Collapse

I enjoyed reading the books in school and the show is great for what it is- a teenage vampire soap opera. However, I think the main

I enjoyed reading the books in school and the show is great for what it is- a teenage vampire soap opera. However, I think the main characters are more relatable and perhaps more mature than Twilight's.

…

Expand

At times entertaining, though not quite amazing. The story is usually interesting and the actors are decent. Individuals who are interested in

At times entertaining, though not quite amazing. The story is usually interesting and the actors are decent. Individuals who are interested in modern depictions of vampires will likely find it worthwhile.

…

Expand

A bunch of 30 somethings acting like high school kids. I hate when writers and producers muck things up with TV Shows.

A hint: if you want a good vampire show, watch True Blood. If you want a BRILLIANT vampire show, watch "Buffy the Vampire Slayer" or "Angel."

A hint: if you want a good vampire show, watch True Blood. If you want a BRILLIANT vampire show, watch "Buffy the Vampire Slayer" or "Angel." It's crap like The Vampire Diaries that give supernatural shows a bad name. CW, you are a worthless station.

…

Expand