Network:

AMC

Series Premiere Date:

Oct 31, 2010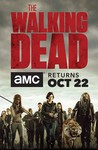 Starring:

Seth Gilliam

,

Lennie James

,

Jeffrey Dean Morgan

Summary:

Rick along with the people of Alexandria, Hilltop, and The Kingdom prepare for war against Negan (Jeffrey Dean Morgan) and his Saviors in the eighth season of the zombie drama.

Genre(s):

Drama

,

Action & Adventure

,

Fantasy

,

Horror

,

Suspense

,

Science Fiction
Season 8 premiere date:

Oct 22, 2017

Episode Length:

60
Please enter your birth date to watch this video:
You are not allowed to view this material at this time.
Its brisk pacing, big action, and focus on the camaraderie between the Alexandria, Hilltop, and Kingdom survivors makes for super entertaining television which makes you feel good without trivializing the drama. ... The episode offers more than popcorn-movie thrills and chills, however. Balancing out the mayhem is an understated, poignant father-son moment between Rick and Carl.

Well-done, but then TWD is always well-done. What's missing is the thrill of surprise, or the shock of surprise. "Mercy" at least offers a hint that one may be coming.

The urge to expand the story beyond the constant flight from mindless flesh-munchers is understandable. But much of the dread, as well as emotional urgency, has gone out of the show in the process. ... The staging of the action in the season premiere, in which Rick, Maggie and XXX lead an attack on the Saviors compound, feels well below the show's previous standard, like Michael Bay on a bad day.
از همون اول شاهکار بود فقط فصل هفتم گند زد ولی مطمئنا این فصل شاهکار هست.نکته ی دیگه که خیلی این سریال رو مورد انتظار میکنه ریک و نیگان هستش و

از همون اول شاهکار بود فقط فصل هفتم گند زد ولی مطمئنا این فصل شاهکار هست.نکته ی دیگه که خیلی این سریال رو مورد انتظار میکنه ریک و نیگان هستش و داستان فوق العادش .ولی باید روی صحنه های اکشن بیشتر کار کنه.

…

Expand

The biggest question should be, why are we allowed to review an entire season when it's only been 3 episodes? That's really silly because then

The biggest question should be, why are we allowed to review an entire season when it's only been 3 episodes? That's really silly because then you get trolls giving the whole season a 0/10.

…

Expand

For me, the walking dead is always a series as interesting despite the particular choices that were made during this season 8, I have the

For me, the walking dead is always a series as interesting despite the particular choices that were made during this season 8, I have the impression that the series unfortunately begins to stagnate and struggling to renew itself. I hope that it will arrange for the season 9. In any case I continue to remain faithful to this series!

…

Expand

I have watched every season of the show since it came out and I have been along for the entire journey. I read the comics and was excited to

I have watched every season of the show since it came out and I have been along for the entire journey. I read the comics and was excited to see Negan in action. He is my favourite in the comic because he is menacing but very likeable at the same time. TV version? just annoying as **** How did they manage to completely ruin one of the greatest fiction villains ever created?

…

Expand

To survive this series falling down completely... try taking out at least a half the cast and go back to basics... Make it survivalist again

To survive this series falling down completely... try taking out at least a half the cast and go back to basics... Make it survivalist again and get way from this philosophical man against man stuff... Move on and back to the good old days. half the time I have no idea who I am meant to sympathise with... because there is too many characters.

…

Expand

Uno, ese es mi puntaje por ahora, un 1 y representa el unico episodio que me gustó de esta temporada y me refiero al episodio 5, en donde

Uno, ese es mi puntaje por ahora, un 1 y representa el unico episodio que me gustó de esta temporada y me refiero al episodio 5, en donde conocemos un poco mejor al que para mi es el mejor personaje de la serie en este momento y que por momentos regresa la tensión e incluso la emoción de temporadas anteriores.
El resto de espisodios son realmente desastrozos, los primeros 4, que parece un episodio recortado en varios trozos, repletos de escenas de acción mal rodadas, con una coreografia pesima, y los ultimos de esta primera mitad en donde parece que buscan la emoción facil en el espectador y lo unico que lograron fue una terrible decepción y amargura.

…

Expand

Season 8 Is pure ****
I loved the first 5 seasons, 6 and 7 was OK but this Is the worst one.
Fear of the walking dead started i little slowSeason 8 Is pure ****
I loved the first 5 seasons, 6 and 7 was OK but this Is the worst one.
Fear of the walking dead started i little slow but season 3 is a treat to watch. This series is building some momentum.

…

Expand