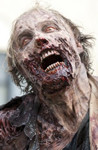 Summary:

Scott M. Gimple returns as showrunner for the fifth season of the zombie drama.

Genre(s):

Drama

,

Action & Adventure

,

Fantasy

,

Horror

,

Suspense

,

Science Fiction
Season 5 premiere date:

Oct 12, 2014

Episode Length:

60

Air Time:

09:00 PM
Not every question--or every character's fate--is settled in the premiere, but fans of the show will not be disappointed.

The Walking Dead still has a strong grip on our imagination as it continues to aim at all three levels--brain, heart and stomach--with deadly accuracy.

All that commotion sets the season on a compelling path, hitting the road with a purpose. This is when Dead is at its best: journeying through postapocalyptic, fun-house-mirror America.

It's bracing to see a series that has weathered offscreen changes, and all but redefined expectations for cable viewership (as reflected in its soaring ad rates), continue to take creative chances--proving it can still leap ahead not just by shuffling along, but at breakneck speed.

The episode moves along at a good pace, with only a couple of moments when the timing feels a little too coincidental.

It's swiftly paced, disgusting--lots of shots of walkers chomping on screaming faces--and puts down some much needed signposts for the rest of the season. Consider us still hooked.

When death no longer holds the dread it once did, what's left is the fear of what life can become. And that is the boogeyman with which the characters must now wrestle.
this season started off fast but slowed down alot but redeemed itself at the 2 half of season 5 i cant wait for season 6. This so far is my

this season started off fast but slowed down alot but redeemed itself at the 2 half of season 5 i cant wait for season 6. This so far is my favorite season yet Robert kirkman is a genius and so is the writing of the TV show.

…

Expand

AWSM the walking dead season 5 back with much more gore more walkers more drama, more accion . never leaves a surprise up his sleeve. This

AWSM the walking dead season 5 back with much more gore more walkers more drama, more accion . never leaves a surprise up his sleeve. This show is definitely the best thing on TV very realistic special effects and well maintained I do not want to miss this season also return to the city zombie infested

…

Expand

best season premier yet. great character development, great Gore scenes and it was just gut wrenching, perfectly written. it was just

best season premier yet. great character development, great Gore scenes and it was just gut wrenching, perfectly written. it was just great.carol is a hero. it is going to be a top notch season

…

Expand

The fifth season signifies that The Walking Dead has drastically matured. Unpredictability returns, and there is rarely a dull moment to be

The fifth season signifies that The Walking Dead has drastically matured. Unpredictability returns, and there is rarely a dull moment to be had. The story is all over the place in the best possible way, character arcs return to familiar - yet welcome - themes, and things are as gripping as ever. This truly is the series at its finest.

…

Expand

This review contains spoilers, click expand to view. Pros:
- Probably the best season premiere since Season 1.
- Carol goes beast mode.
- Cannibals are always a shocking element in a post-apocalyptic world setting.
- Varied (yet not really new) locations apart from forests.

Cons:
- The first half of the season does not bring plot development at all and those first two arcs get closed after the first episodes.
- Zombies are becoming almost dangerous "props" more than a key plot element in a human wars environment.
- Disbanding groups with no purpose only to reunite them later definitely damages the story.

…

Expand

The show is going downhill. How come after all this time no good people can manage to get organized only the bad ones. Ricks group falls

The show is going downhill. How come after all this time no good people can manage to get organized only the bad ones. Ricks group falls somewhere in between good and bad. For society to survive a group has to settle down and figure out where their next meal is coming from other than the canned food they been eating. but I guess long term survival is not worth planning for. I like show that at least has a possibility of happy endings. But I will keep watching anyway.

…

Expand

Sh..t as always.

Sh..t as always. ------------------------------------------------------------------------------------------------------------------------------------------------------------------------------------------------------------------------------------------------

…

Expand