Network:

AMC

Series Premiere Date:

Oct 31, 2010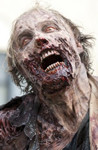 Summary:

The second season of the zombie series sees the survivors moving on from Atlanta and encountering more survivors (and even more zombies) in the countryside.

Genre(s):

Drama

,

Action & Adventure

,

Fantasy

,

Horror

,

Suspense

,

Science Fiction
Season 2 premiere date:

Oct 16, 2011

Episode Length:

60

Air Time:

09:00 PM
You'll be happy to know that at least as far as the first two episodes go (90 -minute season premiere this Sunday night), the show is better than ever--which would have seemed impossible.

For anyone seeking edge-of-your-chair tension, Dead delivers. But what separates this fine series from similar shows is the honesty of its human interactions.

The Walking Dead hasn't lost the most important ingredient in its strangely successful recipe: it's thrilling.

Beyond a couple of truly gut-churning moments courtesy of the special-FX wizards, the second season showcases the topnotch cast the producers have assembled, as well as the program's skill milking terror in broad daylight.

The show creates tension--through atmosphere and characters the audience cares about--and offers so many make-you-jump scares that by the end of an episode, you're left breathless.

The show seems somehow sleeker and better paced. Characters may now be people first and archetypes second. This has the subtle but immediate effect of making The Walking Dead less predictable and more frightening.

A wiry, tired jitteriness has crept in. [24 Oct 2011, p.48]
The second season was great too! I might not have given it a 10 if I had wrote this before the mid-season finale but from that point on to the

The second season was great too! I might not have given it a 10 if I had wrote this before the mid-season finale but from that point on to the season finale it let loose with the fury of a bull in a red room. The season finale was mostly awesome with the exception of Lori getting mad at Rick and pulling away when he told her he killed Shane. She practically told him too a few episodes back. That final shot of the prison was spine chilling! Hopefully Season 3 lives up to the hype.

…

Expand

We can say that these 6 episodes are really successful. The special effects are very well made, the actors play very well and the script keeps

We can say that these 6 episodes are really successful. The special effects are very well made, the actors play very well and the script keeps the viewer in suspense throughout the season. Note the presence of the actress Sarah Wayne Callies who plays Dr. Sara Tancredi on Prison Break. Hopefully the chain AMC will renew this series for the following year. The appointment of the series to the next Golden Globe Awards but mostly the result obtained at the ceremony will probably be determined on its back in a second season.

…

Expand

Definitely a great TV show. On one hand, the acting is favorable, costumes are awesome, the atmosphere is intense, and the situations are

Definitely a great TV show. On one hand, the acting is favorable, costumes are awesome, the atmosphere is intense, and the situations are unpredictable. The second season (well at least the first 2 episodes) is certainly more action-zombie-packed than the first but without sacrificing other aspects off it. Furthermore, the way the story unfolds is well written even though you would not expect that from a zombie-based adventures. To sum up, a show worth watching.

…

Expand

I didn't enjoy the 1st half of the season, the farm part and sophie story could have been presented in a shorter time, it just dragged...the

I didn't enjoy the 1st half of the season, the farm part and sophie story could have been presented in a shorter time, it just dragged...the 2nd part felt more like season 1 with more action and drama and new surprises.

…

Expand

The first half of the season was weak. Just wasn't written nearly as well as it should have been. To be honest, if the mid-season finale

The first half of the season was weak. Just wasn't written nearly as well as it should have been. To be honest, if the mid-season finale wasn't good, I would have stopped watching then and there. Ultimately, I'm glad I kept watching because the second half was good, with solid acting and some exciting episodes, Still, it's the weakest season so far. It wasn't awful, but a lot of times, it just barely held my interest.

…

Expand

This review contains spoilers, click expand to view.

All of you critics and users who are rating this show in the 80's must be easily entertained. Season 1 was decent it had flaws but moved a long a decent pace but this season has been ATROCIOUS. These writers make up rules as they go along. In season 1 they had to smear zombie guts on themselves to get past the zombies which logically makes sense. Fast forward to the season 2 premiere where they scout the highway and find no zombies in the far distance suddenly find themselves next to a herd of 200 zombies but don't worry guys these zombies cant smell people under cars thank god! Then we have the 8 episodes (exaggerating) of the search for Sophia unbelievably boring for a crappy character. Then the infamous water well episode. The crew find a zombie in one of the MANY wells of water which by the way are NOT interconnected and this zombie is all bloated and cut and oozing and they feel they should get this zombie out to not "contaminate" the well. WHO is going to drink water from that well? NO ONE. Fast forward through all the other pointless drivel to Dales death where we get to see the first STEALTH zombie dale turns around to find a stealth zombie who only started making noise as it was right on top of him. This show has spun out of control and no where near as exciting of pace as the comic books even with pointless made up characters.

…

Expand
Find rankings for all TV series based on comics and graphic novels from the past 30 years.

Critics found last night's episode of The Walking Dead a bit of a disappointment compared to previous season finales. Find out why--and give us your own take--inside.

Published:

December 3, 2012

It has been a strong season for The Walking Dead so far, but did last night's midseason finale continue the show's winning ways? Find out what critics are saying.

Published:

March 19, 2012

What did critics think about last night's season-ending episode of "The Walking Dead"? Find out inside.

Published:

November 28, 2011

Last night's episode of "The Walking Dead" marked the midpoint of the show's second season. Do critics still feel as highly about the series now as they did at the beginning of the season? We sample their latest opinions inside.

It's time for our annual look at the best and worst of the past television season. Find out which first-year broadcast and cable shows impressed critics and users the most, and see how the major networks compared.

Published:

January 10, 2011

Our users have spoken, the votes have been tallied, and we have your picks for the best of 2010 in movies, games, TV, and music. Don't expect another victory for Kanye West or The Social Network; Metacritic users had something else in mind.