Network:

AMC

Series Premiere Date:

Oct 31, 2010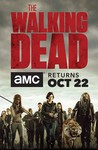 Starring:

Laurie Holden

,

David Morrissey

,

Sarah Wayne Callies

Summary:

A man who leads a small survivors settlement in Woodbury by the name of The Governor (David Morrissey) causes trouble for Rick and company as they seek safety from zombies.

Genre(s):

Drama

,

Action & Adventure

,

Fantasy

,

Horror

,

Suspense

,

Science Fiction
Season 3 premiere date:

Oct 14, 2012

Episode Length:

60
Please enter your birth date to watch this video:
You are not allowed to view this material at this time.
The Walking Dead, the flat-out scariest, best, most unusual show to ever hit the small screen, is back, and I'm loving every sickening minute of it.

If you can handle it, The Walking Dead is grade-A terror.

While Mazzara has amped up the action, he doesn't skimp on the angst.

That the show delivered so ably under the stewardship of Glen Mazzara makes season three less surprising but no less riveting, with the first couple of episodes offering a buffet of character, tension and the inevitable can-you-top-this, stomach-churning gore.

If early episodes are any indication, Season 3 will provide a glorious payoff for those EST-ian weeks down on the farm.

Just the beginning scene, which lasts almost six minutes before anyone says a word, will plunge everyone right back into a world where there may be no way out.

Sunday's premiere doesn't advance the story much--shades of early season two--but there's enough zombie carnage that fans of mayhem may not care.
As The Walking Dead enters season 3 we start seeing some more human villains instead of it being just zombies which is what season 1 and most

As The Walking Dead enters season 3 we start seeing some more human villains instead of it being just zombies which is what season 1 and most of season 2 were. The introduction of The Governor was just awesome he is such an amazing character to add into the series.

…

Expand

This review contains spoilers

, click expand to view

.

So far Season 3 is living up to expectations. I cant wait for the Governor to come into the picture. I also cant wait to see how Daryl will react to Meryl being on the other side. It will be a total mind-&@#$ for him. I dont think he will leave the group though because he is too ingrained with them now as Ricks #2.

…

Expand

Easily the best show on television, and the prison adds new drama. Less soap operaish and much more actions, blood, guts, and Rick committing

Easily the best show on television, and the prison adds new drama. Less soap operaish and much more actions, blood, guts, and Rick committing crimes against zombies.

…

Expand

There is no comparison between this season and the two before. Plot extraordinary,. Action, suspense, Drama in one tv show. Great. That's all

There is no comparison between this season and the two before. Plot extraordinary,. Action, suspense, Drama in one tv show. Great. That's all i can say. can't wait for the next season

…

Expand

Introducing a ruthless antagonist and including more guts and gore than its predecessor, season three gets the job done in spectacular

Introducing a ruthless antagonist and including more guts and gore than its predecessor, season three gets the job done in spectacular fashion. The finale may disappoint some, but it's nothing too unbearable.

…

Expand

This is a good season. The prison setting shows that the show can be innovative in it's approach to the story. The irony surrounding the

This is a good season. The prison setting shows that the show can be innovative in it's approach to the story. The irony surrounding the prison being used as a safe haven is fresh as well. The inbalance in terms of character concentration has not been carried over from season 2, which is relieving to say the least. The story doesn't compromise itself nor do it's characters. Truthfully, they compliment each other, but I cannot turn a blind eye to the way that the 'fillers' are still easily recognizable. In terms of the plot, 'The Governor' became a personal favorite of mine as did the cute little town of Woodbury. Season 3 is entertaining and shows signs of consistency, and for those reasons it deserves some recognition.

…

Expand

Rick was not a great leader, father or husband at all. The show would've been much better if Shane had lived instead! Every decision he made

Rick was not a great leader, father or husband at all. The show would've been much better if Shane had lived instead! Every decision he made kept putting the team in jeopardy and the only thing or people he cared about was his whore wife Lauren. Shane said it b est when he said "Rick was not a great protector" so miss him!!!!!

…

Expand