Network:

AMC

Series Premiere Date:

Oct 31, 2010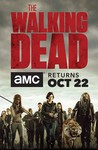 Starring:

Scott Wilson

,

David Morrissey

,

Lauren Cohan

Summary:

Scott M. Gimple takes over as showrunner for the fourth season of the zombie drama.

Genre(s):

Drama

,

Action & Adventure

,

Fantasy

,

Horror

,

Suspense

,

Science Fiction
Season 4 premiere date:

Oct 13, 2013

Episode Length:

60
Please enter your birth date to watch this video:
You are not allowed to view this material at this time.
The premiere feels a bit slow coming on the heels of last season's wild ride, but the second episode will leave you hungry for more

Dead's latest new showrunner, Scott Gimple, carefully attends to the vast supporting cast, but the premiere doesn't skimp on the splatter or tragedy.

The Walking Dead clearly appears bigger than any of its expendable parts, and unlike those zombies, has a whole lot of life left in it.

The challenge with any extended zombie narrative is striking the right balance between gut-munching action and undergraduate philosophy seminar, and the first two episodes this season are pretty talky.

While all of the moments when civilization retreats in the face of the apocalypse are nicely handled, the overall plot is filled with pointless mystery, simply there to obfuscate whatever the season's real story is.

The Walking Dead rewards patience and loyalty with the occasional arresting visual and edge-of-your seat intensity.
The best show on TV. Scary, dramatic, disgusting, romantic...........perfect!!!!! Don't miss it!!!!! Season 4 is gonna be amazing!!!!! Can't

The best show on TV. Scary, dramatic, disgusting, romantic...........perfect!!!!! Don't miss it!!!!! Season 4 is gonna be amazing!!!!! Can't wait for the next episode!!!

…

Expand

This review contains spoilers

, click expand to view

.

I would say I would split season 4 into two names, the first half of the season would be called infection, and the second half would be called on the road. I remember season 4 clearly for those two main plots growing through this season. It's interesting to watch where our characters are now and how different the prison community is since the end of season 3. Also seeing the governor again with 2 episodes dedicated to his characters were really interesting, I enjoyed them and I liked how it didn't make him out to be this only crazed guy, but just a broken man. There's a couple episodes that really stood out in my mind and I like the themes they represented. Same thing with this season you have a lot of unnecessary hatred towards the show, while they're the minority they still do not really bring up good arguments towards their claims, again these are the kinds of people who claim they like character development till you find out they watch a terrible show that isn't written well what so ever.

…

Expand

The season starts with glimpses of life that has returned to the ordinary. Crops being grown, people socializing, councils being made. The

The season starts with glimpses of life that has returned to the ordinary. Crops being grown, people socializing, councils being made. The sense of security that the prison has provided has helped flourish a kind of civilization, but also made them somewhat complacent. The fact that everyone comes back a walker no matter how they died has serious consequences for the group. This is not helped by the surge of a killer flu through the prison population.

The Governor returns but this time we are shown the more humane side of his albeit with surprisingly more violence and cruelty. Another group of survivors is introduced. Needless to say, we get to witness the Second Battle of Prison with more surprises and deaths. The mid season finale was by far my favourite episode of the entire show.

The characters splinter into couples and threesomes. A few of them die. Some of them unite to form bigger groups, some find new characters, others are left alone by themselves. I'm pleased that the characters didn't conveniently find each other by a miracle. Instead of being pitted against a main antagonist, an opportunity to develop and incorporate some of the sinister events was availed. We get to see Daryl and Michonne develop as bits of their pasts are revealed, making them more wholesome and interesting characters. Rick Grimes shows his savage side again when forced into a corner. I believe we've reached a point where the most dangerous and ruthless characters on the show are none other than the main characters themselves.

…

Expand

AMC better get it's stuff straight now. They keep getting rid of all the talented writers and producers and this is what happens. Killing

AMC better get it's stuff straight now. They keep getting rid of all the talented writers and producers and this is what happens. Killing off characters we don't care about is not drama, it's a bad zombie movie. Glenn and Maggie are becoming less and less relevant to me and I just care about Rick and The Governor. Morrissey continues to portray one of television's most interesting villains in the last 15 years. But man, it's time to start getting "dramatic" with it. I want to the Gov get his revenge already.

…

Expand

#KillKarl

Never have I longed to have a character killed off in a series. Karl is hateful; While he isn't the worst of society his#KillKarl

Never have I longed to have a character killed off in a series. Karl is hateful; While he isn't the worst of society his character is infected with the worst on his way to tedium.

…

Expand

I think having read the comics ruined any hope for me of liking this series. TWD just isn't making a good adaption to film. I can see its

I think having read the comics ruined any hope for me of liking this series. TWD just isn't making a good adaption to film. I can see its appeal, and can also see why people like it if they haven't read the comics. When you compare the two though the TV series is left in the dust over how good the comics are.

…

Expand

4 season surviving, new people come and some of them killed,found new place , nothing changed at all from season one nothing new just killing

4 season surviving, new people come and some of them killed,found new place , nothing changed at all from season one nothing new just killing zombie and bad people than what? this is example should looking for ( safe place for ever or looking for cure or anything like that and how this virus come and who makes this virus) what i see in the trailer for season 5 nothing changed but i hope make it better

…

Expand