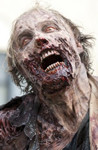 Starring:

Scott Wilson, Laurie Holden, Daniel Roebuck

Summary:

Based on a comic book series of the same name by Robert Kirkman, a small group of survivors, led by officer Rick Grimes (Andrew Lincoln), must fight a world full of zombies.

Genre(s):

Drama

,

Action & Adventure

,

Fantasy

,

Horror

,

Suspense

,

Science Fiction
Show Type:

In Season

Season 1 premiere date:

Oct 31, 2010

Episode Length:

60

Air Time:

09:00 PM
A zombie-apocalypse fantasy set in Atlanta, this is the scariest series U've ever seen. [8 Nov 2010, p.39]

What makes The Walking Dead so much more than a horror show is that it plays with theatrical grandeur, on a canvas that feels real, looks cinematic and has an orchestral score to match. For all its set pieces, however, Walking is most breathtaking in its small moments, in which the pain and glory of being human are conveyed with only the flick of a filmmaking wrist.

Whereas most entries in the musty genre are simply inclined to go for cheap shrieks and lofty body counts, this saga defies expectations with a more humanistic approach.

The Walking Dead may depend more on suspense, desolate atmosphere, and creative storytelling than fine acting. The show takes a nightmare generally told in movies and opens it up for the medium of TV. I'm optimistic that Darabont & Co. will continue to find ways to make the characters interestingly human as they dodge death's slow, ruthless pursuit.

The Walking Dead, like any good horror tale, still believes in the importance of monsters, perfectly balancing the struggle of basic human decency with those palsied four-in-the-morning moments when we are convinced that everyone around us is trying to eat us alive

Although we've seen no shortage of zombies and post-apocalyptic stories, producer-writer-director Frank Darabont has deftly tackled the seemingly perilous task of adapting a comicbook about zombies into a viable episodic series.

Darabont and his cast excel at conjuring up a taut social study, but let the horror scenes fall oddly flat.
This review contains spoilers, click expand to view.

AMAZING! Everything I would expect but more! The suspense through the first season was awesome and the writers painted an amazing picture of the zombie apocalypse and how bad things were. Every character has it's own personality which makes you wonder as the show goes on how they will clash with other members of there camp. Every character can be related to in some aspect which makes it that more exciting to watch cause you think you know what the survivors will do next. The story always leads to new hope and also leads to great losses as well.

…

Expand

E a 1 vez que assisto um seriado que min chamar tanto a atenção, "The Walking Dead" e uma evolução.Deve continuar o maximo possivel de tempo,

E a 1 vez que assisto um seriado que min chamar tanto a atenção, "The Walking Dead" e uma evolução.Deve continuar o maximo possivel de tempo, por respeitos a todos os fanaticos por esse seriado que faz cada pessoa que gosta do assuntos fica conectadas, de uma forma direta, que e como se ela viverse o mundo de "The walking dead" Parabens a todos que fazem parte desse universo.

…

Expand

Bloody brilliant. Amazingly paced, extremely well-acted, and wholly consuming. "The Walking Dead" will have me nailed to my couch for the next

Bloody brilliant. Amazingly paced, extremely well-acted, and wholly consuming. "The Walking Dead" will have me nailed to my couch for the next five episodes. Hands-down the best show or movie to feature zombies in a long, long time.

…

Expand

Although they should've added more episodes than just 6, on the other hand The Walking Dead: Season 1 is breath-taking and one of the best

Although they should've added more episodes than just 6, on the other hand The Walking Dead: Season 1 is breath-taking and one of the best shows for Television.

…

Expand

season is by far the best season because it is so eventful compered to the rest of the series. it leaves you on the edge of your seat

season is by far the best season because it is so eventful compered to the rest of the series. it leaves you on the edge of your seat wondering what will happen next. out of the 'bigger' shows on TV such as game of thrones, breaking bad and such this shows first season in my opinion is by far the best. its so disappointing that the writers made the show so slow in the second and third season, and now the fourth is reviving the paste just a little bit. so if you want to watch a good show this one is a great one to watch because even though it becomes painfully slow it pays of at the end of each season making you want to continue watching all that much more. I hope you enjoyed it as much as I did

…

Expand

Man, that pilot is one of the best things I saw on TV last year, but then, it went downhill after that. I feel a bit conflicted because there

Man, that pilot is one of the best things I saw on TV last year, but then, it went downhill after that. I feel a bit conflicted because there are some things I really love about this show, the atmosphere, mood, etc. but on the other hand its filled with clichéd dialogue, contrived situations, shoddy accents and acting, so overall I feel disappointed with it. I really think that the show can only go up from here, now with a new writing staff hopefully they'll address these issue and if not, well, it did have an awesome pilot.

…

Expand

Where to start? Terrible writing? Terrible special effects? Terrible videography? Terrible editing? Yeah, I guess what zombies will deliver

Where to start? Terrible writing? Terrible special effects? Terrible videography? Terrible editing? Yeah, I guess what zombies will deliver to television: Death to creativity. BTW, the notion that no-nothing 20-somethings will save you from anything requiring a knowledge of how the world actually works is a totally loopy idea!

…

Expand