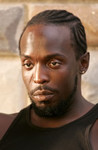 Starring:

J.D. Williams, J.D. Williams, Lance Reddick

Summary:

One of the most heralded and unique dramas on television, David Simon's Baltimore-set crime show turns its focus on that city's public school system (and education in general) for its 13-episode fourth season.

Genre(s):

Drama
Show Type:

Ended

Season 4 premiere date:

Sep 10, 2006

Episode Length:

60

Air Time:

09:00 PM
A critic for this paper once declared "The Wire" "the greatest dramatic series ever produced for television" and as the fourth season gets under way Sunday night, there's no reason to quibble with that assessment.

The breadth and ambition of "The Wire" are unrivaled and that taken cumulatively over the course of a season -- any season -- it's an astonishing display of writing, acting and storytelling that must be considered alongside the best literature and filmmaking in the modern era.

A vibrant, masterful work of art, HBO's novelistic urban saga The Wire is the best show on television.

David Simon and his writers... aren't out to change the world; the slippery slope of civilization is already in place on The Wire and Simon is just out to document how each and every person survives. Or doesn't, as this season quite devastatingly proves.

It just might be the kids, the ones who grow up too soon in the hard world of "The Wire," who steal opening night.
The finest television show in history. I find that only people who wouldn't invest in a few episodes of the show can say it's not o

ne of if the favorite show of all itme. Season 4 allows viewers without knowledge of the prior seasons to enjoy the storyline. But believe me, if you haven't watched the previous three seasons, do yourself a favor and watch them. Not only does it enhance the enjoyment of season 4, but if you are going to watch tv, you might as well watch the best show. When season 5 concludes, I may seriously consider whether I need a television anymore.

…

Expand

Why not pile on to a good thing? A great thing actually -- the best work on television in the past decade, period.

Season 4 of the Wire is the best season of any television series. Period. While the Wire has always been a great TV show, with more authentici

ty, in-depth writing, complex characters, superb acting and gripping storytelling in one episode than most shows produce over their entire span. The first three seasons are all amazing, and the storylines from the previous seasons continue to grow in the fourth season, but they cannot in any way prepare you for the sublime and heartbreaking new storyline following four youth, the school system, and the corner. I can't use enough superlatives to describe this season: Perfect! Riveting! Flawless! The apex of art, entertainment and social commentary on TV (and perhaps any medium)!!!!

If you find the first few episodes disorienting, don't worry, it will all make sense â

…

Expand

one of the best shows on cable period

The Best Season of the wire, in my opinion.
While summer is traditionally a time of reruns and discarded shows, TV occasionally gives us a summer gem. We pick out 20 of the best summer television debuts of all time, from "Seinfeld" to "The Wire."