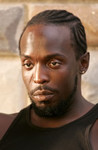 Summary:

The crime drama returns in its final season with the hot seat applied at creator David Simon's previous occupation (journalist).

Genre(s):

Drama

Show Type:

Ended

Season 5 premiere date:

Jan 6, 2008

Episode Length:

60

Air Time:

09:00 PM
The fifth and final season of David Simon's peerlessly acted, stunningly scripted, revolutionary drama of 1,000 moving parts kicks off Jan. 6.

This new 10-episode season boasts the same high quality of production that this series has always exhibited.

Every single scene of The Wire is meticulously scripted and dramatically riveting.

The fans, no doubt, will be content with the conclusion of the brutal street politics--usually the best aspect of each season--as we witness a brilliantly stormy resolution of the unrest between Proposition Joe (Robert F. Chew), Marlo Stanfield (Jamie Hector), who continues to expand his power, and the charismatic, elegant brute Omar Little (Michael K. Williams), a murderous thief worth cherishing.

The episodes that kick off this last 10-show run don't feel perfect. But they almost always feel intuitively right.

The final season of The Wire is committed to proving him wrong; by leaving nothing out it offers viewers as close a chance as anyone can get to everything.

While the police story line has never been stronger, the first seven episodes made available for preview contain nothing that matches the emotional power and sociological insight of the show at its best--namely the classroom scenes from Season 4.
Since most said that it was the weakest season, I lowered my standards. And while I was within that mindset, I saw the concluding season.

Just marvelous. These characters will be sorely missed.

…

Expand

The last season is very simple and I say that as a high praise. It comes full circle back to the beginning of the first season. You can see

clearly the outline of a new cycle of stories, some people following the path of others before them and some people branching out into the unknown.
Many people will like one season more than another, because the themes covered are often different. But I think what most people enjoy in the Wire is how it elevates our understanding of any one theme by linking its causes and effects to so many other themes. A true work of Art and Sociology.

…

Expand

Best show EVER. So upset that it's finished, but they ended it very well. I'm going to miss these characters so much, especially bubs and

omar. Bubs' story really touched me, he was definitely one of my favorite characters.

…

Expand

I thought the WIRE was the best TV I'd ever seen - so it was really a shame to end on a low. The final WIRE season was a great disappointment.

A number of well-known characters suddenly became two-dimensional and behaved in ways that were totally at odds with how their behaviour had built over previous seasons. New characters were introduced that did not show any depth (unlike in previous seasons, the newsroom crowd did not become real people, compared to say the dock crowd). The plot became unrealistic to the point of farce, and rushed. I wonder how much of this was down to creative exhaustion, and how much of it was down to the reduced series length (in terms of numbers of episodes). Yes, my expectations were very high. But I realise that if I had come to series 5 of the Wire before any of the others, I would have thought it was just another slightly hyper-real gritty cop show.

…

Expand
While summer is traditionally a time of reruns and discarded shows, TV occasionally gives us a summer gem. We pick out 20 of the best summer television debuts of all time, from "Seinfeld" to "The Wire."