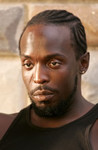 Summary:

The crime drama returns in its final season with the hot seat applied at creator David Simon's previous occupation (journalist).

Genre(s):

Drama
Show Type:

Ended

Season 5 premiere date:

Jan 6, 2008

Episode Length:

60

Air Time:

09:00 PM
The fifth and final season of David Simon's peerlessly acted, stunningly scripted, revolutionary drama of 1,000 moving parts kicks off Jan. 6.

This new 10-episode season boasts the same high quality of production that this series has always exhibited.

Every single scene of The Wire is meticulously scripted and dramatically riveting.

The fans, no doubt, will be content with the conclusion of the brutal street politics--usually the best aspect of each season--as we witness a brilliantly stormy resolution of the unrest between Proposition Joe (Robert F. Chew), Marlo Stanfield (Jamie Hector), who continues to expand his power, and the charismatic, elegant brute Omar Little (Michael K. Williams), a murderous thief worth cherishing.

The episodes that kick off this last 10-show run don't feel perfect. But they almost always feel intuitively right.

The final season of The Wire is committed to proving him wrong; by leaving nothing out it offers viewers as close a chance as anyone can get to everything.

While the police story line has never been stronger, the first seven episodes made available for preview contain nothing that matches the emotional power and sociological insight of the show at its best--namely the classroom scenes from Season 4.
Best television show ever.

Since most said that it was the weakest season, I lowered my standards. And while I was within that mindset, I saw the concluding season. Jus

t marvelous. These characters will be sorely missed.

…

Expand

The Best TV Show EVER, and I have been watching tv since 1950; only the anthology drama series (Climax, Playhouse 90, etc.) ran stuff this go

od, but without this much consistency. I have watched 55 episodes of the wire, and the worst grade I would give any episode was a B.

…

Expand

One of the greatest shows ever created. Characters, Plotlines, Writing, and Directing is flawless.

If I did a review for all five seasons, well, that seems like a lot of work. So, I'll just say, that this show is, easily, one of the best tel

evision series ever. The performances are all great, and the writing and direction in each episode is impeccable with a level or realism that could only be provided by him. Easily the best crime drama ever on television.

…

Expand

The Wire peaks in season four, which is flawless, and then it takes a slight dip in its fifth and final season. Don't get me wrong. This seaso

n is still better than almost anything else on television, but there are some unbelievable plot twists, and it feels more rushed than previous seasons. Still amazing, but not perfect.

…

Expand

It was the worst season EVER season four was much better.
While summer is traditionally a time of reruns and discarded shows, TV occasionally gives us a summer gem. We pick out 20 of the best summer television debuts of all time, from "Seinfeld" to "The Wire."