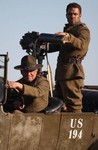 Summary:

Narrated by Jeremy Renner, this three-part, six-hour miniseries covers World War I and World War II by utilizing reinactments, interviews, as well as commentary from political figures such as Sen. John McCain, British Prime Minister John Major, and Gen. Colin Powell, to illustrate the

Narrated by Jeremy Renner, this three-part, six-hour miniseries covers World War I and World War II by utilizing reinactments, interviews, as well as commentary from political figures such as Sen. John McCain, British Prime Minister John Major, and Gen. Colin Powell, to illustrate the experiences and decisions that went into the wars.

…

Expand

Genre(s):

Movie/Mini-Series

,

Documentary

,

Educational
Show Type:

Mini-Series

Season 1 premiere date:

May 26, 2014
Please enter your birth date to continue:
You are not allowed to view this material at this time.
It's a smart, imaginatively made and unusually sweeping look at what happened to the world from Sarajevo in 1914 to Hiroshima in 1945, or as Churchill put it, "one story of a 30 years' war."

The lush narrative style is alluring, but when Adolf Hitler starts to feel like a pulpy Batman villain, you'll suspect this isn't the most insightful ­account available. [30 May/6 Jun 2014, p.111]

The World Wars has a few annoying habits, including pared-down descriptions that can be depressingly inane.

Nobody will accuse it of being ponderous or academic. It's expensive-looking and shallow but long.

There is much to like and learn from the miniseries. Alas, executive producer Stephen David and his creative team seem intent on getting in their own way, cluttering up the inevitably fascinating narrative (offered here by Jeremy Renner) with all manner of clunky historical reenactments, hyperbolic characterizations and a soundtrack that should be shot for treason.

A three-part, six-hour undertaking that proves fitfully interesting despite its offputting narrative approach.

This impulse for larger-than-life storytelling does mean that The World Wars is terminally superficial.
This is an excellent way to inform the unwashed what happened during that time. Most lower rung intelligence idiots have no idea the loss that

This is an excellent way to inform the unwashed what happened during that time. Most lower rung intelligence idiots have no idea the loss that occurred back then, and should be reminded of the facts. The upper rung intelligence snots who have disdain for anything that isn't produced by the BBC or HBO, also need to understand that not everyone is a queer thinker like they are.
If this is the way to get people to realized that 100 million people died in a fruitless disaster then I call it a success.

…

Expand

There are many historical errors, as pointed out by others It is quite unsatisfying and glossed over for anyone familiar with the period and

There are many historical errors, as pointed out by others It is quite unsatisfying and glossed over for anyone familiar with the period and the events portrayed.

Hitler is often shown as a dwarf surrounded by subordinates that tower over him. He was 5'9", which was average for that time. This rather obvious misrepresentation is not necessary.

Overall I found it tedious..

…

Expand

I signed up for an account just to have my say on this show. I had to turn it off during the second episode because it was just so wrong and

I signed up for an account just to have my say on this show. I had to turn it off during the second episode because it was just so wrong and full of outright falsehoods. I can't believe this is a History Channel production and it is really disturbing that the commercial authority on "history" would release this with so many errors and outright lies. I am now worried that this is what people will actually begin to think is true.

I am giving the show a 2 because it was pleasant to watch (at first). The WWI scenes were nicely depicted even though the tanks were wrong. The image of a young MacArthur casually walking across the battle field is exactly how I envisioned it. However, the gross negligent errors later will quickly put everything about this show in question, and the History Channel's credentials as well.

This is not nitpicking. These are atrocious mistakes. The Germans really had B-17 bombers in the 1939 blitzkrieg of Poland? Did the Germans really have Soviet T-54s (a 1950/60's era tank) during the blitzkrieg of France in 1941? This show actually says the Germans attacked straight through the Maginot line and won because of "blitzkrieg"!!! No mention of bypassing static defenses and cutting off the BEF and mobile French forces that were NOT sitting in the impenetrable Maginot Line. This show didn't even mention the British and French pact to go to war with Germany should Poland be attacked. It made it look like Churchill pressured Chamberlain into declaring war after the fact! MacArthur was not a 5 star General during the 1930's depression! This isn't just nitpicking small details like "they got the wrong rifles", these are very substantial errors and my fear is people will think this is the truth! Now that I've seen this I have to question the History Channel's authority to release or publish anything on history at all. Their credibility is gone as far as I'm concerned.

Dear American Public, please enjoy this show for it's art and cgi war scenes only as it is beautiful, and they got Churchill down to a tee, but do not accept any of this show as real facts. Indeed, if I were a teacher I'd assign this show for my class to discover each and every falsehood and outright lie, and for extra credit, for them to find any actual truth in the entire series.

How could this get past editors, or even the guy who gets everyone coffee? How could this be published under the History Channel's name without anyone noticing these things? I guess this explains why the channel's format is dominated by Pawn Stars, moonshine runners and alligator hunters. Disgusting...

…

Expand

Signed up just to say almost exactly what irjebiv did. I thought I was disappointed in the HC for switching over to a mostly "reality series"

Signed up just to say almost exactly what irjebiv did. I thought I was disappointed in the HC for switching over to a mostly "reality series" based lineup, well they slapped me and other old school HC fans in the face on this one. And what was up with some of Hitler's generals? They looked like they could've been members of Pink Floyd! Here's a tune for your WW2 extras History Channel...'Shave and a haircut, two bits!'

…

Expand

This review contains spoilers, click expand to view.

Disgusting one sided misinformation. History channel was my favorite channel, not anymore because of this grossly lying piece of WW1+2 interpretation. I fail to even understand how some other reviewers on here write that: "..this series contains errors.." Errors? This entire narrative is a lie and error. All of this is aimed at white-washing entire generations and rewriting history. Russia is mentioned about 1.5 times in three episodes, while the reality is that an ENTIRE western allied invasion throughout all of WW2 faced only less than 20 German divisions, and Patton is made a savior of entire WW2. All of this completely disregarding the facts that Russia (aka Soviet Union) faced 200 German divisions, and their soldiers were NOT treated by Geneva conventions like British, American and etc soldiers were. Russia/USSR had lost over 30 million of its people during the war, liberated most concentration camps and death camps such as Aushwitz, took over Berlin, Helped USA by attacking Japan from the East, while receiving less than 5% of the supplies for the war that was needed on the eastern front. Russia/Ukraine/Belarus had to evacuate 20 MILLION people from western parts to Siberia and rebuild factories from scratch to build and manufacture supplies needed to save their country from Nazis. None of this is mentioned in this show. Attack on Stalingrad had nothing to do with egos, it had to do with Baku oil fields as Germany needed to further attack deeper into Russia, while maintaining supply routes. No mention of siege of Leningrad, battle of Kursk etc. For all those interested in real history I suggest you avoid watching this show, and do your own research. Russia/USSR was not even invited for signing of Germany's unconditional surrender on May 7 1945, instead Russia organized their own signing the next day. ALL of these steps were made to glorify the West, and to put Russia in the back seat of History. Stalin pleaded with the allies to open the second front way back in 1942 while Nazis were burning and plowing thru Ukrainian, Belorussian and Russian cities, literally burning village after village, and town after town. People were forced into barns and burned alive systematically. But thanks to History channel and this series we now know Gen Patton who single handedly won WW2.

…

Expand

Hurrah,,, the US saves the World once more,, dear oh dear,, can you guys ever get off your rather rotten ivory tower?
I guess one only has toHurrah,,, the US saves the World once more,, dear oh dear,, can you guys ever get off your rather rotten ivory tower?
I guess one only has to see who funded the show to see how the bias plays such an important role in a show that should have been amazing.
Such a shame,, this was a missed opportunity and The History channel seems to have become the latest Fox news,, so sad.

…

Expand

I did not watch the first two episodes, only the one on WWII. Perhaps the first two were better. I thought that the WWII segment was the

I did not watch the first two episodes, only the one on WWII. Perhaps the first two were better. I thought that the WWII segment was the absolute worst history I have ever seen. I would flunk a high school student who wrote such. I realize the challenge of telling the story of WWII in an hour or less, but this effort was over dramatized with imagined conversations, mentioning only two U.S. generals - MacArthur and Patton - and making the war in Europe out to have been a personal contest between Patton and Hitler. From what I read elsewhere many of the film segments were inaccurate as well. It essentially discounts the war at sea and in the air - aside from Midway. It gives false impressions of how we (Patton) just marched up Italy and how until the Bulge we just advanced across France from the moment we landed in Normandy. I frankly think the WWII segment is so badly done that it is worse than nothing in terms of educating the public about WWII. The choice of commentators - including Cheney and Rumsfeld was truly curious. I wonder if Douglas Brinkley is not embarrassed that he took part in the program! I would give this program no stars - a definite thumbs down!

…

Expand