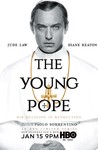 Summary:

Newly named Pope Pius XIII, Lenny Belardo (Jude Law) grapples with the inner workings of the Vatican and comes into conflict with Cardinal Voiello (Silvio Orlando), who thought the 47-year-old would more biddable than another cardinal. Instead, Lenny has his own ideas and prefers seeking

Newly named Pope Pius XIII, Lenny Belardo (Jude Law) grapples with the inner workings of the Vatican and comes into conflict with Cardinal Voiello (Silvio Orlando), who thought the 47-year-old would more biddable than another cardinal. Instead, Lenny has his own ideas and prefers seeking advice from Sister Mary (Diane Keaton), who raised him at the orphanage.

The 10-part miniseries from Paolo Sorrentino premiered at the Venice Film Festival in September 2016.

…

Expand

Genre(s):

Drama

,

Movie/Mini-Series
Season 1 premiere date:

Jan 15, 2017

Episode Length:

60
Lush, often surreal, filled with contradictory characters and backstabbing intrigue, The Young Pope is one of the more remarkable television shows in memory.

The spontaneity rumbling through The Young Pope illuminates the unruly possibilities of human and spiritual connection, and its sly, deadpan wit is often a delight.

The series' strength is that it is difficult to pin down; it zigs when you expect it to zag.

Sorrentino's taste for the grotesque at times gets out of hand, but generally serves him well in this comic approach to the hidebound traditions of the miniscule Papal state.

It really depends on how drawn in you are by the Vatican intrigue crafted by show creator Paolo Sorrentino, and how beguiled you are by Jude Law's performance.

With its over-the-top plot and rococo themes, it just comes across as Eurotrash--intellectually pretentious, but it sure is pretty to look at it.

The Young Pope is TV's equivalent of a dorm-room poster of Bob Marley blowing smoke or the Lenny Bruce mugshot: a depleted symbol of a radical reaction to society that finally most clearly represents the status quo.
The Young Pope is provocative because it needs to be. Jude Law gives a remarkable performance and the series tries to show you how religion

The Young Pope is provocative because it needs to be. Jude Law gives a remarkable performance and the series tries to show you how religion can be a blatant excuse for behavior. It's magnificent, well-acted and Sorrentino's writing doesn't care for those who don't get it or understand it, just like Lenny Belardo.

…

Expand

I already watch the entire season in my country.
We are in front of a beautiful and intense piece of art, great storyline, great acting.I already watch the entire season in my country.
We are in front of a beautiful and intense piece of art, great storyline, great acting.
Jude Law gives a memorable perfomance. The photography is one of the best I've ever seen (including movies), I actually started crying for the beauty of some scenes.

Thanks HBO, Thanks Sorrentino. This was one of the best tv series I've ever seen, but I have to say, it is not for everybody.

…

Expand

An intriguing show. The storyline is fantastic - the idea that behind any institution are human beings with their own emotions, motives, egos

An intriguing show. The storyline is fantastic - the idea that behind any institution are human beings with their own emotions, motives, egos and pasts. The acting is great and the cinematography is brilliant. I specially like the scenes which bring out the personality of the lead characters.

The direction for the rest of the show is not that clear yet - whether it will continue to be one man's quest for power and ego or there is an underpinning of hope and greater good. In some scenes, it is difficult to discern reality from the hallucinations but overall - a show that should definitely be on your weekend watch-list.

…

Expand

This show has a great start, daring, outrageous, but it is dragged down by a cheesy and dumbed down second act that fits better in a Sunday

This show has a great start, daring, outrageous, but it is dragged down by a cheesy and dumbed down second act that fits better in a Sunday afternoon matinée film, with such an abrupt transition that makes the viewer feel that he missed some episode. There are even examples that the idea seems to be someone is being two-faced, but in the end is just a feelgood narrative tool.

Shame such a daring idea ended up in the most boring tone one could imagine.

…

Expand

Brave, courageous Hollywood makes film insulting and denigrating the faith held sacred by millions, because why - because the church doesn't

Brave, courageous Hollywood makes film insulting and denigrating the faith held sacred by millions, because why - because the church doesn't believe in corruption like abortion, sodomy and all the other evil things the cesspool of Hollywood worships. Look out of the next production, The Young Iman, about the young muslim who wants to challenge the evil of subjugation of women and genital mutilation, oh thats right Hollywood are cowards who would never do that, They only beat up on those they know won't come around cut their stinking heads off.

…

Expand

This show is touted as a "drama",but I'm not sure that is accurate. It is too melodramatic to fit that category. The way Jude Law chews the

This show is touted as a "drama",but I'm not sure that is accurate. It is too melodramatic to fit that category. The way Jude Law chews the scenery is so over the top that I thought the director may have been aiming at comedy (a case could be made for either satire or slapstick)

The only thing it does get right is the ruthless business that is the Roman Catholic Church. I once dated a priest (it was his sin, not mine) and was privy to the behind-the-scenes machinations of the various schemes employed to rake in cash for the diocese.

I'm not sure if La Cosa Nostra learned from the church, or the church learned from The Mob, but they operate in strikingly similar fashion.

…

Expand

Vicki Hyman in the Newark Star-Ledger wrote "With its over-the-top plot and rococo themes, it just comes across as Eurotrash--intellectually

Vicki Hyman in the Newark Star-Ledger wrote "With its over-the-top plot and rococo themes, it just comes across as Eurotrash--intellectually pretentious, but it sure is pretty to look at it." She is absolutely spot on. It just goes to show that with enough money you can polish a turd. After Brexit and the election of Trump there should be no surprise that this is the treacle that appeals.

…

Expand