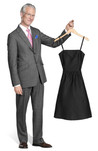 Summary:

"Project Runway's" mentor tries to make it work for the style-challenged.

Genre(s):

Reality
Show Type:

Between Seasons

Season 1 premiere date:

Sep 6, 2007

Episode Length:

60

Air Time:

10:00 PM
Guide to Style is smart, fun and instructive, emphasizing enlightenment over shame and choice over following orders.

Basically it's a knock-off of TLC's "What Not to Wear." But the Bravo version is watchable, mostly thanks to its host.

If the slightly less relaxed Tim Gunn's Guide to Style doesn't quite have "What Not to Wear's" tone of cheeky camaraderie, well, never mind. It has Gunn's "make it work" philosophy at its heart, and it has his spirit of compassionate, caring honesty.

Gunn is best when showing us what he knows, reacting critically to the thing in front of him rather than speaking lines meant to jog the narrative or jack up the drama.

For the most part, the show is content to be another study in the effects of fashion on self-esteem.

Gunn is fine in limited doses. I like him better as a design guru than the closet king.

Guide to Style is too glazed and slick for its own good, too clinical and forensic to be any fun.
I really love this show . Tim is a very classy guy and seems to be sensitive to the guests on his show. He is able to make his guest

I really love this show . Tim is a very classy guy and seems to be sensitive to the guests on his show. He is able to make his guest comfortable and is not so quick to put them down. I don't like the other shows which seem to be a little insensitive to their guests.

…

Expand

One thing that sets this makeover show appart from the rest is that while showing you a better way to dress yourself, it doesn't make

One thing that sets this makeover show appart from the rest is that while showing you a better way to dress yourself, it doesn't make you feel bad about yourself. The idea that in order for a makeover to make you really change you need to tear down the makeovered to rock bottom with critical comments and scathing remarks is nonsense.

…

Expand

I LOVE this show. As a 57 year old married social worker with a teenage son, who works full time and part time. We with three cats and a dog,

I LOVE this show. As a 57 year old married social worker with a teenage son, who works full time and part time. We with three cats and a dog, I find I do not spend enough time focusing on my clothes. Much of my shopping is done at the local Good Will. (I occasionally find a diamond in the rough there.) However, I take care of myself going to the gym 5 days a week for a minimum of one hour each visit, and have kept in shape. But my clothes have not. Much of what I wear harkens back to the 70's. So Tim Gunn's Guide to Fashion has been a big help! Plus I love the compassion he feels for his makeovers. He clearly cares for them, while exhibiting a sense of humor. I love this program and am so glad I discovered. Cynthia Brink

…

Expand

I have watched all the episodes so far. They are a little formulated. The show would be better if they varied the script a bit. I would also

I have watched all the episodes so far. They are a little formulated. The show would be better if they varied the script a bit. I would also like to see on Bravo's website where the clothes were bought, brand, and cost.

…

Expand

I am begging Bravo -- begging!! -- if you want to make this show a bit better, please please please ditch the Jared Weiss "life coach"

I am begging Bravo -- begging!! -- if you want to make this show a bit better, please please please ditch the Jared Weiss "life coach" sections. Watching them feels like having a person with Tourette syndrome scraping your inner ear with a syringe needle.

…

Expand

Everyone here needs to get real and stop aping other shows. Timm has a lot of style and needs to let it shine through sincerely instead of

Everyone here needs to get real and stop aping other shows. Timm has a lot of style and needs to let it shine through sincerely instead of succumbing to Bravo-isms. Personal standards!

…

Expand

The show needs to be revamped. It's a bit tedious to repeat so many of the same lessons. Also, how does a wardrobe of 10 staples

The show needs to be revamped. It's a bit tedious to repeat so many of the same lessons. Also, how does a wardrobe of 10 staples translate across various socio-economic divisions. Getting rid of an entire wardrobe, and replacing it with 10 pieces seems like the women are getting a raw deal. Also, I could do without all the advertising tie-ins. Not really loving the work of the Garnier-Fructis stylist, or the Maybelline cosmetics rep. Though the gift of a designer outfit is a nice touch.

…

Expand