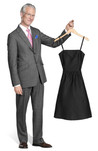 Summary:

"Project Runway's" mentor tries to make it work for the style-challenged.

Genre(s):

Reality
Show Type:

Between Seasons

Season 1 premiere date:

Sep 6, 2007

Episode Length:

60

Air Time:

10:00 PM
If the slightly less relaxed Tim Gunn's Guide to Style doesn't quite have "What Not to Wear's" tone of cheeky camaraderie, well, never mind. It has Gunn's "make it work" philosophy at its heart, and it has his spirit of compassionate, caring honesty.

Basically it's a knock-off of TLC's "What Not to Wear." But the Bravo version is watchable, mostly thanks to its host.

For the most part, the show is content to be another study in the effects of fashion on self-esteem.

Guide to Style is too glazed and slick for its own good, too clinical and forensic to be any fun.
I LOVE this show. As a 57 year old married social worker with a teenage son, who works full time and part time. We with three cats and a dog,

I find I do not spend enough time focusing on my clothes. Much of my shopping is done at the local Good Will. (I occasionally find a diamond in the rough there.) However, I take care of myself going to the gym 5 days a week for a minimum of one hour each visit, and have kept in shape. But my clothes have not. Much of what I wear harkens back to the 70's. So Tim Gunn's Guide to Fashion has been a big help! Plus I love the compassion he feels for his makeovers. He clearly cares for them, while exhibiting a sense of humor. I love this program and am so glad I discovered. Cynthia Brink

…

Collapse

I have watched all the episodes so far. They are a little formulated. The show would be better if they varied the script a bit. I would also

like to see on Bravo's website where the clothes were bought, brand, and cost.

…

Expand

I am begging Bravo -- begging!! -- if you want to make this show a bit better, please please please ditch the Jared Weiss "life coach" sectio

ns. Watching them feels like having a person with Tourette syndrome scraping your inner ear with a syringe needle.

…

Expand

I did not find the show entertaining and only slightly informative regarding fashion. I was unclear if the show was supposed to be about how

to build the correct wardrobe for your body type or how to build your self-esteem by learning to walk tall, with proper fitting under garments.

…

Expand