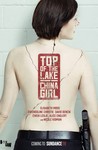 Summary:

The second season of Jane Campion's miniseries subtitled China Girl finds Detective Robin Griffin (Elisabeth Moss) back in Sydney, working with a new partner (Gwendoline Christie) as they investigate a body found inside a suitcase on Bondi Beach.

Genre(s):

Drama

,

Movie/Mini-Series
Season 2 premiere date:

Sep 10, 2017

Episode Length:

60
China Girl is an even more nuanced, more primal, and more entertaining beast than the first season (or just about anything else that's ever aired on television). It's an overwhelmingly ambitious and unforgettably thoughtful piece of fiction that's told with the lightest of touches ... and brought to life by a cast that lacks a single weak link.

The acting is tremendous across the board, as is the directing. Quiet and meditative throughout, China Girl is gorgeously photographed.

Some of the most mesmerizing hours of television all year. [15 Sep 2017, p.66]

It doesn't quite stack up to the original, in part because the lake town itself was such a huge part of the first series, in part because some of the coincidences that drive both stories play more convincingly in a small community than in a big city. But the acting is remarkable.

While the first two episodes of Top of the Lake focus on Robin's complicated, unfortunate past, the clues in the murder story unfold very slowly--probably too slowly for American audiences--but when they finally do, the series, directed by Jane Campion ("The Piano"), picks up some steam.

It's a shame the story doesn't fully work, because some of the acting in Top of the Lake: China Girl is top of the line. I love the cast, even when the script fails them and they're forced to make illogical scenes work.

Set against this much more conventional backdrop, the holes in Campion's detective story are clearer, but the story and the dialogue have been heightened to the point of absurdist theater, as if to compensate. ... The ending of the final episode points to a third installment of Top of the Lake, although at this point fans of the first season might be more inclined to pretend the second never happened.
Lighter mood with more sunshine and better-defined characters. Great and more recognizable actors and a very overwhelming investigation. I was

Lighter mood with more sunshine and better-defined characters. Great and more recognizable actors and a very overwhelming investigation. I was waiting for a continuation long time and it was really worth it. It's not only top of the lake, it's top of crime series of XXI century.

…

Expand

Inferior to its predecessor, not so much in terms of quality but because the story feels less focused and less attractive.
There is enough toInferior to its predecessor, not so much in terms of quality but because the story feels less focused and less attractive.
There is enough to justify the time you invest in it but personally it did felt minor, yet I can fully recommend it.

…

Expand

I liked the first season, but after getting into episode 4 of season 2, there are some glaring plot holes (SPOILER no effing way she doesn't

I liked the first season, but after getting into episode 4 of season 2, there are some glaring plot holes (SPOILER no effing way she doesn't arrest that guy after he bites her nose, NO WAY). Add to that the fact that every male character is some combination of violent sex monster, snickering a**hole, or mewling idiot. Many of the female characters are awful too, but they at least have empathetic qualities. I get that this is from and by women and it has a feminist POV, but dial it down a notch, honey. All the women fold their arms and look sideways whenever a man opens his mouth. FWIW, Elizabeth Moss puts in a good performance.

…

Expand

Disappointing at best. Johnno, no longer played by Tom Wriggt, does something totally out of character. This was the flashing red warning

Disappointing at best. Johnno, no longer played by Tom Wriggt, does something totally out of character. This was the flashing red warning sign that even the amazing Brienne of Tarth can not save season 2 of Top of the Lake

…

Expand

The first season is definitely worth watching, but the second season is straight up garbage. There are many better shows worth your time (if

The first season is definitely worth watching, but the second season is straight up garbage. There are many better shows worth your time (if you haven't watched The Handmaid's Tale, check that out for starters if you like Elizabeth Moss).

…

Expand

Much like the case of True Detective, perhaps even worse, Top of the Lake Season 2 falls way shorter than the first season. Male characters

Much like the case of True Detective, perhaps even worse, Top of the Lake Season 2 falls way shorter than the first season. Male characters are often portrayed as devious and even monstrous in this new season with obviously forced misogynistic attitude implemented. Although acting is generally adequate, the story line feels rather absurd with Robbin Griffin's personal and professional life intertwined in a weird and unbelievable way. Campion once again wants to put the element of feminism into the series but simply made it ludicrous this time around.

…

Expand

Having Elizabeth Moss in a show is usually a good sign that it's something worth investing a bit of time in, add in Jane Campion and it really

Having Elizabeth Moss in a show is usually a good sign that it's something worth investing a bit of time in, add in Jane Campion and it really ought to be interesting at he very least. I loved the first series - it was odd enough to be interesting and good at slowly unravelling the story in a way that was compelling. S2 starts off in a similar vein, but it's not long before the detective work starts playing second fiddle to an increasingly dumb and soapy drama. It's just awful. Nicole Kidman is utterly wasted in a role that wouldn't be missed if it ended up on the cutting room floor. Ditto for Gwendoline Christie's character's arc involving pregnancy - really, it's not enough to have a cop story about people smuggling surrogate mothers with the lead cop having daughter issues then being partnered with another female cop who's got her own pregnancy story with her and Moss's boss. No? Okay, throw in nearly every male character being needlessly misogynistic, some terribly clunky dialogue and wooden acting. There's usually a point in every long running soap opera where a killer is on the loose and a few favourite characters need culling because they cost too much and the network wants to stir things up. This is like those few episodes, except with better cinematography and a higher caliber of actor phoning it in.
Moss is almost the best thing in it, but it's David Dencik who steals the show as the seedy Puss -
he's the only one remotely believable as a character following his own destiny while everyone else makes dumb decisions because the plot needs them to. Pretty much everything else about this sucks.

…

Expand