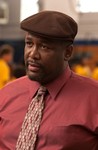 Summary:

Set in 2007, Toni meets L.P.Everett (Chris Coy), a journalist who may help in her fight against police corruption as the people of New Orleans continue to live and survive in the Big Easy.

Genre(s):

Drama

,

Music
Show Type:

Between Seasons

Season 3 premiere date:

Sep 23, 2012

Episode Length:

60

Air Time:

09:00 PM
Over the 10 episodes of the new season, Tremé remains outstanding at what it sets out to do.

It's the too-bad-not-to-be-true stories Simon's telling about what the people of New Orleans were dealing with long after the waters receded that's kept my blood on simmer for the eight episodes I've seen so far.

Many will still watch and wonder, "Is that all you got?" But those who get down in the groove with Treme's own unique rhythms may be surprised to find it's got more than enough.

Season 3--the full season was sent to reviewers--has indelible sequences, but it's a mixed bag.
Treme is an outstanding reflection on New Orleans culture, with characters that blossom in such an authentic manner. The world learned from

watching the first season that this isn't a show that will access a mainstream audience. It is my hopes, though, that after the third season, the world will understand that there is a huge line between mainstream and intelligent.

I watched the pilot, and the show has become even more involving. This time, more closely examining the flawed and corrupted police force. Also introducing a couple of new characters, who seem likable...so far. A show like Treme doesn't let characters get avoid moral conflict too easily, so it is only a matter of time before one of these new additions succumb to moral circumstances many of the other characters live through. All I can say is I will damn sure be watching the 3rd season of Treme. Though it doesn't accomplish smash ratings like Boardwalk Empire or Game of Thrones, it accomplishes something much greater. It draws the world in on a city that is now half-forgotten, and looks at it from the angle of New Orleans natives with great characters, preceding great performances, and though the plot moves slowly, it is truly compelling. Please watch Treme, people. It may come to be a commitment, but by the end, I think it will prove to be worth it.

…

Expand

I love Treme, I love it's wide array of characters, I love it's pacing and deliberate story telling and I love the way it's greatest character

of all is New Orleans itself, its story told through it's culture of music, celebrations and food.

The third season is no different. The quality of story telling and acting is phenomenal. Melissa Leo, Wendell Pierce, Clarke Peters, Khandi Alexander, David Morse and Jon Seda, the list of experienced polished performers could go on. Simon is dedicated to all of his characters and provides each one a meaningful story-arc that runs the length of the season, all linked in some way with either Katrina-related drama or the city and it's history as a whole.

People are bound to have their preferences and wish to see more of some than others but there is someone for everyone watching. My personal favourites are Toni Bernette (Leo), this time aggressively going after the NOPD, Antoine Baptiste (Pierce), becoming a dedicated school band teacher (the same can't be said for his dedication to his marriage) and Terry Colson (Morse), the cop being alienated for trying to clean house from within the NOPD. Added to the cast for this season is investigative reporter L.P. Everett (Chris Coy) who works with Toni to uncover more shady police work that went down following Katrina. Also, this time around Antoine's girlfriend Desiree (Phyllis Montana LeBlanc) gets a bigger piece of the action investigating the city's unscrupulous renovation and demolition policies.

While not always being integral to the show's narrative, the music set pieces are welcome insertions to each episode and have introduced me to a whole genre of music I previously had no appreciation for (I checked out Fats Domino's version of Blueberry hill after Davis paid him a visit in Careless Love). On the crime side, I don't think the story lines live up to the standard set by Simon on The Wire but this is a different show, with different priorities.

Now renewed for a further five episode fourth season, the final episode of season three was, at the time, perhaps the final ever episode and Simon and co. closed with a brilliant finale. Typical for a Simon show finale, the episode contained a musical montage covering the majority of the cast, however for probably the first time in the show's history the narrative brought almost all of the characters together in a single place during this. Magic. Also, the story appeared to come to a natural conclusion for each of the characters. Granted there was not always a complete resolution, an example being Janette's realisation that she has signed away control of her dream, but you could certainly appreciate this being an end. Thankfully however it isn't!

…

Collapse
"Modern Family" is among the 2009-10 season's best new TV shows. Find out which other shows made the cut, and which ones were the biggest failures.