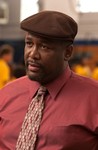 Summary:

The newest series from the producers of The Wire is set in New Orleans three months after Hurricane Katrina as the people and the area try to rebuild.

Genre(s):

Drama

,

Music
Show Type:

Between Seasons

Season 1 premiere date:

Apr 11, 2010

Episode Length:

60

Air Time:

09:00 PM
This is a spectacular new series, with some stunning performances--Pierce, Peters, Zahn, in particular--and gorgeous music.

The best parts of Treme are breathtaking. And then it exceeds that.

Treme is like Cajun food--it's spicy, it's weird and it's good, but it takes a while to appreciate.

Treme may lack the obvious narrative engine that the cops vs. drug dealers narrative gave "The Wire," but it's already a smart, engaging, moving and funny series, one that in many ways is more accessible than its predecessor.

Treme, created by "Wire" mastermind David Simon, may not ultimately get to the level of those others, because it's going to take a while to sort out the characters and lay down the themes. It also looks to have a deliberate pace, and it doesn't seem to be setting up for a lot of blood-and-guts action, so it may end up attracting a more cerebral crowd.

It's all done so masterfully that by the third installment, Treme has the old-shoe feeling of a series that has been on for years, not weeks. Still, those first three episodes do move slowly, and if there's a sour note to be sounded it's that it takes awhile for the series to find its centerpoint.

Unlike "The Wire," the pacing is lazy. Many of the moments seem authentic, but to paraphrase director Alfred Hitchcock: A good show is life minus the boring parts.
A unique series that has an unusual blend of real people (musicians) mixed with actors portraying fictional characters. The music of the show

is nothing short of amazing. One other unique trait of this series is that the plot does not drive to "hook" you into watching another episode right away all episodes stand well on their own, no games are being played to trick you into watching another until you are ready, which makes it one of the few shows you can savour over a few weeks or months.

…

Expand

Finally, an artwork that captures the incredible musical, mystical quality of this great city.

Treme gets New Orleans right. Simon's wise and novelistic approach is perfectly suited to this most blessed and cursed city. Instinct,

deep research and beaucoup talent bode well for the show's future.

…

Expand

There has not been much buzz about this show but it is great. The producers work in some of the New Orleans music scene which is great. They

also have a sub plot about a restaurant. All in all it keeps your attention and it looks like it is all filmed on location.

…

Expand

An almost perfect series. A study of tradition and culture and family in The City That Care Forgot (and almost got wiped off the map). While

Simon's 'The Wire' was 'all the pieces matter', this show, as one character puts it, is 'about the day to day' in the months and years after Katrina. Excellent performances by Clarke Peters, Wendell Pierce,John Goodman, Melissa Leo, Steve Earle, etc but also from many of the small part players, a lot being local and many playing themselves post-Katrina. It DOES require some knowledge of all that happened during and right after the hurricane (Spike Lee's docs 'When The Levees Broke' and 'If God Is Willing And The Creek Don't Rise' are good primers if you were living under a rock in Aug of '05). And there are so many local references that, if you like the show, you'll be raiding iTunes and Wikipedia and your local grocery store soon after. But the more you watch and the more you understand the more you are rewarded by this show. And the music, the music, the music!
As for its -2 in flaws, it takes about three or four episodes to get into it. I nearly gave up on it due to events in the second episode, but if you can get past them you're good. Then there's Season 3. Simon likes to lace his New Orleans stories with true events, recreating them for the show and blending in the fictional characters. But in season 3 fact sticks out from fiction like a sore thumb for about two thirds of the season and some characters turn into Basil "This Really Happened" Exposition. Plus it appears the budget was cut then (there is still no soundtrack for seasons 3 and 4 as I write this) and many of the wonderful small part actors are missing. BUT Simon makes up for that in season 4 by bringing almost all of them back.
All in all a great series despite its flaws. It'll leave you with a song or two in your heart and in your head.

…

Expand

As always with HBO shows, my expectations were very high. The setting was exiting, so was the cast; with a lot of familiar faces from "The

Wire", possibly the best TV series ever.

The pace of the show is very slow, which is always a high risk. It requires not only patience from the viewer, but also very high quality acting, writing and aesthetics. You cannot hide behind thrill and suspense, to cover other weaknesses. But on the other hand, the ones that have succeeded with this formula, are the best of TV history, in my opinion ("The Wire", "Sopranos", "Six Feet Under").

I was willing to give it some time, as I needed to get into "The Wire" or "Six Feet Under". And I did watch the entire first season, still undecided on whether I liked it or not. Because the show has great, believable portraits of the city of New Orleans, it's unique culture, and how it's people struggle to get their city back on it's feet; but there seemed to something not quite right.

Four episodes into the second season, I've finally had it. Half of the show now, is pretty much live concerts. We got it, New Orleans has a vibrant flair and a great music scene. Give us the stories! You got a show with great actors, and good writers too. The characters have the complexity I'm looking for in a show like this, the stories seem authentic and believable. So why are you wasting our time with never-ending music sessions? As it is now, one might as well watch a travel channel special on New Orleans. I don't need to see endless scenes from bar-room concerts, or marching bands. Give me stories, and the development of them! It's really a pity, because there is enough potential here to make a great series. Maybe the episodes should be cut down to 30-40 minutes?

…

Expand

This show is so boring, acting is horrible, hbo needs to give me a reason why i want to pay for a network like this.
"Modern Family" is among the 2009-10 season's best new TV shows. Find out which other shows made the cut, and which ones were the biggest failures.