Network:

HBO

Series Premiere Date:

Jan 12, 2014

Season #:

1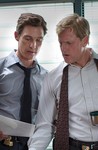 Summary:

A 17-year hunt for a serial killer in Louisiana begins with Detectives Rust Cohle (Matthew McConaughey) and Martin Hart (Woody Harrelson) joining the search in this eight-episode anthology series.

Genre(s):

Drama

,

Action & Adventure

,

Suspense
Show Type:

Hasn't Aired

Season 1 premiere date:

Jan 12, 2014

Episode Length:

60

Air Time:

09:00 PM
True Detective runs slow and steady without ever seeming to drag. Even minor characters get room to breathe, and seem independently alive; the briefest scenes seem to imply life beyond the frame.... The dance [Matthew McConaughey and Woody Harrelson] do together here is work of a very high order, and all the reason you need to watch.

The acting--by Matthew McConaughey and Woody Harrelson--is off the charts. The writing and the concept, by series creator and novelist Nic Pizzolatto, undulates from effectively brash soliloquies to penetratingly nuanced moments carried by sparse prose. Lastly, director Cary Joji Fukunaga has created a beautiful, sprawling sense of place (the series is shot and set in Louisiana).

True Detective proves to be everything the HBO marketing has promised it to be: a gorgeous, stylized and dark exploration into the worst parts of the human psyche.

The crime they're investigating often takes such a back seat to the show's tricky structure and the all-pervasive angst you may once again wonder what exactly HBO has against the notion of narrative urgency. But be patient with this slow-burner of a disturbing, demanding drama. These detectives are truly fascinating.

Happily, Harrelson and McConaughey play the characters well enough, and the script is crafted ingeniously enough, that we want to know where it all goes next--and don't focus on the likelihood it will be no place good.

Whatever the length of the show's much admired tracking shot (six minutes, uncut!), it feels less hardboiled than softheaded. Which might be O.K. if True Detective were dumb fun, but, good God, it's not: it's got so much gravitas it could run for President.
Just another lover of "True Detective". Yes, it does remind me of several other detective/procedural series on TV but it is so much more

subtle, so much better acted. Harrelson and McConneghy are far from being among my favorite actors but on "True Detective", they simply show how it is done. Excellent!

…

Expand

I started this show after seeing some screencaps on Tumblr, and was hooked from the first minute of the first episode. Most TV series take a

while to get strong, yet from the very first episode True Detective deployed excellent writing, engrossing characters and brilliant visuals that are made exceptional by their subtlety. McConaughey is the strongest I've seen him; in fact, all of the acting is top-notch. I almost don't want the series to end, I like this cast too much!

…

Expand

TRUE DETECTIVE is a masterpiece. It combines a cop show formula with supernatural elements and it couldn't be any better. You owe it to

yourself to watch this show. It's a tour de force. Matthew McConaughey gives his greatest performance yet, better than Dallas Buyer's Club. Woody Harrelson also give an incredible performance as his partner. If I gave anything away about this show, I would just ruin it. Just watch this incredible masterwork.

…

Expand

What a pleasure to watch McConaughey's sublime performance as Det. Rustin "Rust" Cohle. He's a law man with a past, which at times haunts him,

and at others plunge him to so deeply into an investigation we as viewers begin to question what the driving force of such a peculiar character is. It's a testament to McConaughey's skill as an actor that his portrayal of an eminently disagreeable character comes across as so nuanced, so richly textured that we're drawn into the gravitational pull of his on screen persona.

The two detectives discovery of one another plays like the tale of two totally committed actors. In many ways the same old story: the sleepy incumbent and his brilliant, new upstart partner "shaking things up." We've all seen it before, and seen it done badly. Where True Detectives shines is in the script letting us get to know Cohle and Hart intimately, while creating a story which fits their characters personalities, their strengths, their weakness, their motivation; perfectly. The pacing is spot on, and keeps gathering momentum with every revelation of the characters and plot.

True Detectives has every right to the great Meta score it has garnered. McConaughey and Harrelson breathe life into Nick Pizzolatto's script in a way that every director and producer in television should take note of: more of this please.

…

Expand
Published:

March 10, 2014

Find out what critics are saying about last night's season finale of HBO's True Detective, "Form and Void."