Network:

HBO

Series Premiere Date:

Jan 12, 2014

Season #:

1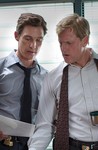 Summary:

A 17-year hunt for a serial killer in Louisiana begins with Detectives Rust Cohle (Matthew McConaughey) and Martin Hart (Woody Harrelson) joining the search in this eight-episode anthology series.

Genre(s):

Drama

,

Action & Adventure

,

Suspense
Show Type:

Hasn't Aired

Season 1 premiere date:

Jan 12, 2014

Episode Length:

60

Air Time:

09:00 PM
True Detective runs slow and steady without ever seeming to drag. Even minor characters get room to breathe, and seem independently alive; the briefest scenes seem to imply life beyond the frame.... The dance [Matthew McConaughey and Woody Harrelson] do together here is work of a very high order, and all the reason you need to watch.

The acting--by Matthew McConaughey and Woody Harrelson--is off the charts. The writing and the concept, by series creator and novelist Nic Pizzolatto, undulates from effectively brash soliloquies to penetratingly nuanced moments carried by sparse prose. Lastly, director Cary Joji Fukunaga has created a beautiful, sprawling sense of place (the series is shot and set in Louisiana).

True Detective proves to be everything the HBO marketing has promised it to be: a gorgeous, stylized and dark exploration into the worst parts of the human psyche.

The crime they're investigating often takes such a back seat to the show's tricky structure and the all-pervasive angst you may once again wonder what exactly HBO has against the notion of narrative urgency. But be patient with this slow-burner of a disturbing, demanding drama. These detectives are truly fascinating.

Happily, Harrelson and McConaughey play the characters well enough, and the script is crafted ingeniously enough, that we want to know where it all goes next--and don't focus on the likelihood it will be no place good.

Whatever the length of the show's much admired tracking shot (six minutes, uncut!), it feels less hardboiled than softheaded. Which might be O.K. if True Detective were dumb fun, but, good God, it's not: it's got so much gravitas it could run for President.
Just another lover of "True Detective". Yes, it does remind me of several other detective/procedural series on TV but it is so much more

subtle, so much better acted. Harrelson and McConneghy are far from being among my favorite actors but on "True Detective", they simply show how it is done. Excellent!

…

Expand

I just have watched the last episode of the show and felt the strong urge to watch it over and over again - al least another 2 times. Here´s

why: This show is just a superbly written, ferociously performed and incredibly directed TV-series. It´s unconditional love for detail, slow pacing and making the viewer feel for each and every one of the characters (maybe except of the killer), while blurring the edges between good and evil makes it a chilling experience straight to the bone. There´s is no plot hole but always some room for letting your fantasy unravel. Finally closing the story after episode eight protects the series from dying the "Dexter-dead" (you know what i mean ... that lumberjack stuff). Good! Not to mention Harrelson and McConaughey reaching new heights... oops I just did. Hate it without any good reason or give it a serious try and get your mind blown.

…

Expand

Sooooooooooooooooooooooooooooooooooooooooooooooooooooooooooooooooooooooooooooooooooooooooooooooooooooooooooooooooooooooooooooooooooooooooooooo

ooooooooooooooooooooooooooooooooooooooooooo ass.

…

Expand

What a pleasure to watch McConaughey's sublime performance as Det. Rustin "Rust" Cohle. He's a law man with a past, which at times haunts him,

and at others plunge him to so deeply into an investigation we as viewers begin to question what the driving force of such a peculiar character is. It's a testament to McConaughey's skill as an actor that his portrayal of an eminently disagreeable character comes across as so nuanced, so richly textured that we're drawn into the gravitational pull of his on screen persona.

The two detectives discovery of one another plays like the tale of two totally committed actors. In many ways the same old story: the sleepy incumbent and his brilliant, new upstart partner "shaking things up." We've all seen it before, and seen it done badly. Where True Detectives shines is in the script letting us get to know Cohle and Hart intimately, while creating a story which fits their characters personalities, their strengths, their weakness, their motivation; perfectly. The pacing is spot on, and keeps gathering momentum with every revelation of the characters and plot.

True Detectives has every right to the great Meta score it has garnered. McConaughey and Harrelson breathe life into Nick Pizzolatto's script in a way that every director and producer in television should take note of: more of this please.

…

Expand

I can bet in my Bike,i wish not use some harder language, that most of (Most of, not every one) non lovers of "True Detectives", was the big

fan of Sopranos, which wasn't bad at all, but essentially that was this, words of HBO CEO of production, after first presentation of script :
"I said to myself, this show is about a guy who's turning 40. He's inherited a business from his dad. He's trying to bring it into the modern age. He's got all the responsibilities that go along with that. He's got an overbearing mom that he's still trying to get out from under. Although he loves his wife, he's had an affair. He's got two teenage kids, and he's dealing with the realities of what that is. He's anxious; he's depressed; he starts to see a therapist because he's searching for the meaning of his own life. I thought: the only difference between him and everybody I know is he's the Don of New Jersey."
Simpler presentation of gangsters like all other peoples whit "specific problems of trade" all other is same for most of US citizens, and that kind of identification whit Sopranos is key of success.
In True Detective does not exist such things like "common" "ordinary" "guy whit same problems but little bit different trade".....And most of non like'rs of first several episodes as the biggest failures highlighted the speed which the audience discovers the plot and characters, (whit just little bit of exploring) many of "non like'rs" also do not like way of thinking and perception of life by Mathew character,obviously make kind of confusion in common viers perception of plot, almost same as in "common sense detective" Woody Character rolle(which i found very interesting and funny), like one of "don't like" viers said "psychobabble script " Again in simplified version, i think that most of "non likers" can not just to switch they brains on a little bit demanding movie language, but strange case is (by written comments) whit some of which is like new one TV Series, they like it, but they isn't so sure way, and for me most interesting group of people which is obviously "higher level movie educated" audience, they argue is " cliche film noir(neo noir O.K) and nothing new " i can't agree, simply because of fact that is one of, the best of the best, movie in this moment,on this same @Metacritic-Site-movie Topic, by joint assessment film reviews and the audience is the new "Lego" Animation,!!!??? if that is ultimate artistic "celluloid " expression. "True Detective" is Transcendental tautological artistic endeavor" know what i mean.

…

Expand

To me, it's more style than substance. It has an awful lot of style though. The eight episodes flow seamlessly as a visual novel. The

direction captures an arresting portrait of the unique rural locale. Matthew McConaghey reminds us that he is not merely the guy who's always being photographed on a beach somewhere, he can act. And the masterstroke, perhaps, is the music by T-Bone Burnett, which will surely make a killer soundtrack album.

The plot itself, though, is a somewhat meandering journey of the two detectives through a murder case, and their return to the case years later. The case involves some pulp horror elements (unlike most viewers, I had heard of the King in Yellow before watching the show), but ultimately, the show isn't really about the case, it's more about watching the two detectives' personal lives dragged through the muck. The show started slowly, and honestly it took me to the fifth episode before I really started looking forward to watching (i.e. halfway through). The show's occasional graphic elements can be quite strong, and sensitive viewers will want to steer clear.

In the end, it's an entertaining piece and superb technical filmmaking, and given that it's supposed to be an anthology series, it'll be interesting to see where it goes next. It's not the best thing HBO has put out though, not by a long shot.

…

Expand
Published:

March 10, 2014

Find out what critics are saying about last night's season finale of HBO's True Detective, "Form and Void."