Network:

CBS

Series Premiere Date:

Sep 22, 2003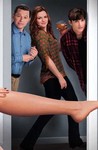 Starring:

Blythe Danner

,

Conchata Ferrell

,

Charlie Sheen

Summary:

Charlie is a wealthy bachelor with a house at the beach, a Jaguar in the front, and an easy way with women. His casual Malibu lifestyle is interrupted when his tightly wound brother Alan, who's facing a divorce, and his son Jake, come to live with him. Together, these two and a half men

Charlie is a wealthy bachelor with a house at the beach, a Jaguar in the front, and an easy way with women. His casual Malibu lifestyle is interrupted when his tightly wound brother Alan, who's facing a divorce, and his son Jake, come to live with him. Together, these two and a half men confront the challenges of growing up; finally. Complicating matters are the brothers' self-obsessed, controlling mother, Evelyn, Alan's estranged wife, Judith and Charlie's crazy neighbor Rose, who wants to be a part of his life and is willing to do anything to be around.
Known in Germany as Mein cooler Onkel Charlie (My Cool Uncle Charlie).

…

Expand

Genre(s):

Comedy
Please enter your birth date to watch this video:
You are not allowed to view this material at this time.
This show has great casting, comedy that crackles and characters who show signs of actually possessing some depth to them. These are rare qualities for any TV show, which is why I ranked it my second-favorite new series of the fall. [22 Sept 2003, p.E8]

The right sitcom at the right time. Well-cast, well written and actually funny (imagine that!), this one's a keeper. [22 Sept 2003, p.D-8]

The rather trite concept is freshened up by some colorful writing that actually happens to be funny, and by engaging "Odd Couple"-like performances from Sheen and Cryer, who play well off each other. The series is also a prime-time rarity - a sweet domestic comedy that isn't overly sappy. [22 Sept 2003, p.D01]

A word about the supporting cast: excellent. Holland Taylor is an expert at playing strong-willed, domineering women and shines as Evelyn, Charlie and Alan's mother. There are similarly strong contributions from Hinkle as Judith and from Melanie Lynskey as Rose, a nonthreatening stalker with a fixation on Charlie. [22 Sept 2003]

If you prize originality, this new series will underwhelm you. ... What's surprising is the goodly number of laughs it does offer.

It's just a thoroughly conventional multi-camera sitcom rooted in familiar Felix-Oscar shtick and that tried-and-true comic standby, a cute kid. It's old school...And happy to be that way. [22 Sept 2003, p.B7]

If you're feeling charitable, too, you might wrench a laugh out of the final line of the pilot, one in which a woman in a grocery store mistakes Charlie and Alan for boyfriends. But it's testament to the show's thoroughgoing dreariness that an old gay-misunderstanding joke is the best line in it. Or maybe the moment is happy because the show's over.
Without doubt, Two and a Half Men is the funniest show on television, with stunning performances from Charlie Sheen and Jon Cryer. The show

Without doubt, Two and a Half Men is the funniest show on television, with stunning performances from Charlie Sheen and Jon Cryer. The show only gets better and better...

…

Expand

I must admit it: the serie is just plain nasty fun. There's no doubt of why is one of the most watched series in all the time. Just

I must admit it: the serie is just plain nasty fun. There's no doubt of why is one of the most watched series in all the time. Just enterteining. I like more the season with Ashton Kutcher, I like it more than Charlie Sheen.

…

Expand

Two and a Half Men has been through rough changes, but still manages to entertain, the show so far has lasted eleven seasons, and to myself I

Two and a Half Men has been through rough changes, but still manages to entertain, the show so far has lasted eleven seasons, and to myself I hope it continues for more years to come

…

Expand

Two and a half men was once the golden boy of comedy then Ashton Kutcher came along and the writing became bad after he came it can be funny

Two and a half men was once the golden boy of comedy then Ashton Kutcher came along and the writing became bad after he came it can be funny once in awhile but all the jokes are sex related and every episode is the same

…

Expand

This show defines generic. Generic characters, generic story lines, generic humor. Nothing stands out to make this show original or even

This show defines generic. Generic characters, generic story lines, generic humor. Nothing stands out to make this show original or even likable. It is often lazy, lacking the ambition to try something new or mix up the formula. This isn't a show you hate or love as everything is just so plain and typical that it is hard to create emotion either way. Mediocre.

…

Expand

A very omegalomaniac tv show, centred in the life of charlie, only him. with no plot and good stories. they tried to copy the old tv shows,

A very omegalomaniac tv show, centred in the life of charlie, only him. with no plot and good stories. they tried to copy the old tv shows, but, as we can see they couldn't

…

Expand

charlie sheen is overated and a maisogynous . i liked charlie in scary movie 3 . but this is stupid show i liked charlie in anger managment

charlie sheen is overated and a maisogynous . i liked charlie in scary movie 3 . but this is stupid show i liked charlie in anger managment but one of the disapointing shows i seen .

…

Expand