Network:

NBC

Series Premiere Date:

May 29, 2014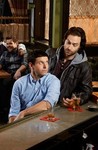 Starring:

Bianca Kajlich

,

Bianca Kajlich

,

Briga Heelan

Summary:

The comedy from Cougar Town's Bill Lawrence follows the lives of Danny Burton (Chris D'Elia), bar owner Justin Kearney (Brent Morin), Danny's recently divorced sister Leslie Burton (Bianca Kajlich), as well as bar regulars: Shelly (Ron Funches), Burski (Rick Glassman) and Brett (David Fynn).

Genre(s):

Comedy
Creator:

Adam Sztykiel

Season 1 premiere date:

May 29, 2014

Episode Length:

30
Please enter your birth date to watch this video:
You are not allowed to view this material at this time.
At best, it reminds sitcom fans that quality work is still being done in multi-camera; at worst, it's a decent distraction during the hiatus for Heelan's other show, the final link to a comic dynasty that wasn't meant to be.

Undateable, a show that does not set out to reinvent the multi-camera hangout comedy but execute that format reasonably well, turned out to be a generally pleasant surprise.

Both [Undateable and "The Night Shift"] are NBC series serving as spring-summer filler, adequate at what they do but not worth scheduling your life around.

It's still hard to expect much out of a sitcom arriving on broadcast TV in summer. In the case of NBC's Undateable, that's a good attitude. If you get a few laughs out of it, great. Otherwise, no hopes will be dashed.

Since just about every character is neurotic, cartoonish or annoying, you end up rooting for them to remain dateless.

Undateable probably isn't a show many sitcom fans will want to make a standing date to watch.
NONE of the critic reviews for this show have been since it went LIVE. This was a great show since season 1. It's an even BETTER show now. A

NONE of the critic reviews for this show have been since it went LIVE. This was a great show since season 1. It's an even BETTER show now. A brilliant cast, with great actors and hilarious comedians...given free reign to improv - LIVE on national tv. No other "sitcom" on television does this.
Plus- the writers and cast use social media in ways that have never been done before. You can tweet with them, see a periscope from the writers room DAILY, and even call a dedicated phone (the Danny phone) and often talk to a cast member - or get pictures via text. It offers an experience for the fans that is truly unique.
While I'm sure it's easy for someone to watch ONE episode and verbally bash it to oblivion on the internet (negative reviews are so much more fun to write), if they would at least take the time to give it a chance - I'm almost sure they would fall in love with the show, just as the rest of us have. The UndateableLive cast/crew have certainly put in more heart, time and effort into creating this 30 min of entertainment than any other show I have ever watched. I truly hope NBC can see that and give it another season (and better time slot) for others to enjoy it as well.

…

Expand

This show is absolutely hilarious! I have a weird sense of humor and everything about it is so funny. Can't wait to see what next season

This show is absolutely hilarious! I have a weird sense of humor and everything about it is so funny. Can't wait to see what next season brings. Undateable is new, funny, catchy, not to mention smart. There is definitely chemistry between the actors/actresses! SO funny, definitely watch it :)

…

Expand

Finally a network comedy that is FUNNY! Isn't that what they're supposed to be? There is nothing complicated or pretentious about this show,

Finally a network comedy that is FUNNY! Isn't that what they're supposed to be? There is nothing complicated or pretentious about this show, it's just a bunch of funny people doing/saying a bunch of funny things. The perfect way to unwind after a long day.
Ron Funches might be the best thing about this show with his one-liners, but the gay character is funny too and the two leads (Danny and Justin) make a great odd-couple pairing.
I will season pass this show for sure. NBC could have their Big Bang Theory is they give this a shot.

…

Expand

As a guy who is a true TV Nerd ( seriously, I have over 100 shows with every episode saved to hard drives ) I can honestly say this show had

As a guy who is a true TV Nerd ( seriously, I have over 100 shows with every episode saved to hard drives ) I can honestly say this show had me immediately. One thing to note, I did not start with episode one, but rather episode 8 or so. The cast is fantastic, and have great chemistry together. Hopefully the people who make show decisions read the FAN reviews and ignore the critics.

Honestly one of the best sitcom groups I've come across is years.

…

Expand

I actually really like this comedy it's one of the few sitcoms on TV that has me laughing out loud. The cast is surprisingly strong with a

I actually really like this comedy it's one of the few sitcoms on TV that has me laughing out loud. The cast is surprisingly strong with a nice mix of seasoned actors and some newcomers who can more than hold their own. Not great but definitely worth a watch.

…

Expand

Good potential, great cast! really curious to watch a whole season.
refreshing comedy, im just wondering if they could feed the whole castGood potential, great cast! really curious to watch a whole season.
refreshing comedy, im just wondering if they could feed the whole cast with good humor lines

…

Expand

Undateable? More like UN-WATCHABLE. And I won't fault the actors on this one, the lines they were given were titanic...in their tragic-ness.

Undateable? More like UN-WATCHABLE. And I won't fault the actors on this one, the lines they were given were titanic...in their tragic-ness. Were these writers trained under Stephanie Meyer because after only watching 7 minutes of it, I feel like I'm in the twilight-zone of bad television.

…

Collapse