Network:

CBS

Series Premiere Date:

Jun 24, 2013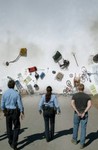 Season 2 premiere date:

Jun 30, 2014

Episode Length:

60
Please enter your birth date to watch this video:
You are not allowed to view this material at this time.
If not top-tier TV terror fare, Under the Dome certainly is solid second-level stuff. And given the state of horror on television these days, that's a bloody good compliment. Even while acknowledging the occasional misstep, give Under the Dome credit for getting a lot of things right.

No one in Chester's Mill should ever get too confident, however, and in the first episode there's some character transition.

Some excellent special effects are in Monday night's episode, but nothing particularly shocking because it's become abundantly clear by now that The Dome can do any damn thing The Dome--or the writers--want.

Another Stephen King adaptation that started with considerable promise but, as packaged for TV, lacked the necessary cohesion to go the distance.

Under the Dome won't be confused with good TV--and often last season it was borderline bad TV--but depending on where the writers take it this year, it might be empty-headed, summer fun.
I thought the series to incredible so far! Lots of suspense mystery and decent acting. The show works like the book does and I'm very excited

I thought the series to incredible so far! Lots of suspense mystery and decent acting. The show works like the book does and I'm very excited to see what they do with it and how they make everything work

…

Expand

Under the Dome's new season pilot is not quite clear on which route it is going to take, but you should look out for it, it should be as

Under the Dome's new season pilot is not quite clear on which route it is going to take, but you should look out for it, it should be as intense and entertaining as its predecessor.

…

Expand

I've always been a sucker for - sorry I mean fan of - Stephen King and despite the averageness of season 1, I decided to stick with CBS'

I've always been a sucker for - sorry I mean fan of - Stephen King and despite the averageness of season 1, I decided to stick with CBS' adaptation of Under The Dome. Now, half way through season 2 I am seriously beginning to think that was a bad idea. Annoying new characters, ridiculous plot scenarios and some startlingly bad acting are quickly turning this show in to one of the worst of the year. I'll probably punish myself for sins in a former life by struggling to the second season finale but I secretly hope it gets cancelled. That's the only sure way I'll stop watching.

…

Expand

I grew up reading Stephen King novels and I think he's a great writer. This adaptation I think doesn't work well. Dean Norris was an initial

I grew up reading Stephen King novels and I think he's a great writer. This adaptation I think doesn't work well. Dean Norris was an initial draw for me, however for me, I lost interest as soon as they started to delve into mini domes and hand prints and the tropic parallel story of the drug manufacturing. Funny how they put Dean into a Breaking Bad style role where he's the 'Gus' of the operation. I decided to watch the first episode of Season 2. Dean Norris nearly hangs himself because he's stuck acting in such an empty construct. Characters are flatter than the first season and they have to explain to us what the dome is thinking when they shouldn't have to. I think it would have worked better if there was more irony between us and all the characters where we know more about what's going on then they do. As it is, we have the handprint people and dead characters telling us what the dome is trying to do. Perhaps they should have filled the dome with water and big fish. At the end finale a big hand opens the top of the dome to pour in fish food. Even Stephen King couldn't save this thing. Avoid! Avert your eyes!

…

Expand

I came back for season two willing to forgive the bad writing, direction and acting of season one, but nothing has changed. If anything, it

I came back for season two willing to forgive the bad writing, direction and acting of season one, but nothing has changed. If anything, it seems to be getting worse by the episode. Under the Dome will go down as one of the worst television shows in living memory.

…

Expand

I guess Stephen King laughs all the way to the bank. I thought the long-ago "Langoliers" series couldn't possibly be topped in awfulness, but

I guess Stephen King laughs all the way to the bank. I thought the long-ago "Langoliers" series couldn't possibly be topped in awfulness, but this one has done it. "Under the Dome" may not be the worst TV series ever, but it ranks right up there. Horrible acting, hackneyed dialogue ("this is what the dome wants," "the dome has chosen me," yadda-yadda). It's like they they cribbed themes from "Lost" and "Heroes" and transmogrified them into the most inane drivel. It boggles one's mind that somebody would put up all the millions it took to produce two seasons of this series, or that the network would give it all that air time. I can't believe I wasted two seasons watching this potboiler. Since things were left hanging in the second season's finale, one assumes there will be -- God knows why -- a third season. Or if we're lucky, it will be dropped like so many other series left unresolved. But if it does come back for a third season, it will be without me. Will the townspeople escape the dome? Will everyone live happily ever after? What does the dome REALLY want? Does anyone remotely care? Not I...

…

Expand

Under the Dome (2) – 0
I had originally rated the second season of Under the Dome a 6 after only initially watching the premiere. AfterUnder the Dome (2) – 0
I had originally rated the second season of Under the Dome a 6 after only initially watching the premiere. After suffering through the following 3 god awful episodes I'm revising my rating score. I have never watched a show where the writers make the solution to solving a problem so "convenient" for the characters or had such idiotic dialogue. Does anyone REALLY believe a High School is going to keep a log of who was assigned each individual locker in the school going back 50 years? LOL (I won't say why that was relevant to the story.....but REALLY?) or can you respect a police officer that says "I should arrest you for harboring a SUSPECT" LOL.....What??? what law is that.??? Stupid writing through and through. We have actually taken this off of our schedule. The first season I really enjoyed but CBS should have ended the show with that season (Totally shocked this has been renewed for a third season…who the heck is still watching this dreck?).

…

Expand