Network:

CBS

Series Premiere Date:

Jun 24, 2013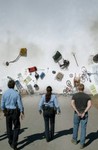 Starring:

Eddie Cahill

,

Jeff Fahey

,

Mike Vogel

Summary:

A small town in Maine is cut off from the rest of the world in the miniseries based on Stephen King's book of the same name.

Genre(s):

Drama

,

Action & Adventure

,

Science Fiction
Creator:

Stephen King

Season 1 premiere date:

Jun 24, 2013

Episode Length:

60
Please enter your birth date to watch this video:
You are not allowed to view this material at this time.
We could all use a good summer TV diversion around now, and if tonight's entertaining, intriguing premiere turns out to be a fair guide, Dome could be just what we've needed.

Based on the pilot episode--with its taut script, strong performances and special effects that are impressive without being overwhelming--there's hope that Under The Dome might measure up to its unsettling print progenitor.

Not only is it creepy, suspenseful and full of splendid special effects, veteran actors and fresh young faces, but it's laced with big thoughts about environmentalism and the future of the planet.

The pilot establishes an eerie claustrophobic dread, and well-budgeted special effects add intensity. [1 Jul 2013, p.35]

You don't immediately sense how all of the characters are connected or how they might eventually become connected--most of the pilot is scene-setting and mood-building--but what's onscreen is compelling.

It remains to be seen whether either will merit watching for a full season but the pilot does exactly what it should: It intrigues and makes the case for viewers to come back next week for more.

Series creator Brian K. Vaughan's adaptation is yet another tepid melodrama, in the tradition of the recent Bates Motel, in which every creative decision appears to have been made in a trendy bid to appeal to the viewer's crotch.
Under the Dome was the series that I waited the most and hoping to be good, after being disappointed with Bates Motel, Under the Dome pleased

Under the Dome was the series that I waited the most and hoping to be good, after being disappointed with Bates Motel, Under the Dome pleased me, it was well written, well directed, well acted and the dialogue is good, everything is good so far, I think it is going to be a blast.

…

Expand

A very good one, the history have a few good twists, unfortunately I think it will be out of ideas quickly but it manages to keep the interest

A very good one, the history have a few good twists, unfortunately I think it will be out of ideas quickly but it manages to keep the interest almost all episodes in the first season.

…

Expand

I haven't read the book yet but I'm already disappointed on how the show delivered suspense and thriller (I heard the book has a darker tone).

I haven't read the book yet but I'm already disappointed on how the show delivered suspense and thriller (I heard the book has a darker tone). Although the plot is unique, the characters failed to justify it. I'm not saying they're badly acted. I just hated how the character's behaved. On a brighter scale, Under The Dome has good visual effects and a lively atmosphere. I hate to say this but I'll still watch the 2nd season because I'm just dying to know what will happen next.

…

Expand

The concept and idea behind the show is exciting and interesting which gave me high hopes for this show, but the writing is terrible and so is

The concept and idea behind the show is exciting and interesting which gave me high hopes for this show, but the writing is terrible and so is some of the acting. Some of the writing is so bad that I almost feel sorry for the people writing this dribble (why wast such a good idea?) and a few of the characters are so excruciating to watch that I don't know if I'll ever bother with season two. i'll just buy the book it's based on instead!

…

Expand

This show is not very good. If i didn't see Breaking Bad i wouldn't know how great of an actor Dean Norris is. Rachelle Lefevre is from

This show is not very good. If i didn't see Breaking Bad i wouldn't know how great of an actor Dean Norris is. Rachelle Lefevre is from Revolution and plays pretty much the same type of character she did in that show and its very generic so i have no idea how much she can bring to her work. All the other actors seemingly do their jobs as best they can with a really terrible script. The problem with "under the Dome" is not the ideas for the world they exist in or the relationships and character choices but how quickly the characters are forced to service the next plot point without really being affected by the last drama they just experienced. Its like the show is going through a checklist of moments they have to hit for drama's sake. So the result is a seemingly very stupid script that doesn't even hold as much logic as a night time soap like "Revenge". Its like a series of short video clips of characters dealing with a bunch of writer's ideas for drama inside this domed town.
What they should have done (regardless of the book's plot points which i never read) is let the character's choices affect the characters and develop in the character's relationship to how they deal with a few simple choices. There are way way way too many crazy plot developments for each character and the story lines are abandoned by the writing by the end of two episodes. It's as if it all didn't matter because now we are on to the next thing. Its like its written by a twelve year old. This show makes me yell at the screen "really? you just did that and now your going to just move on as if it never happened?"

…

Expand

The story lines is ok. but this is the only thing that not terrible in Under The Dome. The Chartres are very pathetic, the actors and actress

The story lines is ok. but this is the only thing that not terrible in Under The Dome. The Chartres are very pathetic, the actors and actress just don't good.

…

Expand

Under the dome has progressively got worse. I read the book and enjoyed the first few episodes but now it is just predictable and boring. I

Under the dome has progressively got worse. I read the book and enjoyed the first few episodes but now it is just predictable and boring. I personally facepalm a minimum of 5 times each episode. Ignoring the fact that 60% of the things that happen don't even make any sense. "Sandstorm occurs and if somehow the winds hit every wall the dome gets clogged, and setting up a tiny fan to shoot water 5 meters saves the city in 1 min flat." that is just plane stupid. I had high hopes for this season 1 but i cant bring my self to watch the next episode.

…

Expand