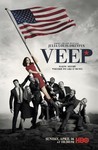 Starring:

Julia Louis-Dreyfus

,

Matt Walsh

,

Tony Hale

Summary:

Vice President Selina Meyer (Julia Louis-Dreyfus) seeks a larger role after her successful midterm election appearances.

Genre(s):

Comedy
Creator:

Armando Iannucci

Season 2 premiere date:

Apr 14, 2013

Episode Length:

30
Please enter your birth date to watch this video:
You are not allowed to view this material at this time.
Louis-Dreyfus's performance--which, like Congress, can be divided into two houses, Crackling Charm and Hysterical Ego--still drives the show, but we're getting more realistic sense of political gamesmanship. [22 Apr 2013, p.45]

The show is smart--smarter than most on network television--and it has life.

The wit is rapid-fire, and keeping up with Louis-Dreyfus as she sprints between appointments, all shaken up like a soda bottle about to explode, is good fun. But the humor is so meta, it's easier to find yourself thinking "This is funny" than actually laughing.

The cast's highly attuned instincts for knowing when to press complicated dialogue into kinetic banter and when to dial back to find the subtlety in a one-liner joke is what keeps Veep's humor vital.

Season two yields modest improvement thanks to shrewd cast additions, augmenting the pleasures of Julia Louis-Dreyfus.
This review contains spoilers

, click expand to view

.

After the first season of Veep ended, I was really looking forward to the second season premiere. We were able to enjoy two extra episodes and an outstanding season finale. My favorite episode was in this season and i think I watched it about ten times. Veep is one of the funniest show on television--once they win the Emmy for Outstanding Comedy Series, they will be the funniest show on television--and I can't wait for season 3, and the return of the some of the funniest people on television, with Julia Louis-Dreyfus as the funniest woman ever to be on television. With the possibility of at least two more seasons, with POTUS leaving the ticket, I wouldn't be surprised if we see Selena as president by or before the series finale which I hope to not see anytime soon.

…

Expand

Funny, funny show. I thought season one was great but season two has me laughing out loud. Take a new twist on being in the white house.

Funny, funny show. I thought season one was great but season two has me laughing out loud. Take a new twist on being in the white house. Highly recommend to those of you who were Seinfield fans back in the day.

…

Expand

So glad VEEP is back! One of the smartest comedies on television. Julia Louis- Drefus delivers each line with perfection. This is a fast paced

So glad VEEP is back! One of the smartest comedies on television. Julia Louis- Drefus delivers each line with perfection. This is a fast paced office like comedy with nonstop laughs. The writing is incredible. I will often watch each episode twice and I always discover a new joke the second time around.

…

Expand

An encouraging and noticeable improvement over its previous season, Veep shines as a typical HBO comedy with the bonus attraction of the

An encouraging and noticeable improvement over its previous season, Veep shines as a typical HBO comedy with the bonus attraction of the magnificent Julia Louis-Dreyfus.

…

Collapse

Season one was OK... Season two however, thus far has been downright hilarious!! The entire cast is really delivering the goods this time

Season one was OK... Season two however, thus far has been downright hilarious!! The entire cast is really delivering the goods this time around. Absolutely love it!

How any critics gave this a low score and bad review completely baffles me!? Hopefully HBO wont cancel this one, like so many others in recent years...

…

Expand

Tragically underrated, Veep is a hilarious and witty political satire featuring a brilliant performance from Julia Dreyfus, along with

Tragically underrated, Veep is a hilarious and witty political satire featuring a brilliant performance from Julia Dreyfus, along with excellent supporting roles from the rest of the cast. The humor works best within its more subtle jokes and references, and for those who love a strong script, there's always something going on to laugh at here.

…

Expand

This is the lamest show I've ever seen in my life. I can't believe it's considered to be a comedy. It hasn't made me laugh even once, ever.

This is the lamest show I've ever seen in my life. I can't believe it's considered to be a comedy. It hasn't made me laugh even once, ever. Don't watch it

…

Expand