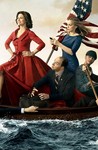 Creator:

Armando Iannucci

Show Type:

In Season

Season 1 premiere date:

Apr 22, 2012

Episode Length:

30

Air Time:

10:00 PM
Everything you fear might be true about how our government works--or doesn't--becomes hilarious fodder for Veep's biting satire.

Iannucci and his cast are as deft with a wonky policy joke as they are with good old-fashioned bathroom humor and Louis-Dreyfus shines, throwing herself, as she so often did on "Seinfeld" and "The New Adventures of Old Christine," physically into the role.

The comedy here, as with Elaine, comes from watching Louis-Dreyfus's sophisticated, furiously sharp timing applied to a character who has the intelligence of a finch. [30 Apr 2012, p.35]

Much more conventional than Girls in its savagely profane workplace humor, its bad behavior recalls Curb Your Enthusiasm while the setting is reminiscent of The Larry Sanders Show in its hysterical behind-the-curtain peek at dysfunction and incompetence in high places.

Veep has some funny lines and sight gags during the course of doing its dirty Washington business.

It's all rather weightless: just your usual sitcom-style misunderstandings and bruised egos and "complications ensue," with no sense that anything larger is at stake.

Mistaking vulgarity for comic edge and very thinly stretched punnery for wit, Veep is less a trenchant satire about contemporary politics than it is a relentlessly mean-spirited spectacle about crummy people.
Veep could easily become the next "Curb Your Enthusiasm". It's a comedy for smart people, and the best HBO has put out in years. Dreyfus gives

Veep could easily become the next "Curb Your Enthusiasm". It's a comedy for smart people, and the best HBO has put out in years. Dreyfus gives an excellent performance, and I cannot wait until season 2.

…

Expand

I have only watched three episodes of this show, but I love it. I'm buying more. I think it's Julia LD at her best; witty dialogue, snappy

I have only watched three episodes of this show, but I love it. I'm buying more. I think it's Julia LD at her best; witty dialogue, snappy repartee. I like most of the cast as well. It's not always the case that others can keep pace with the star. This show should be better promoted.

…

Expand

Veep is a fantastically satirical new show, and easily the best that HBO has debuted this year. It is incredibly smart, and is only for

Veep is a fantastically satirical new show, and easily the best that HBO has debuted this year. It is incredibly smart, and is only for political veterans. Novices would not fit in with this fast paced show. Across the board strong performances (particularly by Julie Louis Dreyfus) put Veep among one of the best comedies on television.

…

Expand

Brilliance. This is a perfect example of a prime, quality political satire, and Julia Louis-Dreyfus is astounding as the title character. It

Brilliance. This is a perfect example of a prime, quality political satire, and Julia Louis-Dreyfus is astounding as the title character. It misses a perfect rating for me because of the horrendous pregnancy storyline that was quickly nixed, but if the series can avoid that kind of nonsense in the future, it's sure to become a classic.

…

Expand

Veep is an Americanised-in-every-way version of Armando Ianucci's BBC show, The Thick of It. That comment is not meant as a criticism, or a

Veep is an Americanised-in-every-way version of Armando Ianucci's BBC show, The Thick of It. That comment is not meant as a criticism, or a stick with which to beat it, merely a fairly accurate description. The tone of the show is lighter, the characters are a bit more cartooney, and the language (despite the seeming furore about it) is a bit fluffier. Again, none of these are bad things, but it is important to identify the base origins of this series.

Focussing on the Vice President of the United States (Louis-Dreyfuss), Ianucci has developed a microcosm of D.C. that seems far to amazingly realistic for comfort. While in the UK we cynically look upon our leaders and their total helplessness, Americans still champion their politicians and even believe the bullsh*t they come out with. Veep isn't trying to tear this rapport down, merely highlight the fact that the reality is that while these people are out making nice to the general public, there is an innate darkness to us all. It is this darkness that is satirised so wonderfully.

There is no real over-arching storyline other than every day life. This is a snapshot of how government works filmed through the lens of satire. There are few writers that genuinely capture the imagination and make politics interesting. Behind the language, behind the insults, behind the unlikeable people is a timeless commentary on people who make the decisions that rule our lives.

Other than Julia Louis-Dreyfuss, the cast are made up of faces that are recognisable, rather than names. A big help to the dynamic of the show is Anna Chlumsky (it always makes me chuckle that she's the My Girl-girl), who appeared in Ianucci's The Thick of It spin-off film In The Loop (nominated for a screen writing Oscar). The banter is effortless, and other than a few moments where Louis-Dreyfuss could be accused of being a bit too sitcommy, all the dialogue and characters seem a natural fit. Unfortunately for Tony Hale, even without the glasses, he will always be Buster Bluth (not that it's a bad thing), which makes his newest man-child Gary occasionally veer to the wrong side of ridiculous.

Much has been made of quirky in-jokes, and the lack of a PotUS VP (President of the United States Visual Presence), and the seeming unaligned politics, but surely that is the point. Great satire should be timeless. As soon as time restricted characteristics are assigned the joke is immediately dated. That this could be any administration, at any time, from any party, is the genius. It's not a comment on the here and now, it's a comment on the always. Veep doesn't always attain those heights, but with a man like Ianucci steering the ship, it's definitely aiming in the right direction.

…

Expand

I really loved this pilot....! Julia is SO FREAKING FUNNY !! xD Nothing but an excellent script and the excellent cast!! This show is here for

I really loved this pilot....! Julia is SO FREAKING FUNNY !! xD Nothing but an excellent script and the excellent cast!! This show is here for the long haul!

…

Expand

This show is entirely worthless, hard to believe this was renewed but I guess HBO must have nothing else even halfway decent to produce.

This show is entirely worthless, hard to believe this was renewed but I guess HBO must have nothing else even halfway decent to produce. Astonishing anyone could enjoy this show as is pure crap.

…

Expand