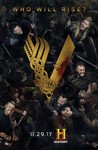 Starring:

Jessalyn Gilsig

,

Donal Logue

,

Linus Roache

Summary:

Ragnar (Travis Fimmel) faces new challenges and problems as he continues his desire to travel to other unknown lands in season two.

Genre(s):

Drama

,

Action & Adventure
Creator:

Michael Hirst

Season 2 premiere date:

Feb 27, 2014

Episode Length:

60
Please enter your birth date to watch this video:
You are not allowed to view this material at this time.
Whatever becomes of Ragnar, Vikings has emerged in its second season as a series of appreciably higher quality. Its characters and storytelling, all within a world quite unlike any other on the TV landscape, have gone far beyond the cardboard stage.

Fimmel, Katheryn Winnick and the rest of the cast remain, like the show, better than the material probably needs to be a commercial success, and thus strong enough that Vikings remains a genuine pleasure rather than a guilty one.

As it did last season, the show thoughtfully explores ideas about how belief systems spread and what people do when confronted with gods--or a God--that makes little sense to them.

The indomitable Ragnar (played with great intensity by Aussie Travis Fimmel) is now an earl and finds that politics can be more treacherous than hand-to-hand combat.

Favored storylines get sufficient weight and heft, but balancing its disparate narratives has never been Vikings' strong suit, and though it feels as though there's a definite endgame in mind, the middle can occasionally be rough going. Still, with a cast as game as ever and plenty of plot to slash through, this year's Vikings promises a sometimes-messy season as swiftly entertaining as the last.

While the storytelling is generally riveting, Hirst and his team occasionally drop a few stinkers in the dialogue. The exceptional cast—which also includes Katheryn Winnick as Ragner's wife, Lagertha—is able to rise above those bombs. It's their distinctive portrayals that, for me, bring this Dark Ages tale to life.

The best of what Vikings has to offer, besides artfully, horrifically staged sequences of warfare, is fierce Lagertha.
This really is the best show on TV - bar now. Better than The Walking Dead, better than Game of Thrones, better than Helix, better than all of

This really is the best show on TV - bar now. Better than The Walking Dead, better than Game of Thrones, better than Helix, better than all of them. It transports the viewer like no other show can into another world - with engaging characters and beautiful cinematography. Everything from the quality of the sets and music to the brilliant cast and the excellent writing... I cannot fault it. It's wonderful.

…

Expand

Season 1 was good but Season 2 is on another other level. Prefer this to GOT and this is the best TV since Season 5 of Breaking Bad. Roll on Season 3.

Finally a series not centered on sex or political,also a great reconstruction of the history.
wonderful the characters and great theFinally a series not centered on sex or political,also a great reconstruction of the history.
wonderful the characters and great the actors,especially Travis Fimmel,Katheryn Winnick,Clive Standen and Gustaf Skarsgard.
Simply spectacular!
I love these series,and i wait for the third season!

…

Expand

This season is better than first one because it offers more excitement, plot twists, and it all comes with added value to all going on,

This season is better than first one because it offers more excitement, plot twists, and it all comes with added value to all going on, everything has higher stakes and more people are reliant on their outcome.

…

Expand

The second season of Vikings was very good. I do feel like it suffered from a little bit of repetition, with the same power struggle themes

The second season of Vikings was very good. I do feel like it suffered from a little bit of repetition, with the same power struggle themes going on but I do recognize that this is a historical show so they have to be true to history. Good fight scenes, well done suspense, decent story.

…

Expand

Is it as ambitious as Game of Thrones? No. Does it posses the emotional depth of Breaking Bad? Absolutely not. Are the plots and story lines

Is it as ambitious as Game of Thrones? No. Does it posses the emotional depth of Breaking Bad? Absolutely not. Are the plots and story lines on par with the detail ridden script of House of Cards? Not even close. But who cares? This show is just cool man. In the age of masterful television, I like to think of Vikings as the simpler option to all of those aforementioned juggernauts. Travis Fimmel in the lead as Ragnar Lothbrok is great and the rest of the actors are more than competent. Deeply luscious scenery, clear dialog, a concise plot and some badass fight scenes...what's not to like?

…

Expand

Stopped watching this patchetic garbage at the sixth episode of the second season. Travis Fimmel is a poor actor, not to mention most of the

Stopped watching this patchetic garbage at the sixth episode of the second season. Travis Fimmel is a poor actor, not to mention most of the cast, but I forgave that, since it is a series that is set in an historical era I love. The writers don't have the foggiest idea about the norsemen of that age.
It was particularly upsetting that they tried to portrait the vikings raiders some sort of "good bad guys" by letting Lagertha kill on of the warriors trying to rape some wench he grabbed back in season one. Cause murdering innocent priests with a battleaxe is ok, but rape is not. Vikings ethics you know. Oh and yes, there is no evidence that there were actually "shieldmaidens" or fighting women amongst viking raiders. It's entierly mithological and they portray it as a fact. Women might have picked up arms with poor efficiency when a village was raided, but thats all.
Ragnar Lodbrok and the 10 wonder-extras he takes raiding defeats a well prepared english cavalry force with the only tactic they know: shieldwall. Totally believeable if you ask me.
Everything in the story can be expected. Here's the pattern for every episode of the Vikings: Ragnar gets into trouble-->Ragnar wins. I totally never expect him always winning, may it be a Holmgang, slaughtering an army by himself, or convincing Rollo with his eyes to stop fighting.
Another thing about Ragnar Fimmel, that he is a total **** to his women. Yes, norsemen treated their women better than in most countries in europe, but this show must be directed by an ultra-feminazi group. Lagertha slaps him around like a little **** quite a few times and he's unable to stand up for himself. Way to humiliate a legendary historical figure. In season two he kills Jarl Borg, like a f*ckin' slimy coward, who comes in good faith to reconcile their differences after raiding Kattegat, in return, because Ragnar broke his word. And what for? Because his b*tch wife said so. Sleeping two nights in a barn is enough reason to kill another chief in such a cowardly manner. It's like they are trying to rip off the unexpected plot twists of Game of Thrones, but they fail poorly every time. After this I was really beginning to think that monkeys with typewriters must be behind this show.
I really started to like the King of Wessex storyline, and Björn and his girlfriend, but it is not nearly enough for me to continue watching this awful show. This series is neither historically accurate or entertaining. 1/10, because I had a good day.

…

Expand