Network:

CBS

Series Premiere Date:

Sep 30, 2013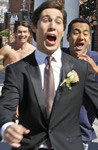 Starring:

Tony Shalhoub

,

Jerry O'Connell

,

Rebecca Breeds

Summary:

After being left at the altar, Carter (Chris Smith) moves into a short-term rental complex, where he befriends three single men (Kal Penn, Jerry O'Connell, and Tony Shalhoub) who have experienced many failed relationships.

Genre(s):

Comedy
Creator:

Rob Greenberg

Season 1 premiere date:

Sep 30, 2013

Episode Length:

30
The cast is certainly talented enough to overcome We Are Men's shortcomings, if the writing improves.

Of all the dumb shows you can watch on a Monday, here's one more.

The show is not a snarky sendup of loveless nerds or callous swingers; it's a fairly gentle comedy about burnouts who call themselves a band of brothers.

Like the dullest of origin stories, it all seems pretty perfunctory, a series that longs to be a shaggy hangout show shoehorned into a rickety single-camera framework that may as well be called How I Left Your Mother.

It's hard to escape a feeling that We Are Men is really just TNT's short-lived "Men of a Certain Age" without the ambition, and maybe with a lobotomy.

The existence of this comedy, which pretends to be brash but mainly succeeds in being more offensive, unfunny and predictable than Dads, told me that we have angered the gods.
Maybe Tony Shaloub should've stayed for another season of Monk. But as worse as the new comedies goes (Sean Saves the World), We Are Men is a

Maybe Tony Shaloub should've stayed for another season of Monk. But as worse as the new comedies goes (Sean Saves the World), We Are Men is a little less Hangover-like series into another Harold and Kumar movie. Let's face it, CBS tried its best but unfortunately, 2 Broke Girls and Mike and Molly were the big winners of Monday nights.

…

Expand

AWFUL. So disappointing. It's like a Saturday Night Live skit that just went on and on and on and on... Such a disappointment since the

AWFUL. So disappointing. It's like a Saturday Night Live skit that just went on and on and on and on... Such a disappointment since the casting of Tony Shaloub and Kal Penn gave it so much promise. In an ensemble, only one guy should be the designated schtick-man... Jerry O'Connell's brand of over-the-top "comedy" really needed balance. Too bad all of the other guys are jockeying for the Jerry Lewis crown. ICK.

…

Expand

So, it's a show about drunken college students, who do not happen to be going to college and are older than most college students.

What isSo, it's a show about drunken college students, who do not happen to be going to college and are older than most college students.

What is the purpose of this show? Surely it is not to be funny.

…

Expand

Why is this show called We Are Men? It should be called We Are Drunk Slut Bitter Children. And what was the targeted demographic here? No

Why is this show called We Are Men? It should be called We Are Drunk Slut Bitter Children. And what was the targeted demographic here? No women will watch this. Young women won't be attracted to the older stars and older women don't want to watch guys in this stage of life giddily embrace puberty, shunning all semblance of the confident, fully-developed male. Please don't tell me the demographic is men. Please don't teach men that this is attractive. We women are dying for the real thing. We want men, not these ridiculous, self-indulgent babies.

…

Expand