Network:

NBC

Series Premiere Date:

Oct 3, 2013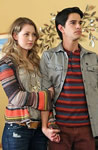 Starring:

Mike O'Malley

,

Justina Machado

,

Mary McCormack

Summary:

College plans turn to marriage plans when young couple (and new high school graduates) Molly (Ella Rae Peck) and Junior (Joey Haro) discover that they are about to become parents. Complicating matters are their own parents (including Glee's Mike O'Malley), who must deal with merging families

College plans turn to marriage plans when young couple (and new high school graduates) Molly (Ella Rae Peck) and Junior (Joey Haro) discover that they are about to become parents. Complicating matters are their own parents (including Glee's Mike O'Malley), who must deal with merging families and cultures.

…

Expand

Genre(s):

Comedy
Creator:

Mike Sikowitz

Season 1 premiere date:

Oct 3, 2013

Episode Length:

30
What makes Welcome to the Family interesting, and rather sweet, is that it confounds expectations.

Everyone does their bit, performance-wise, but O'Malley, who came to everyone's attention as Kurt's father in "Glee," is the key player here. He and McCormack instantly create a dryly endearing couple, while he and Chavira may turn out to have the most fruitful antagonism since Maude met Archie Bunker.

There are no awful characters and no bad actors; this is a cute little show that exceeds expectations. What it's yet to provide, though, is a compelling reason to watch.

Not great, not terrible, Welcome to the Family is another occasionally amusing but not really funny family comedy.

The men are neanderthals, the women are the sitcom cliche peacemakers.

O'Malley and Chavira and McCormack elevated the material they were given. And they were good. At the same time, there wasn't enough else in Welcome to the Family to make me want to watch any more of it.

My nominee for quickest and most punitive cancellation ... What a limp and unfunny show.
You can certainly identify when its trying to be funny but its just not. It has typical sitcom situations but they just don't pull the jokes

You can certainly identify when its trying to be funny but its just not. It has typical sitcom situations but they just don't pull the jokes off. Everything happens is pretty much how you would expect it to.

…

Expand

A show about two families thrown together because of something their kids did. Everyone gets along except the dads. So basically the show is

A show about two families thrown together because of something their kids did. Everyone gets along except the dads. So basically the show is about the ongoing tension between the dads and how every one else gets along.

Take away any of the possibilities for comedy, and you have a good synopsis of this show.

…

Expand